The best resorts in Virginia: 15 places for an unforgettable vacation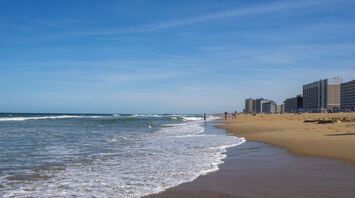 Vacation by the ocean. Source: Image Bruce Emmerling/Pixabay
Virginia is a long coastline with many beautiful beaches, beautiful mountains, and a large number of cultural and historical attractions that will be interesting for everyone. In addition, you can find luxurious and popular hotels offering a variety of entertainment and activities for both families with children and romantic couples. From the Chesapeake Bay to the Blue Ridge Mountains, the best resorts in Virginia are waiting for their guests and welcome them at the highest level. The state on the Atlantic coast is known for a variety of tourist destinations, so everyone can find the best option for themselves.
1. Williamsburg Inn
This hotel can easily lead the top resorts in Virginia. It has been welcoming its guests at the highest level for many years, as even Queen Elizabeth II once stayed here.
You can book accommodation in a standard room or choose a luxury suite. The apartments are decorated in an elegant style and provide very comfortable beds. The Williamsburg Inn's facilities include an 18-hole golf course, an outdoor pool, a spa and a fitness center. In addition, there is a gourmet restaurant, the Rockefeller Room, and a café offering a more casual menu.
2. The Tides Inn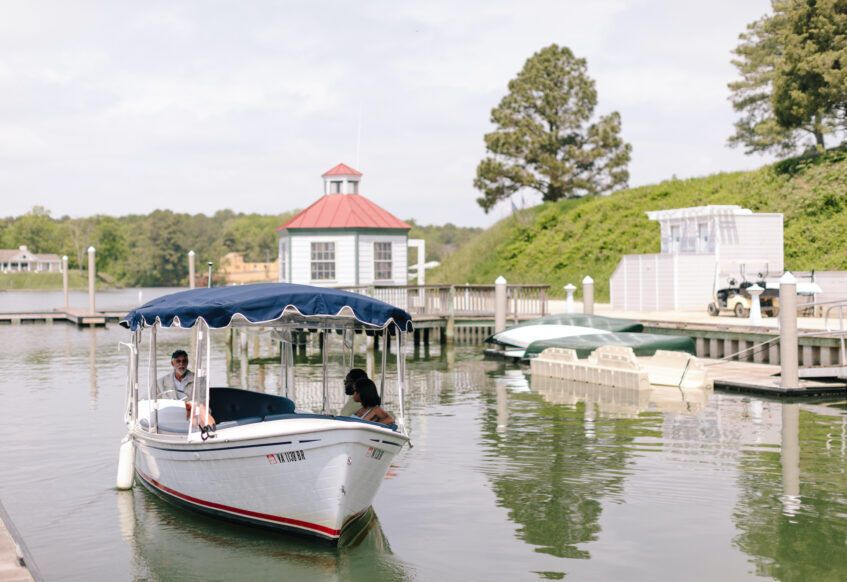 Right next to the Chesapeake Bay along Carter Creek in Irvington is this comfortable resort. The Tides Inn, which opened its doors to the public in 1947, is equally well suited for a romantic getaway and for a family vacation with children. There are plenty of activities on site for all ages, from water sports to private bay cruises. You can also relax by the pool and on the beach, play golf or order a range of treatments at the spa.
In the rooms, maximum attention is paid to creating comfort. The apartments are decorated with wooden furniture and large comfortable beds with Egyptian cotton linens. The balconies offer incredibly beautiful views of the bay.
3. The Founders Inn & Spa
In the beautiful area of Virginia Beach is this country complex, which offers a magnificent view of the lake. The hotel is located in the middle of picturesque gardens, which creates a special romantic atmosphere that is so popular with couples in love.
You can stay in elegant suites or rooms, some of which include working fireplaces. The apartments overlooking the lake or gardens are equipped with everything you need, the rooms are comfortable and always well maintained. Some rooms are pet-friendly.
The hotel's Hunt Room restaurant serves local cuisine prepared with seasonal produce and, in particular, seafood caught in the Chesapeake Bay. For a romantic gourmet dinner, we recommend heading to the Swan Terrace Grill. There is a full-service spa on site with a magnificent greenhouse and two swimming pools.
4. Jefferson Hotel
This complex is located in the heart of Richmond's business district, so it is very convenient to walk to the most popular tourist attractions, shops and restaurants. One of the most top-rated resorts in Virginia has been welcoming guests since 1895 and is known for its exquisite interiors and impressive architecture. The lobby with marble columns, gilded elements, and a ceiling that looks like an ancient Roman atrium is worth a look!
The hotel's restaurant is sure to please the most demanding gourmets. The Lemaire serves local cuisine, but always perfect and modernized.
The main amenities of the resort include the following:
fitness center;
swimming pool with sea water;
spa with a full range of treatments.
Accommodation options include elegantly furnished rooms and suites that reflect the style and ambience of a bygone era. It's worth noting that the resort is pet-friendly.
5. Hilton Virginia Beach Oceanfront
This hotel boasts a really good location. It is located on the sandy shore of the Atlantic Ocean and, moreover, next to the famous Neptune Park.
The modern multi-storey building has 189 excellent rooms with all the necessary amenities and a simple but elegant design. Some apartments have balconies offering panoramic ocean views.
Guests can enjoy relaxing by the two swimming pools, including one on the rooftop, visit the fine dining restaurant or stay in shape in the large gym.
6. Primrose Meadows of Dunes
The most popular resorts in Virginia can boast of a fantastic location. For example, Primland, which is located among the Blue Ridge Mountains in Meadows of Dan and covers an area of 12 thousand acres. Thanks to this unique location, the hotel offers a fantastic panoramic view.
The hotel will be a great choice for outdoor enthusiasts, as there are many interesting things to do here:
riding ATVs;
archery;
hunting;
horseback riding, etc.
There is also an 18-hole golf course, a fitness center and an extensive spa. Other amenities include a private movie theater, swimming pool and game room.
You can stay in luxurious rooms, suites, cottages or villas. The apartments have a special design that differs depending on the type of accommodation. In the rooms you will find cosmetics from BVLGARI and mega-comfortable beds with branded linens of the exclusive Frette brand.
7. Salamander Resort & Spa
Less than 50 kilometers from Washington, DC, is this spa hotel that attracts with its tranquil atmosphere and beautiful landscapes. Salamander Resort & Spa is one of the best Virginia resorts because it offers a truly luxurious experience at every turn.
The comfortable rooms are decorated in colonial style, with panoramic windows offering spectacular views of the valleys and mountains. The on-site restaurant serves delicious dishes prepared from farm products of the highest quality.
The pride of the resort is the equestrian center, where everyone can hone their riding skills. Other facilities available to guests include a fitness center and spa, infinity pools, and a culinary studio. Upon request, the resort's courteous staff will help organize excursions and other activities.
8. Martha Washington Inn & Spa
The spa hotel located in Abingdon occupies a historically significant building. The resort offers to stay in one of 63 suites or standard rooms. The suites are decorated in a somewhat old-fashioned yet cozy style that is combined with modern, comfortable amenities. Families with children can book a suite with two bedrooms and an additional spacious living room with enough space for everyone.
The hotel offers a fitness center, spa, several restaurants, a Jacuzzi and an indoor pool, and the staff will make your stay as pleasant and carefree as possible.
9. Kingsmill Resort, Williamsburg
This resort is located on the banks of the James River on Blue Ridge Mountain, a location that allows for a lot of interesting events and activities for guests. Kingsmill Resort is located in close proximity to the state's attractions, making it the perfect starting point for exploring the Williamsburg area. Additionally, shuttles to many popular locations are available for guests. Be sure to catch the sunset over the James River, an unforgettable experience.
The hotel's facilities, which are included in the rating of top Virginia resorts, include the following:
three 18-hole golf courses;
five restaurants, including James Landing, which serves the best local cuisine (open seasonally);
a marina where you can rent equipment for various sports and go boating;
tennis courts;
spa and gym;
a swimming pool with a water slide.
The complex offers a variety of accommodation options - from suites with balconies and fireplaces to equally comfortable rooms and large apartments with a kitchen and living room.
10. Ritz-Carlton, Tysons Corner, McLean
In the town of McLean, near Washington, DC, there is a luxurious famous hotel. This is not only one of the best resorts, but it is connected to the elite Tysons Galleria shopping center, a "mecca" for shopping fans.
The Ritz-Carlton, Tysons Corner is an ideal place for families, as the Ritz Kids program provides a variety of activities for children. While the younger guests are busy with activities, parents have the opportunity to visit the spa, which offers a full package of services. In addition, you can visit the fitness center.
There is an on-site ENTYSE restaurant. Here you can order dishes prepared from organic products; a visit to the atmospheric bran on weekends will be a special pleasure.
The hotel is decorated in a modern European style, and the design harmoniously combines natural wood and metal. You can stay in luxurious rooms and suites, which feature a marble bathroom. For additional amenities, we recommend booking the Club Level.
11. Boars Head Resort, Charlottesville
This atmospheric vacation resort in Virginia is an award-winning hotel known for its southern hospitality and restaurant popular with locals and tourists alike.
The hotel offers its visitors many interesting activities. It has outdoor swimming pools, a golf course, a complex with tennis and squash courts, and a fitness center. After such a pastime, it is worth visiting the spa and enjoying relaxing treatments. Also, be sure to visit the Old Mill Room restaurant, which is sometimes more famous than the resort itself.
The accommodation includes rooms and suites decorated with antique furniture that is harmoniously combined with modern elements.
12. Landsdowne Resort
The pride of the award-winning hotel is a huge spa center covering an area of 12 thousand square meters. There is also a fitness center and a golf course on site. Lansdowne Resort & Spa offers a variety of outdoor activities that will appeal to both adults and the youngest guests. For example, one can take advantage of one of the multifunctional trails for hiking or biking.
The hotel is located in Leesburg next to the Leesburg Corner Premium Outlets, one of the most popular shopping destinations in Northern Virginia. It is also possible to go on excursions to local wineries or visit Washington, D.C., seeing its many attractions and strolling through its interesting streets.
Accommodation options include suites and rooms decorated in warm colors. Superior suites have an additional living room, dining area and balcony. The hotel offers a swimming pool and four restaurants.
13. Berry Hull Resort & Conference Center
This complex is located a few miles from South Boston in the picturesque countryside and covers more than 600 acres of territory. The hotel building itself was built in 1728 and is a national historical landmark.
The resort demonstrates southern charm and devotion to tradition in every detail. Thus, the rooms are decorated with antique furniture, but still provide modern amenities. If you want to enjoy maximum privacy, we recommend booking one of the small cottages.
Among the amenities of Berry Hill Resort:
golf and tennis course;
spa center;
indoor swimming pool;
several fine and casual restaurants, such as Darby's or Mansion, open only for dinner from Thursday to Sunday;
horseback riding lessons, etc.
Fishing enthusiasts will be happy to have the opportunity to catch a catch in the stocked ponds.
14. The Omni Homestead Resort, Hot Springs
One of the most famous Virginia resorts was opened in 1766 and has hosted more than 20 US presidents since then. The complex occupies an area of more than two thousand acres in the Allegheny Mountains and is considered a national historical landmark.
Nearly 500 rooms and suites combine the southern charm of a bygone era with modern, comfortable furnishings. Some suites have working fireplaces, which always help to create a romantic and cozy atmosphere.
The Omni Homestead Resort has two championship golf courses, swimming pools, including a family pool with water slides, and several restaurants. Guests have all the opportunities for active recreation, such as archery, fishing, hunting, horseback riding, etc. The courteous staff is always ready to help with organizing additional activities.
15. Lorien Hotel & Spa, Alexandria
This luxury hotel is located in close proximity to Washington, DC. Lorien Hotel & Spa is a beautiful complex, the interiors of which were designed by famous American designers. The suites and rooms are decorated with works of contemporary art and comfortable furniture in a minimalist style.
The main facilities of the resort include the following:
great spa;
gym;
BRABO hotel restaurant.
The hotel is perfect for a family vacation, as there is a variety of entertainment for children. You can also go on vacation with your pet, as the resort is pet-friendly.