TOP 13 affordable hotel chains in the USA for a budget trip. Affordable, comfortable accommodation with excellent reviews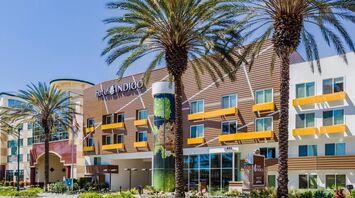 Budget hotels in the USA for a comfortable stay. Source: https://www.ihg.com/
At times, accommodation rental can be the most significant expense on your budget trip. However, this need not be the case if you are aware of budget hotel options in the US that prioritize comfort and cleanliness. While the room may not include a coffee maker, these are undoubtedly the best budget hotel chains in the USA that will come to your rescue in any situation.
These major economy hotel chains in the USA are strategically located near airports or prominent city areas, making them convenient for travel and exploration. Some budget hotels in the USA even include breakfast in the price, enhancing the value of your choice. If concerns about bedbugs and mold are still on your mind, rest assured – our list of the best budget hotels in the USA is free from such issues. For excellent motel options in the US and the best choice under $30, refer to the list below.
1. House 2 suites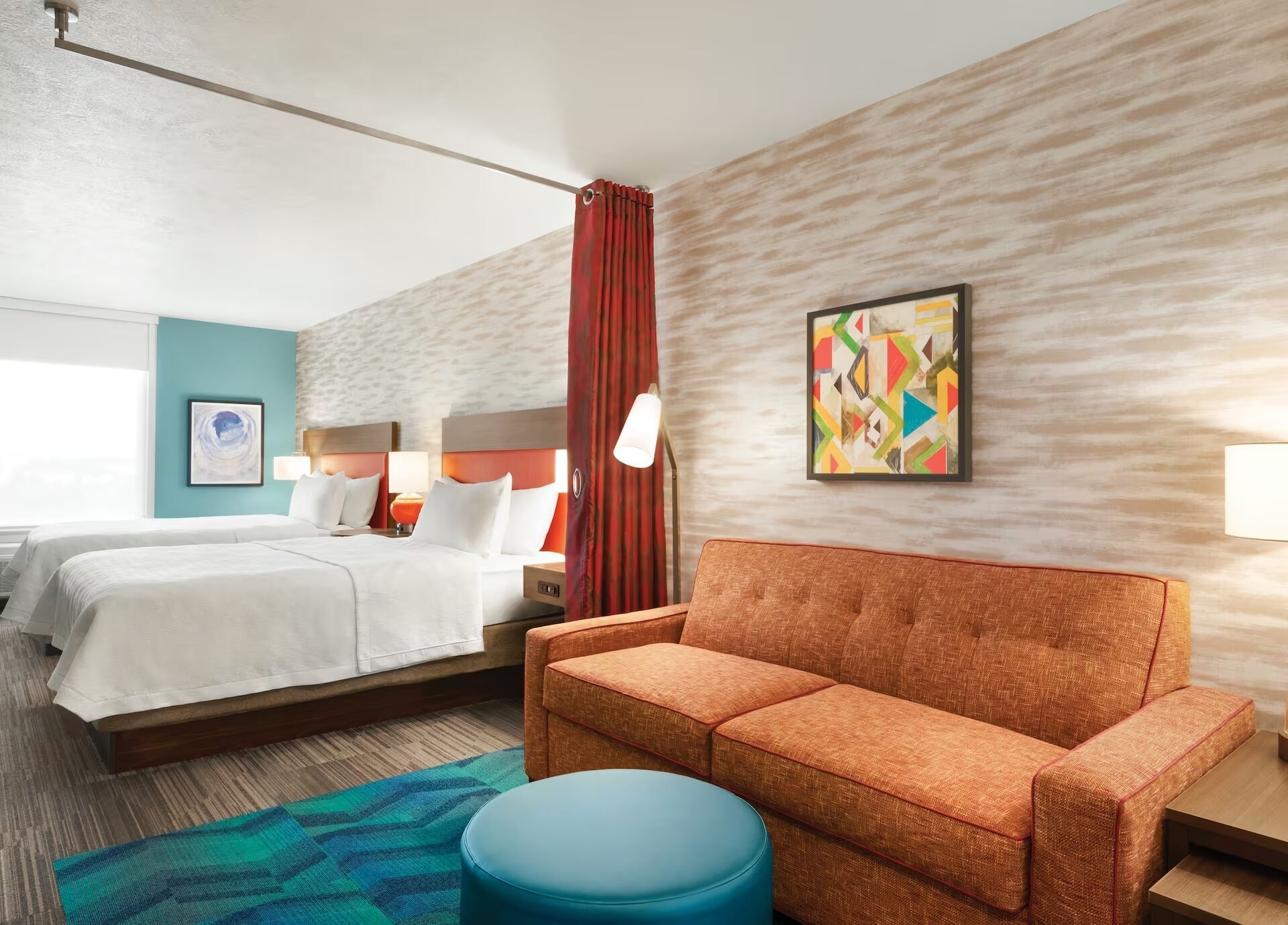 Finding affordable overnight accommodations in the United States is made easy when the city boasts the presence of the Home2 Suites by Hilton hotel chain. With over 380 economy-class hotels spread across the country, this chain offers a comfortable and budget-friendly option for an extended stay. Renowned for providing safe and pleasant accommodation, Home2 Suites hotels are not only found in major cities but also in smaller towns. Positive customer reviews highlight the chain's commitment to cleanliness, making it a top choice for travelers. A distinctive feature of Home2 Suites is their pet-friendly policy, allowing you to bring your pets along. We've located rooms for you in South Portland for $95, which includes breakfast.
Discover your ideal affordable hotel room at Home2 Suites in the U.S.
2. Sonesta Simply Suites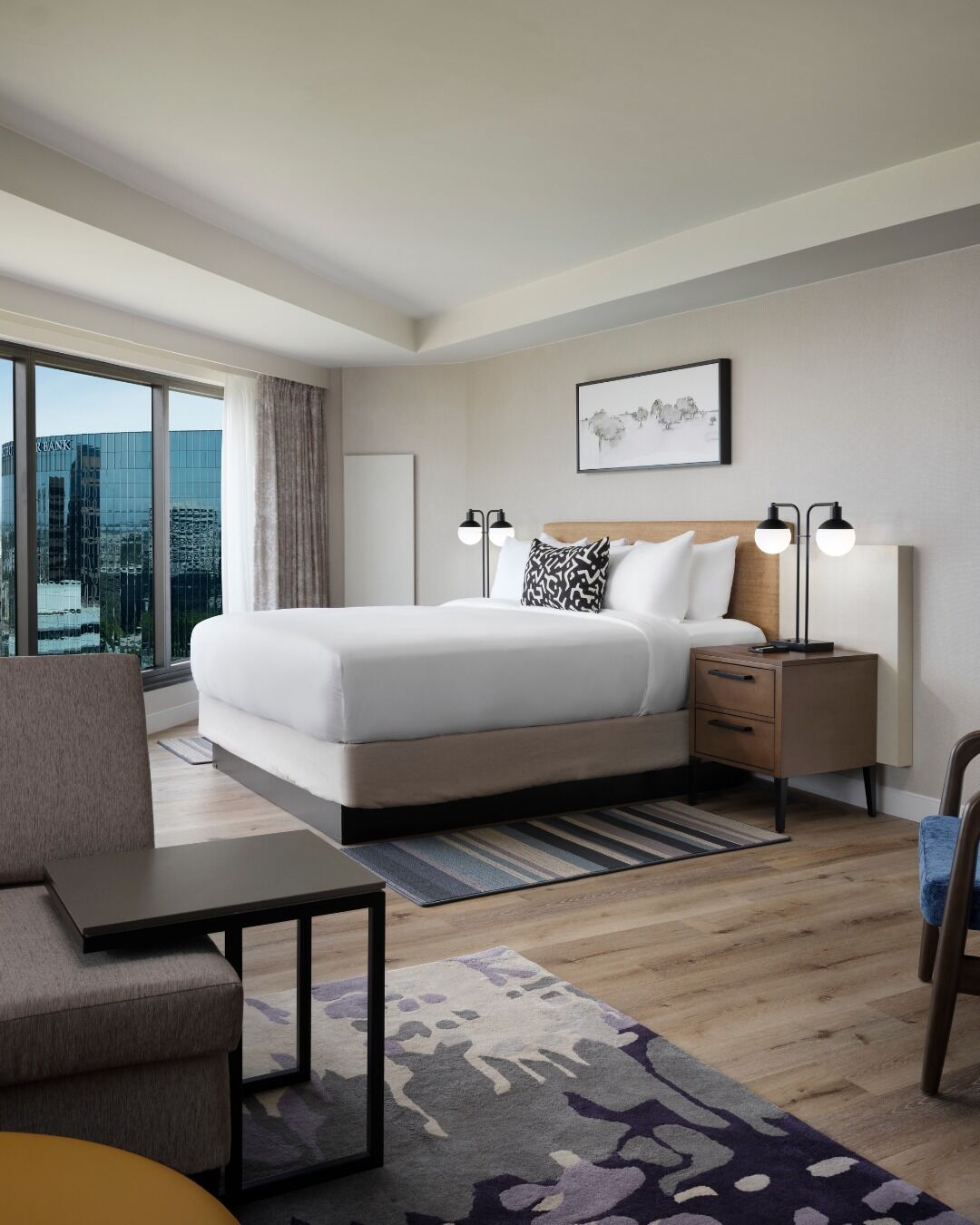 You may not find this budget-friendly U.S. hotel chain in every major city, but if you do, consider yourself fortunate. Sonesta Simply Suites offers clean, comfortable rooms suitable for families, singles, or couples. With over 100 hotels spread across cities in the United States, it provides an excellent option for travelers. The hotel rooms offer more than just comfort for the price; they come equipped with kitchenettes and coffee makers for your convenience. Sonesta Simply Suites also provides laundry and room service, allowing your meals to be delivered directly to your room at no extra cost. Many hotels in this chain feature swimming pools, adding to the overall appeal. For instance, a room near the airport in Portland may cost you $134, while the city of Anaheim in California offers a comfortable refuge for just $98 at one of the best budget hotels, Sonesta Simply Suites.
3. La Quinta Inn & Suites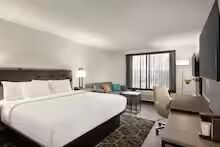 One of the best budget hotel chains in the USA offers you a choice among more than 900 variations of their buildings. La Quinta Inn and Suites are excellent budget hotels in the USA, providing a high level of comfort. The hotels offer rooms for various occasions, be it a family trip or a romantic weekend getaway. Enjoy complimentary breakfast and Wi-Fi during your stay. Additionally, the hotels feature amenities such as pools, gyms, and hot tubs to enhance your comfort and entertainment. You can find great lodging options not only in the United States but also in Canada, Mexico, and even Honduras. The flexibility of the cancellation system ensures that you don't have to worry about unforeseen circumstances – you're covered. Plus, the $100 credit option (for bookings of 3 nights or more) adds a nice touch for a lunch or dinner treat. Room rates start at $85 per night (plus tax). Check your city, because La Quinta Inn and Suites could be your good choice for a hotel in the USA.
4. Days Inn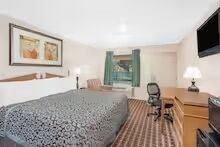 Inexpensive hotel rooms in the US can be found within the Days Inn chain. However, it's crucial to act quickly, as they are selling out rapidly, often at rates as low as $50 per night. With over 1700 economy-class hotels across the US, there is still a chance to secure affordable accommodation. While low cost is appealing, this chain goes beyond by offering discounts and free nights, enhancing the value of your stay. For instance, visitors to Hattiesburg, Mississippi can find options for as low as $73 per night. This includes access to guest rooms and laundry facilities, use of the fitness center, and complimentary breakfast and coffee. In contrast, visitors to Los Angeles can take advantage of offers starting at $100 per night, which includes additional amenities such as a pool, parking, complimentary breakfast, and in-room air conditioning, enhancing their overall comfort.
The Days Inn is a great choice for those who prefer not to expand their budget for a hotel room.
5. Holiday Inn Express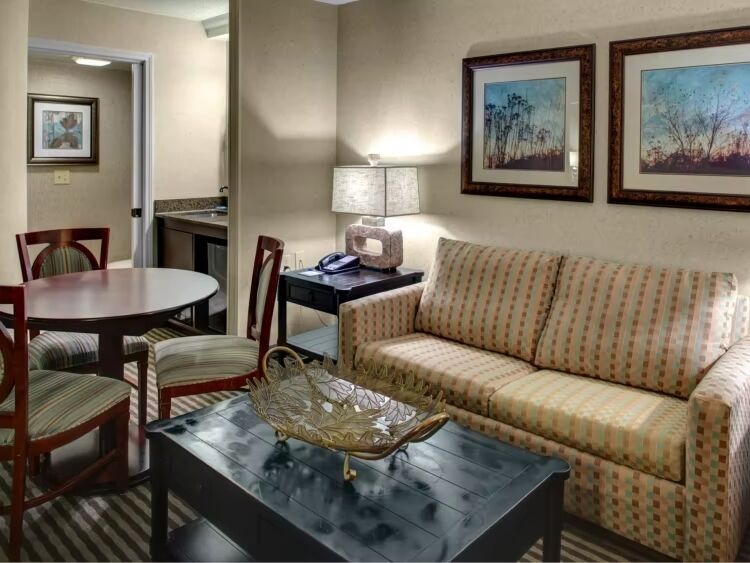 The top 5 budget hotels in the United States are completed by Holiday Inn Express, a chain that operates more than 2,500 hotels not only in the United States but also in Canada. It stands out as the best value-for-money budget hotel option in the United States. The spacious rooms come with Wi-Fi and air conditioning, catering to large families or even groups. In-room kitchens are equipped to help you save money on food. Modern in-room workstations, along with tea and coffee facilities, contribute to productivity during your business trip. Additionally, hotels in this chain can assist in celebrating any of your special dates or events while you're on the road.
When it comes to room reservations, Holiday Inn Express allows cancellations or changes completely free of charge, without any penalties. Cleanliness and amenities are prioritized by the reputable Holiday Inn Express hotel chain in the United States.
6. Hotel Indigo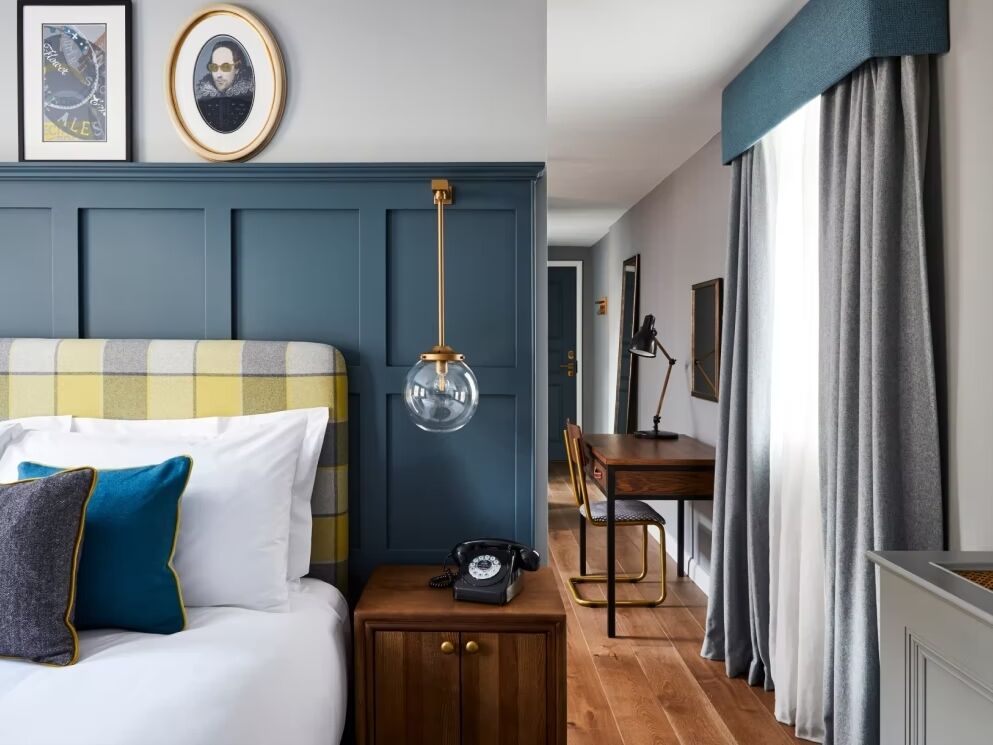 Cool budget hotels in the United States can be found on the hotel runway at the Indigo Boutique Hotel. You'll easily recognize its establishments, if only by the distinctive color of the buildings. With more than 100 hotels throughout the United States, the chain is known for providing excellent amenities at an affordable price. In New York City, the hotel is situated in the Lower East Side and boasts 294 rooms. The ambiance is adorned with graffiti-style portraits and paintings, featuring a lounge area with a small rooftop pool and convenient access to interesting Lower East Side locations within walking distance. The hotel is pet-friendly, and mini-bar credits contribute to more enjoyable evenings. Stylish modern rooms with views of New York City start at $300, reflecting the vibrant essence of the city. In the state of Kansas, the chain is represented by two hotels, both offering the same level of comfort and charming atmosphere, with room rates starting at $130 USD. Rochester offers luxurious comfort starting from $125 USD, and Paso Downtown from $126 USD per night. Keep in mind that for this price, you'll experience a very high level of comfort and additional features.
Find your cozy nest in an Indigo hotel around the world.
7. Rodeway Inn
Better value-for-money hotels in the United States can be found within the Rodeway Inn chain. With 500 building options in both the United States and Canada, they offer rooms ranging from $35 to $75. Customers often note the cleanliness of the hotels, and the included breakfast is a pleasant surprise for budget comfort. Your cup of coffee will also be waiting for you. In sunny Georgia, rooms at Rodeway Inn start from $60 per night. These rooms feature two large beds, a refrigerator, microwave, TV, hair dryer, and iron. Brew your own coffee in the morning and enjoy the beaches in Georgia without spending a lot on lodging. Many hotels in this chain also offer the option to add a gym and indoor pool to enhance your daily comforts. If you're planning to attend a festival in Louisiana, consider staying at one of the Rodeway Inn hotels. Rooms are bright, comfortable, and modern, starting from $85. Booking early may allow you to pay even less for your room."
Find the city of your choice to check rates at the best budget hotel in the USA Rodeway Inn.
8. Motel 6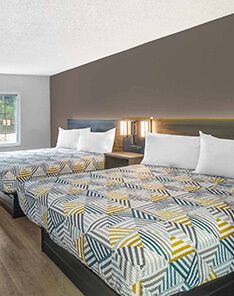 Major motel chains can also offer budget accommodations in the US. In most cases, these motels provide everything you need for an extended stay, including laundry facilities, guest rooms, Wi-Fi, phones, morning coffee, and cable. You can check into such motels at any time of the day, and they often accommodate pets. Norfolk in Virginia is home to a noteworthy Motel 6, offering a pool and vending machines on its grounds, with a beach within a 10-mile radius. The charming rooms are adorned with small, brightly colored segments, featuring spacious beds and mini kitchens, all available for as little as $60. In Los Angeles, rates start at $80 USD, and in Red Deer, rates begin at $65 USD."
If you find one of the great motels near you in the US Motel 6 stop by to take advantage of its amenities.
9. Super 8 Motels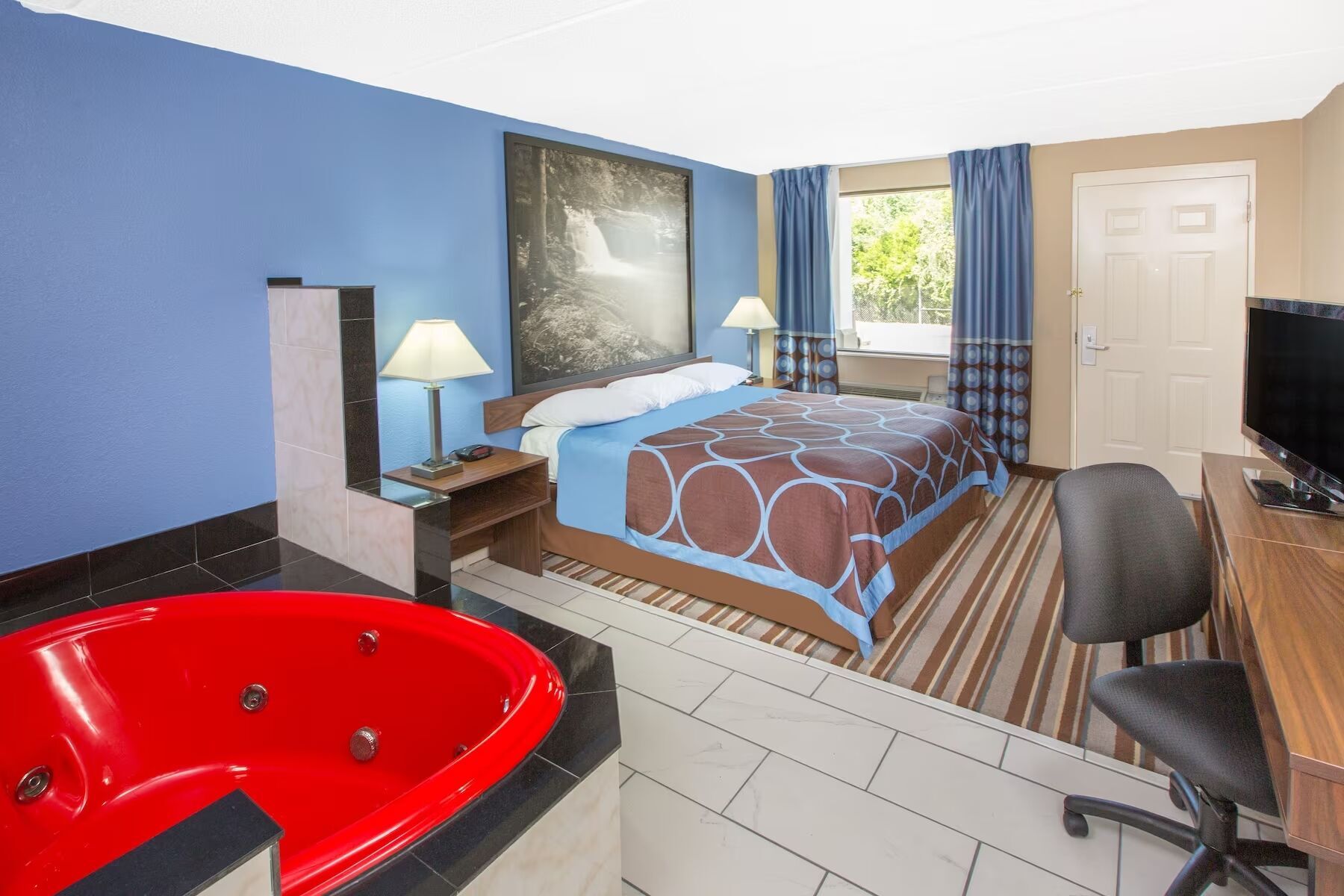 A good option for an economy motel in the US offers more than 2,000 establishments scattered across the country. Its rooms have coffee machines and Wi-Fi, and the location is usually very convenient to the city's main attractions. You can visit Disney Park or enjoy the entertainment of the Orlando resorts without spending large sums on accommodation. For $40, you can live in modern comfort with a pool, fitness room, breakfasts and visit the locations you want. You can earn points and redeem them for free nights, get the lowest price by being a loyal customer. The network is represented in all states and you will definitely be able to find something convenient for you. Together with the mobile application Motel 8, you will be able to quickly find rooms in the desired city and book them without payment. With the mobile app you will have a discount on the room, so take advantage of the offer from the budget motel in the USA - Motel 8.
10. Knights Inn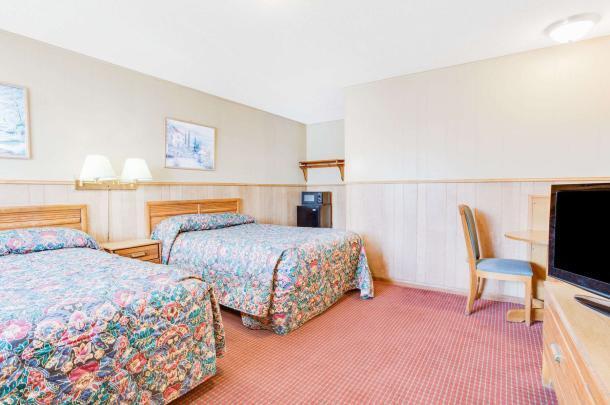 This budget lodging chain in the United States features both hotels and motels. Usually their location near airports, highways and shopping centers play to guests' advantage. Customers note the spaciousness and cleanliness of the rooms, beautiful bathrooms and breakfasts. Room rates range from $40 - $50, and comfort scores a 3.2 in ratings. Many of the hotels have pools and large beds in the rooms. You can choose a non-smoking or handicapped-accessible room to customize your comfort. Knights Inn in Nashville offers rooms with double beds and air-conditioned rooms with microwave and refrigerator availability, with hairdryer and beauty products in the bathroom for $67.
Choose your Knights inn.
11. Travelodge
Travelodge, a chain of budget hotels in the United States, is known outside the country. More than 400 hotels present rooms in the mid-range segment starting from $50. The price will also include your delicious breakfast and amenities such as: microwave, refrigerator, coffee maker and air conditioning. Take advantage of the offer in Miami to spend time in the sunny city with charming beaches for only $80 USD per night. You will always have the option to book and pay later or cancel your reservation without any penalties. Discover San Francisco with the best price for a room from 107 USD. Located near the airport, this hotel has a heated pool and lounge area on site. Coin-operated laundry facilities will help to solve household issues quickly.
Make your dream trip a reality with Travelodge, no matter what city you dream of.
12. America's Best Value Inn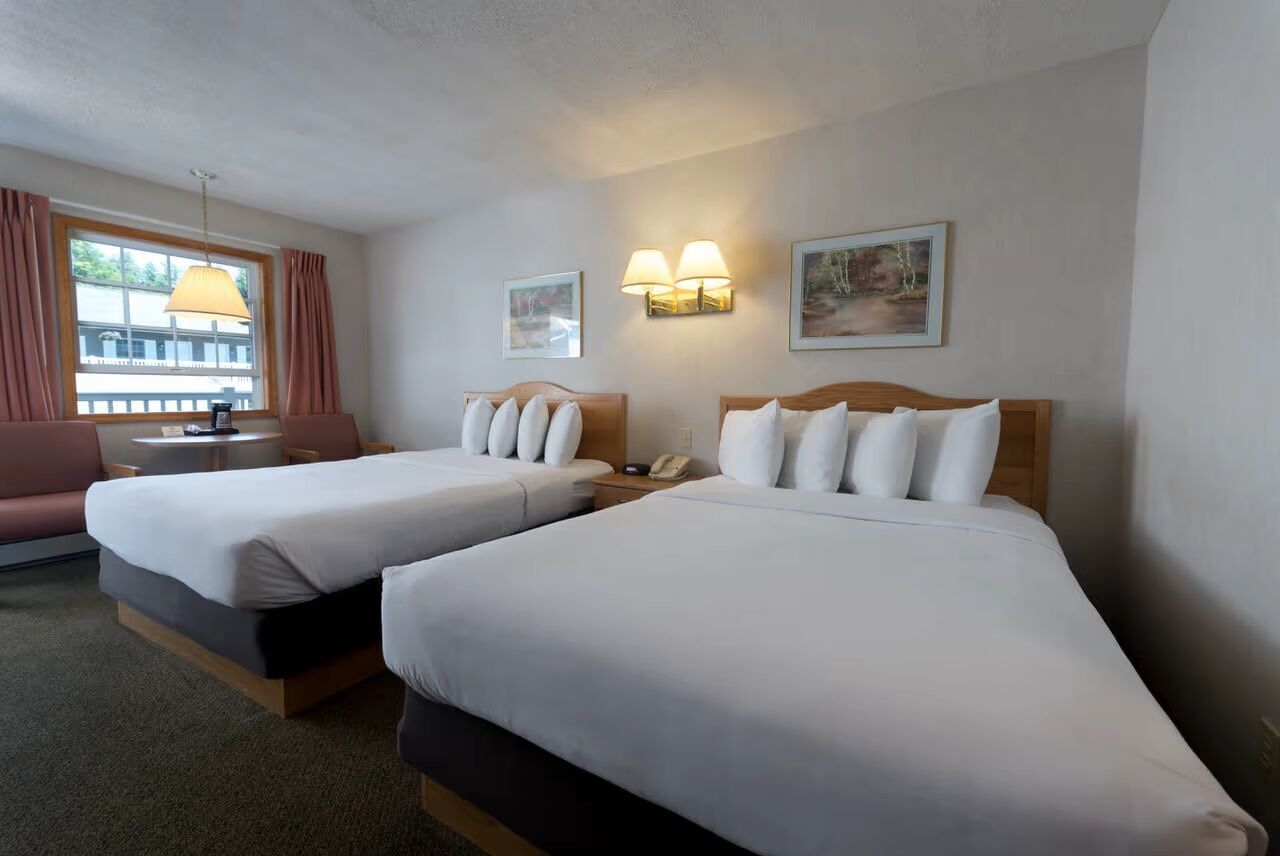 The best value hotels in the U.S. are found in the America's Best Value Inn motel chain. Given the relatively recent appearance of this franchise on the housing podium, development and acquisition is quite rapid. You can already consider more than 1,000 options for establishments of this brand. Customers note the availability of free parking, high-speed Wi-Fi, and delicious breakfasts that are included in the room rates. You can save even more by booking directly one of the packages offered by the chain. There are pleasant surprises and meal vouchers waiting for you. Separate discounts may apply to various shows, movie trips and even car oil changes. Bonus points for favored categories and discounts on your next stay. America's Best Value Inn makes sure you come back to their comfortable rooms wherever you go. The average room rate is $75 per room.
13. Candelwood Suites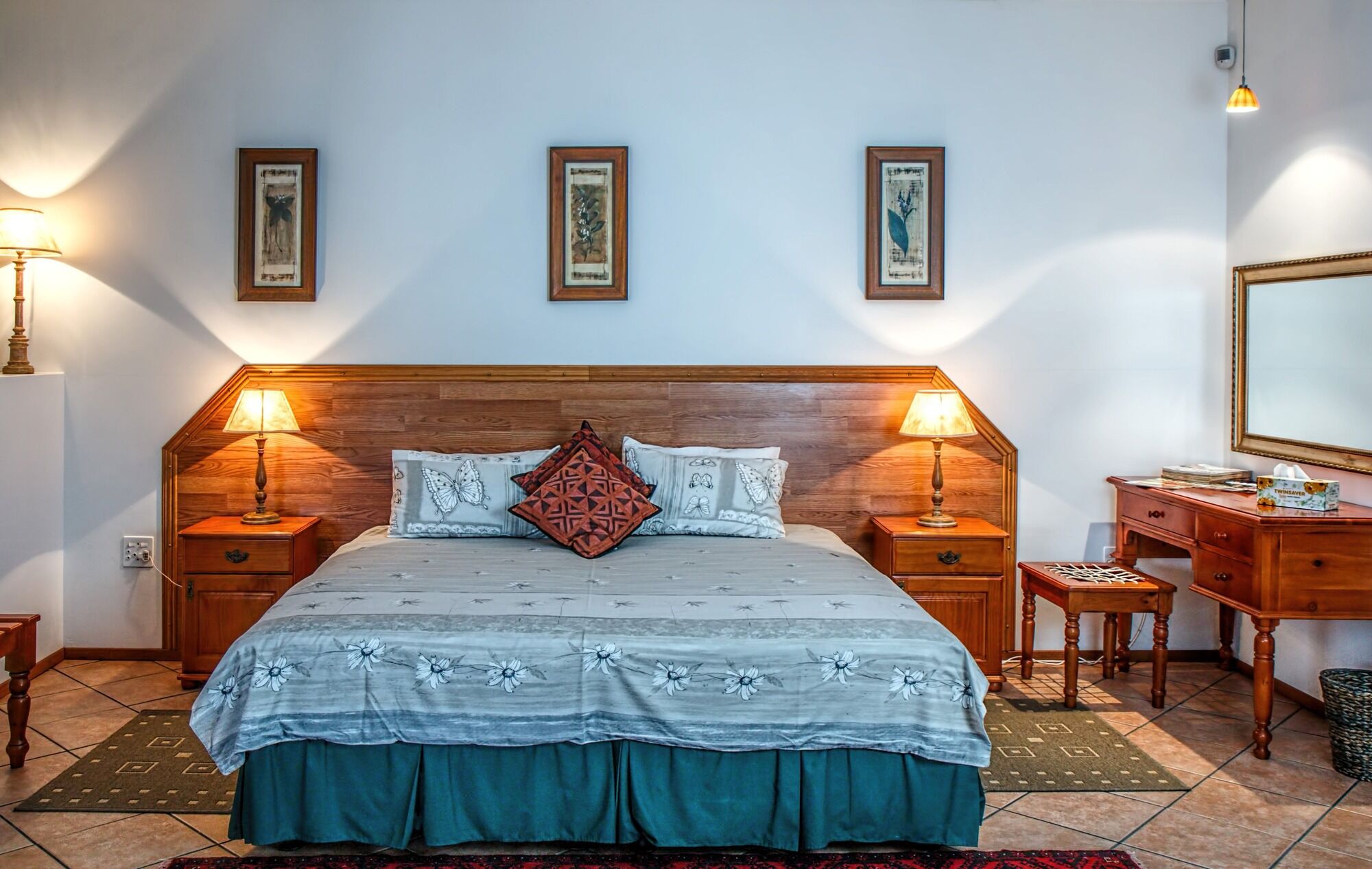 If your stay is prolonged, discover the best low-cost Candlewood Suites hotels in the USA near you. Their discount programs are excellent for long, budget-friendly stays in comfort. Rooms are equipped with a kitchenette, among other amenities, and their spacious size makes them suitable for various travel purposes.
Glamorous hot tubs and 24-hour gyms help you stay in shape. Some hotels even offer grilling gazebos and guest laundry facilities.
Your four-legged friends are welcome to travel and stay with you, and large suites are available to accommodate the whole family or a group of friends at a discounted rate. In Las Vegas, choose Candlewood Suites with a 4.6 rating. In New York City, the hotel is conveniently located right in Times Square, making it great for exploring the city and staying organized. The complimentary laundry and fitness center will lift your spirits, and the up to 24% discount for all winter months is sure to please. While the average price for a room in the Big Apple is $300 a night, it's New York, baby.