Beyond tourism - an unconventional guide to Thailand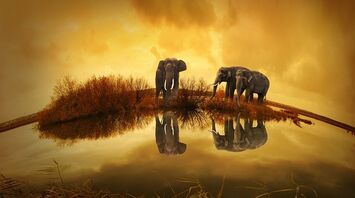 Amazing Thailand. Source: Image Mali from Pixabay
Dreaming of taking an amazing trip to Thailand? This wonderful country, with many cultural and natural attractions, has long been one of the most favorite tourist destinations. But, as with any trip, before traveling to this sunny country, it is worth a moment of thought and preparation. We have collected the best tips about Thailand to make your trip comfortable and memorable.
Recommendations for choosing the time of your trip
The best Thailand travel guide advises you to find out all about the climate in different parts of Thailand before you set off on your trip. The time of year affects what kind of vacation is right for you.
The north of the country is rainy from November to February, while the south is rainy from April to October. You don't have to go in the hottest months: November-February and June-August are good times without monsoons or storms.
Choose the season that suits your desires and plans with the Thailand guide.
Getting a visa and paperwork
Before traveling to Thailand, check your documents. Your passport should be valid and in good condition.
At the consulate, apply for a visa, attach copies of your tickets and hotel reservations. Show that you have a return ticket and enough money for accommodation.
If you fulfill all these conditions, you will be able to travel to this country without any problems. Read our Thailand travel recommendations for more useful tips!
Money and finances
You should always sort out your finances before traveling. Here are some thailand travel tips for traveling.
Check the baht exchange rate and exchange money favorably.
Use cards for safety and convenience.
Choose accommodation with wifi, good location and transportation.
Use public transportation. Thailand has many options: buses, subways, cabs and tuk-tuks. Affordable prices and convenience can save you money on logistics.
Be careful with travel tickets. If you plan to use the subway or buses, it's best to purchase a pass that saves you money on each ride.
Look for information about all local promotions, sales and discounts on tickets to amusement parks and museums.
It's better to use a local cell phone carrier to avoid unnecessary international call charges or roaming charges.
Buy fresh produce from the market at an affordable price.
Plan entertainment. The best way to save money is to plan ahead and purchase tickets for excursions, workouts, and more while preparing for your trip.
These simple tips will help you save money and increase your comfort in Thailand.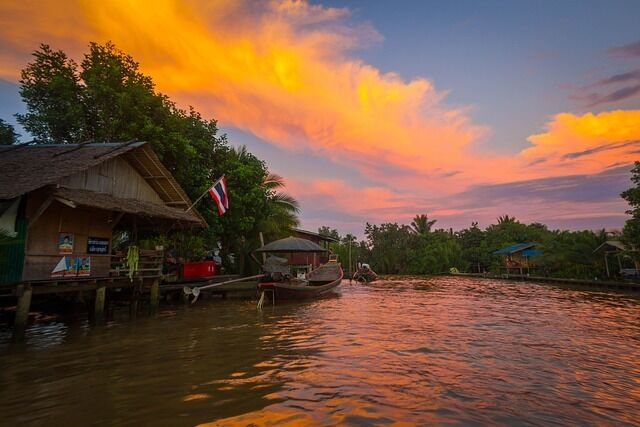 Safety and rights
Here are the top travel tips to Thailand to keep yourself safe from all sorts of trouble:
follow local laws and don't break the rules;
keep your documents and money in a safe place;
carry copies of your documents;
do not leave things unattended;
if you are asked where you are coming from or where you are staying, do not give detailed answers about your plans;
do not invite strangers into your hotel room or home.
Be vigilant and take care of your safety!
Culture and traditions
Don't know the basic important cultural norms and customs of the country and how to behave with the locals? Then the top tips for Thailand are just for you:
respectful behavior;
wearing appropriate clothing - it is important for women to cover their shoulders and knees and for men to cover their shoulders;
respect for the local population;
respect Thailand's religious traditions and do not take photos of monks without their permission;
people appreciate politeness, so remember to use the words "please" and "thank you";
courtesy and smiling are encouraged in Thai culture, so smile and greet people;
never touch a Thai person's head, even if you are friends;
never point your feet at Buddha or other religious values;
never criticize the king or other members of the royal family;
do not refuse food or a gift offered by local people;
remain calm even if something does not go according to plan.
Following these simple rules will be the key to a successful and enjoyable time in Thailand.
Thailand food and drink: tips and tricks
Food is an important aspect of traveling to this country. You must try national dishes and drinks with unique taste and aroma. Thai cuisine is rich in ingredients and spices and you will find dishes for every taste and budget. Don't miss the street food, exotic fruits and drinks that are typical of Thailand.
Important: Don't drink local water, especially if you don't know how it is treated, drink only bottled water.
Thailand tricks, what to try at local restaurants.
Pad Thai is a Thai classic: rice noodles with shrimp, nuts and spices.
Tom Yam Kung, or tom yam with shrimp, is a thick, sweet and sour soup in one with shrimp as the main ingredient.
Gai Pad Honey Mamuan is a treasure trove of spices in one dish! Chicken fried with cashews, peanuts, soy sauce, chili peppers and mustard powder.
Panggan Curry - A classic curry made with coconut milk and leaves from the curry tree. Meat, vegetables and spices are added to taste.
Khao Niao Mamuang - a dessert garnished with juicy mango and delicious, thick and sweet sticky rice.
Pla Pao - seared seabass fried in rice leaves and aromatic herbs.
Lab Moo - a wonderfully spicy dish made with a mixture of pork, poultry or seafood, characterized by a high degree of spiciness.
Som Tam - a refreshing salad of green papaya cut into strings, carrots and cucumber. Sprinkled with shrimp, garlic and Lime sauce.
Massaman Curry - a mild and rich curry made of potatoes, meat (most often beef) and flavorful spices.
Moo Grati is a famous Southern Thai dish: pork, in company with coconut milk, sesame seeds and ginger sauce. It's delicious!
Take a risk and try something new to experience the local culture and enjoy the journey.
Shopping and souvenirs
Shopping and souvenirs are an essential part of the trip. The Thailand visitor guide states that you can find everything at local markets including bamboo, silk and cosmetics. We recommend visiting famous markets such as Chatuchak or Nai Harn and street markets on the islands and buying interesting items.
Silk fabrics. The main souvenir in Thailand, especially in Bangkok. Excellent quality silk can be bought at the Jim Thompson fabric market.
Spices and spices. The country is known for its aromatic spices such as galan gal, coriander, and ginger.
Exotic fruits like mangosteens, durians, and pineapples.
Bronze products - there is an entire village in Chiang Mai where they have been working with this metal for many years.
Buddhist amulets and talismans - very popular with many supporters of Buddhism both locals and tourists.
Strange drinks are an important part of Thai culture, infused with a variety of flavors. The most popular near tourist centers is Mae Hong.
Bright Thai-style jewelry - jewelry made of silver, gold, stones and pearls.
Elephant figurines - are symbols of Thailand, so you can find a large number of figurines and statuettes.
Thai ceremonial masks - originally used in ceremonies and dances, but now widely used as jewelry.
Creepy bug waffles - this is a popular type of street food. Waffles with dried bugs and worms, a real exotic delicacy and an interesting souvenir for daring foodies.
When buying souvenirs in Thailand, check the quality, the seller and the price. You can haggle or pay with a card for safety.
Travel and Sightseeing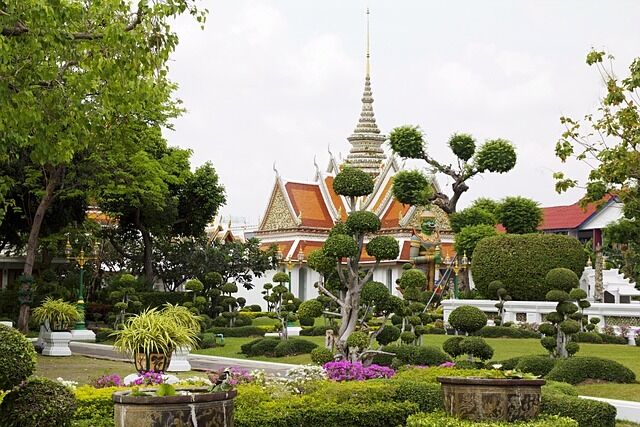 With our Thailand trip tips you can enjoy your trip and remember it for a long time! In the land of beauty, exoticism and culture you can visit parks, temples, fairs, festivals, islands.
Bangkok is the capital city of Thailand where you can see iconic sights such as the Temple of the Emerald Buddha, Wimanmek Palace and Phaho Sun Market. Don't forget to also sample local delicacies at the street markets.
Phuket is a southern resort town where you can enjoy picturesque beaches and luxurious resorts. Additionally, the bustling nightlife and restaurant culture is an added attraction.
Chiang Mai is a city in the north of the country known for its cultural attractions and temples such as the Unicorn Temple and Doi Suthep Temple.
Krabi is a tourist town on the west coast, where you can spend time on beautiful beaches and stay active by diving or kayaking.
Ko Samui is an island in the Gulf of Thailand where you can enjoy beautiful beaches and exuberant nightlife. Don't miss the famous Chaweng beach.
Ayutthaya is an ancient city in the central part where you can see royal ruins and historical temples such as the Waratkhano Temple and the Khmer Temple.
Pattaya is a resort city on the east coast of Thailand that is famous for its nightlife, active entertainment such as jet skiing and helicopter rides.
Ko Lanta is a tranquil island located in the province of Krabi. The place is perfect for a quiet beach vacation, both family and romantic.
River Quest in Chiang Mai - For those who want to enjoy nature, the Mae Ping River offers half-day Thai adventures for all fitness levels, including bamboo rafting, Tyrolean crossings and ziplining.
Himpat Garden Canine Complex - Located in a neighborhood in Bangkok, this is a popular destination for those who love dogs. Here you can see many breeds and participate in various shows and activities.
These places offer a wealth of choices for relaxing and enjoying the surrounding nature, culture and local cuisine.
Travelers guide to Thailand notes that each area has a different climate and time in a year, so it is recommended to research the best time frames and tips for each place to avoid the hottest periods or rainy seasons.
No matter which place you choose for your vacation, the main advice is to enjoy the sunshine, beautiful nature, unique culture and definitely learn the joy and pleasure of life.
Best activities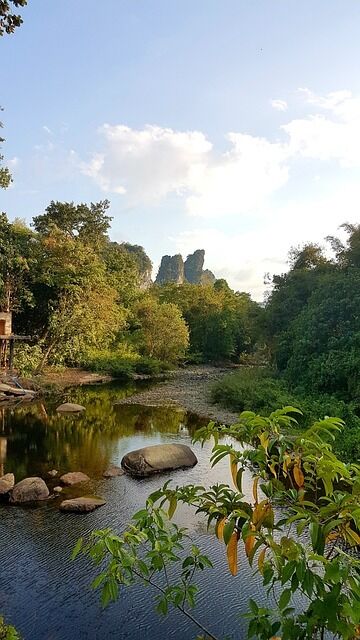 Thailand is a destination that offers many different activities and attractions to suit different groups of tourists.
Diving. You can see marine life and vegetation on the islands.
Spa treatments. Enjoy Thai massages, herbal baths and other spa treatments for little money.
Thai Cocktail. We recommend trying exotic fruit cocktails and other rum, tequila based drinks at sunset on the coast.
Yoga. On the islands you can find different yoga schools and classes for relaxation of body and soul.
Thai boxing. Adrenaline lovers can try Thai boxing - it is a fight without contact, where you can learn traditional techniques and principles of combat.
National Parks. The country has many parks for hiking and trekking. Here you can see natural beauty and wildlife including animals and plants.
Visiting cultural and historical sites. Thailand has a rich cultural and historical heritage, so you can visit monuments and museums. For example, you can visit Buddha temples like Wat Arun or Chedi Luang, which are famous for their architecture.
Elephant riding, mainly in Krabi and Chiang Mai.
Rafting and mountain trekking. The best season is October-December and February-April.
Marathon, having the opportunity to run along beautiful nature trails in the city and beyond. The most recognizable races are the full marathon in Chiang Mai or the half marathon on Phuket Island.
Don't forget that Thailand is a welcoming and safe country where you can enjoy the beauty of nature, socialize with locals and attractions, and learn traditional techniques to heal your body and soul. Enjoy your trip and try your best to explore the local culture and traditions for an unforgettable experience with Thailand travel guide 2023.
Happy traveling to the land of sunshine!