Top 14 resorts in Clearwater, Florida: the best places for your vacation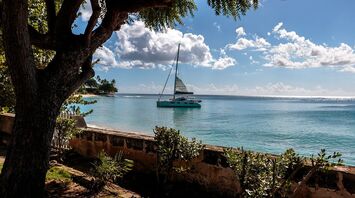 Resorts by the ocean. Source: Imagedigitalskennedy/Pixabay
Wide snow-white beaches, incredible nature and breathtaking views of the Gulf of Mexico are the minimum that makes calm and cozy Clearwater a great place to relax, as well as a great backdrop for photos that will be brightly displayed on social media feeds. Here you can find a variety of accommodation options to suit any budget - from budget hotels to luxury villas. To plan the perfect vacation full of sun, fun, and comfort, we recommend checking out the list of the best resorts in Clearwater.
1. Sandpearl Resort
Undisputedly one of the best resorts in Clearwater, Florida, this chic hotel boasts incredible views of Clearwater Beach and occupies more than two acres of prime beachfront. Amenities available to guests include the following:
an excellent restaurant with gourmet cuisine;
fitness center;
large swimming pool with zero entry, jacuzzi and sauna;
a spa center with a wide range of wellness and relaxation services;
expeditions and excursions, including dolphin watching, fishing and boating.
Sandpearl Resort is located in a quieter part of the city, so you can count on a minimal number of tourists. At the same time, it takes only ten minutes to get to Pier 60. It is worth visiting this location to enjoy an unforgettable sunset.
We also recommend having a picnic overlooking the Gulf of Mexico, as there are plenty of barbecue areas on the territory of Sandpearl Resort.
Two accommodation options are available for resort guests:
rooms with one or two bedrooms and a large balcony;
suites with a king-size bed and a private lounge area with a sofa.
All rooms include a large bathtub and separate shower.
The hotel is pet-friendly, but only for dogs weighing up to 30 pounds. And for their accommodation, you will have to pay an additional $100.
2. Opal Sands Resort
One of Clearwater's newest and finest resorts, Best Clearwater Resorts offers a high level of service and a luxurious stay in one of 230 modern suites. The rooms are equipped with large beds, kitchenettes, dining tables, and sofas. Those who are particularly demanding can stay in the Presidential Suite with two separate bedrooms.
Among the amenities available to guests of Opal Sands Resort are the following:
three restaurants and a dining room overlooking the Gulf of Mexico;
outdoor heated pool;
jacuzzi
Everywhere from the rooms to the press conference rooms, you can see that great attention is paid to detail. For example, there are various works of art throughout the resort that add to the enjoyment and experience of the vacation.
3. Wyndham Grand Clearwater Beach
The best resorts in Clearwater, Florida are impossible without this famous complex located on the beach. The Wyndham Grand Clearwater Beach was built only in 2017, so it can offer guests modern amenities of high quality, including:
fitness center;
personal access to the beach;
heated swimming pool;
spa center;
restaurants
Pier 60 is located next to the hotel, which is definitely worth a visit if you want to take a nice walk along the beach or plan to rent a boat.
The hotel consists of almost 350 rooms, each with an unrivaled view from the large windows. In addition to regular rooms, you can stay in an extended suite, which is most often chosen by couples due to the presence of an orthopedic king-size bed.
The hotel does not allow pets.
4. Sheraton Sand Key Resort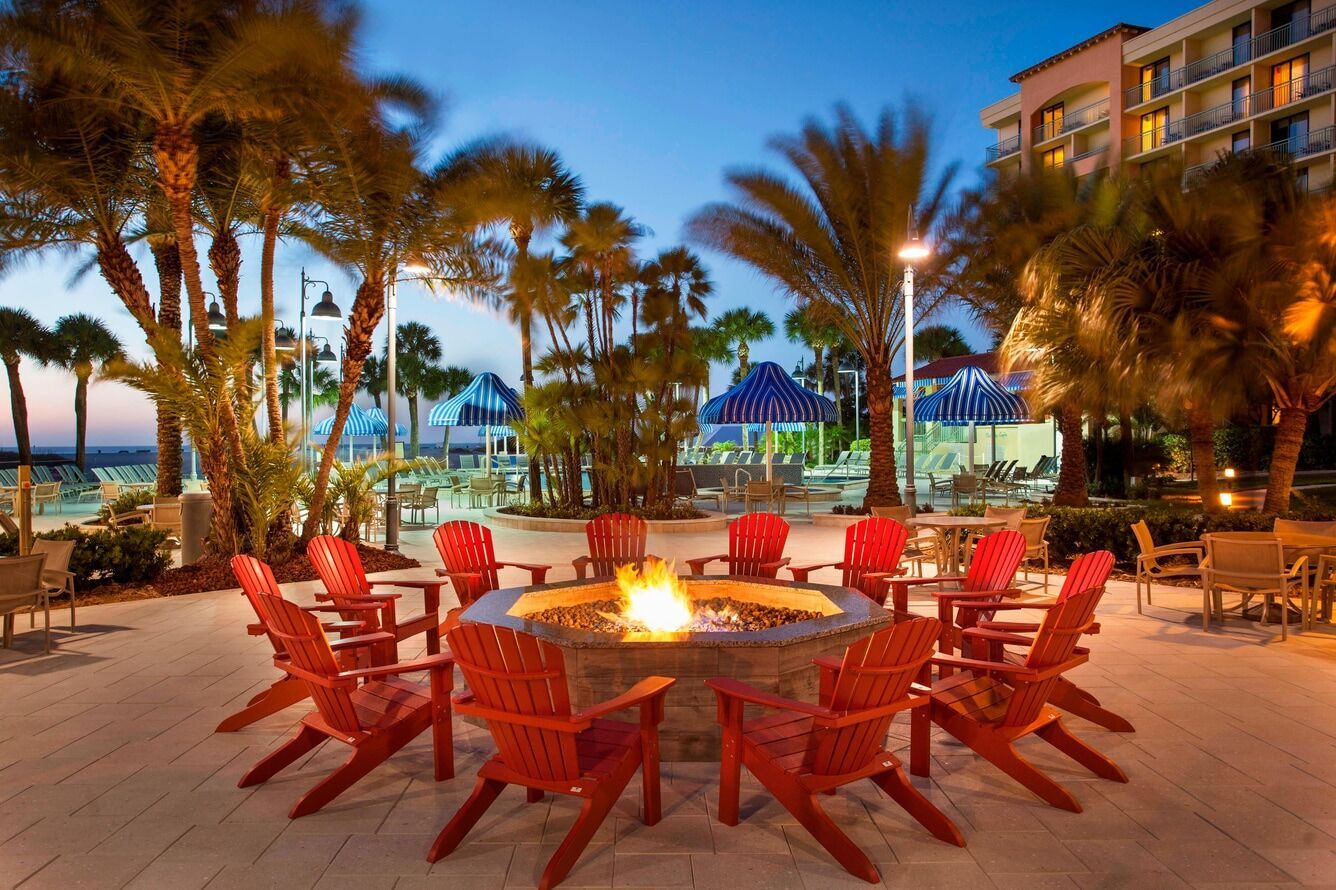 A key feature of one of the most luxurious vacation resorts in Clearwater, Florida, is the presence of a 13-acre private beach. That is why those who prefer to spend as much time as possible near the water, especially when it comes to surfing, love to stay here.
The resort offers a variety of activities to suit every taste - from playing tennis on always-lit courts to enjoying a pleasant spa treatment. In addition, you can work in the large business center if necessary, but it is better to leave your vacation for relaxation.
Children will definitely be delighted with the large heated swimming pool, and there is also a jacuzzi on site that can accommodate up to 12 people. After a fun swim, you can recuperate with lunch or dinner in the cozy restaurant. In particular, Slo Joe's Turtle Bar is located near the pool and offers a variety of cocktails and light snacks.
There are over 170 rooms available at the Sheraton Sand Key Resort, including 40 chic suites that have access to a private lounge.
5. Clearwater Beach Myriott Hotels on Sand Key
For those looking for a relaxing family vacation, one of the best resorts near Clearwater, Florida will be a good choice. Accommodation options include chic suites with gulf views that can be enjoyed from the balconies. The rooms are equipped with a kitchenette and the bathrooms are decorated with marble.
There are various dining options on site, including outdoor dining, a spa and fitness center, and even a hair salon. You can also rent a kayak or jet ski.
Please note that the Clearwater Beach Marriott Suites does not have a private beach, as it is located on the inland side of Sand Key and not in close proximity to Clearwater Beach. There is a two-mile walk to the beach, and Sand Key Beach is nearby, where you can enjoy spending hot days or strolling in the evening.
The resort features large swimming pools, including a children's pool and a 35-foot waterfall. There is plenty of entertainment for children. If parents want to spend some time alone, they can use the babysitting service or register their child in a special club.
6. Cabana Clearwater Beach
One of the oldest resorts in Clearwater was founded in 1947 and still offers its guests a top-notch vacation on one of the best beaches in America. The hotel is decorated in a boutique style, so you can expect a private atmosphere and stylishly decorated rooms.
Accommodation options include the following:
"petite rooms" with a queen-size bed are the best choice for couples;
"queen + bunk suites" - ideal for families with children, as this room includes an additional bathroom;
spacious cottages equipped with kitchenettes and one bedroom.
This hotel is usually chosen by those who want to fully enjoy a beach vacation thanks to its good location. The resort is located in the northern part of Clearwater Beach. This ensures a significantly smaller number of people on the beaches. In addition, the complex has a swimming pool and an outdoor terrace, equipped with lounges for the most comfortable stay.
7. Hilton Clearwater Beach Resort & Spa
The spa hotel is an incredibly beautiful and comfortable place, overlooking white sandy beaches, the Gulf of Mexico and fantastic sunsets. The Clearwater Marine Aquarium is less than two miles from the resort, and the Sand Key Park barrier island is 2.8 miles away. In addition, we recommend visiting the famous Dalí Museum to see the famous artist's unsurpassed surrealist works firsthand.
The Hilton Clearwater Beach Resort & Spa is located in the heart of Clearwater Beach, with 10 acres of coastal, contemporary real estate at its disposal. Among the amenities available to guests of the chic resort are the following:
two outdoor heated swimming pools;
a variety of restaurants, including the popular Starbucks coffee shop;
several conference halls covering an area of more than 35 thousand square feet;
direct access to a clean beach with sun loungers and lounges;
spa center;
laundry and dry cleaning services, etc.
There is also a large fitness center on site, so you won't have to interrupt your workouts even during your long-awaited vacation.
You have the option of staying in a room with a single or king-size bed. Regardless of the choice, guests are sure to enjoy spectacular views from their private balcony.
If you want to explore the surroundings of Clearwater Beach, you can use the bicycle rental service or book a jet ski trip. Families with children are most welcome at the resort, which organizes a variety of interesting events and activities for them all the time.
8. Hampton Inn & Suites Clearwater Beach
Another location that appeared recently. Hampton Inn & Suites Clearwater Beach is a resort in the Clearwater area resorts, which is a ten-minute walk from the beach, and the way to the famous pier will take about 20 minutes.
The hotel has several shops, restaurants, a fitness center, a swimming pool with a waterfall, and comfortable lounges. You can stay in a one- or two-room suite of your choice. In any case, you will find furnished areas for work and relaxation, large balconies, and other amenities. Breakfast is included in the room rate.
9. Shepherd's Beach Resort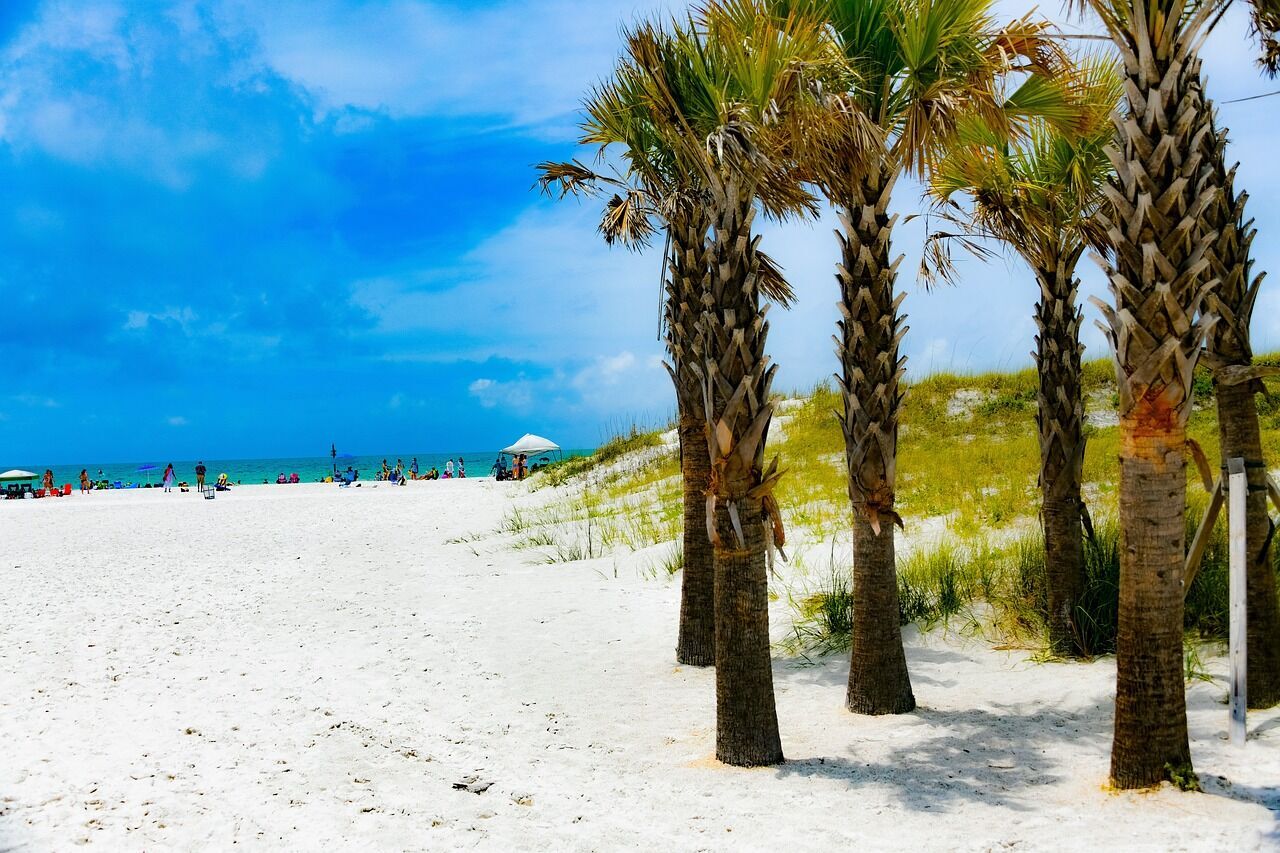 One of the best resorts near Clearwater, Florida is ideal for families due to its good location on the Gulf Coast and a diverse entertainment program that will appeal to both adults and children.
A special feature of Shepherd's Beach Resort is Makin Waves watersports rental. Guests of the hotel can enjoy a variety of sports, such as kayaking or paddleboarding, or sign up for a dolphin cruise. To explore the surroundings of Clearwater, the resort offers the use of bicycles, scooters or golf carts.
Visitors have the opportunity to relax on the comfortable sun loungers set up on the beach or sip refreshing cocktails on the pool terrace. We also recommend visiting the popular Tiki Grill. Located right on the beach, this is a great place to spend time with your family and enjoy delicious meals by the water. Children will be delighted to visit the Oasis Grab 'n' Go, where they can not only taste various desserts, but also buy one or even several souvenirs to remember the wonderful vacation.
Accommodation options include comfortable rooms and two-bedroom suites with balconies overlooking the bay.
10. Residents Inn Clearwater Beach
When considering resorts near Clearwater, you should definitely pay attention to this brand new hotel complex, which offers its guests high-class amenities and service.
Residence Inn Clearwater Beach is not located on the coast, but it also has a very good location. In particular, the rooms offer a magnificent view of the Intracoastal Waterway.
The apartments are equipped with a kitchen and dining area, which is especially important for those traveling with small children. In addition, there is a restaurant on site, and breakfast is included in the reservation price.
Among the advantages of the resort is the ability to stay with pets. At the same time, a fee of $125 is charged for the entire stay, not for one night.
11. Hyatt Regency Clearwater Beach Resort & Spa
Top resorts in Clearwater, Florida, boasts the best location on Clearwater Beach. The hotel is right in the middle of the beach, offering guests to stay in one of almost 300 rooms. Ranging from 400 to 1400 square feet, the apartments are beautifully furnished, provide a large balcony, kitchen and huge TVs, and much more. The rooms offer consistently beautiful views of the bay.
The Hyatt Regency Clearwater Beach amenities are worthy of the highest class:
restaurants with gourmet food, including the most popular - SHOR;
fitness and spa center Sandava Spa with a wide range of services, such as shell massage;
outdoor heated swimming pool;
conference room.
Next to the pool, you can book a private cabana that includes drinks and food and is climate controlled. The resort welcomes families with children, as there are many activities for them, including camping around the water area. Please note that pets of any kind are not allowed on the resort's premises.
If you want more activities, the staff will help you organize off-site adventures, such as fishing, snorkeling, dolphin watching, and more.
12. Barefoot Bay Resort & Marina
This vibrant resort will be a great option for those who want to plan a vacation on a tight budget and still visit a cozy place with the highest rating. Despite the affordable prices, Barefoot Bay Resort & Marina offers a large number of amenities, including:
barbecue area;
large heated swimming pool;
private marina;
rental of jet skis and boats.
A variety of room options are available for guests. For large families of up to six people, a spacious apartment with two rooms, including a bedroom with a king-size bed and a living room with a sofa bed and a huge TV for movie nights, is perfect. The room also has a kitchen and a refrigerator. The second accommodation option is a standard room with one or two beds.
13. Holiday Inn & Suites Clearwater Beach
On the shores of the incredible Gulf of Mexico is this complex, which is a paradise for a perfect beach vacation. Watching dolphins and fantastic sunsets over the distant horizon is worth it!
This resort in Clearwater is located next to the famous Clearwater Marine Aquarium, which will definitely appeal to children and adults alike. There are also many entertainment venues and shops nearby.
Among the amenities of the three-star complex are the following:
fitness center;
outdoor heated swimming pool;
gym;
restaurants, including the most popular Jimmy's Fish House with open-air dining and evening entertainment.
You can book one of the 189 comfortable rooms, such as the Kids Suites, which include an extra bedroom and an equipped kitchen and dining area.
14. Palm Pavilion Inn
This resort is especially popular for families. The complex offers a variety of facilities that will satisfy even the most demanding travelers. The building itself vividly illustrates the Art Deco style. You can stay in one of the thirty rooms, each of which offers incredible views of the ocean or the Intracoastal Waterway.
Palm Pavilion Inn is ideal if you plan to explore the many beaches on the Gulf Coast. Children and adults alike are sure to enjoy the heated swimming pool and amenities for a comfortable stay by the water. A special feature of the complex is the rooftop patio, which is perfect for watching sunrises and sunsets.
At the request of visitors, the staff can provide cots or children's toys to make their time on the beach more exciting.
We recommend visiting the Palm Pavilion Beachside Grill, located on site. This is one of the most popular restaurants in Clearwater, where you can taste fresh seafood, delicious cocktails or order a juicy dessert.
It is worth noting that not all complexes are located in close proximity to the beach. Some of them are located on the southern part of the island. That is why before booking, it is worth clarifying exactly where the chosen resort in Clearwater, FL is located. Especially if you are counting mostly on a beach vacation.