Tips for wild camping in Scotland when planning an unforgettable outdoor vacation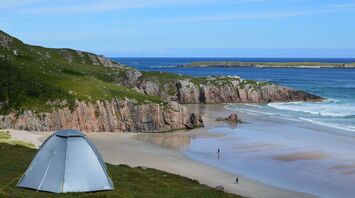 Camping on the picturesque shore. Source: Image Jason Parker/Pixabay
Camping is a great way to explore the country, discover unexplored corners and get closer to nature. Immerse yourself in an unforgettable journey that will help you rejuvenate among mountain ranges, remote rural landscapes, birdsong, and shady trees. However, before you set off, we recommend that you read the following tips for wild camping in Scotland. Thanks to the Land Reform Act passed in 2003, most of the most picturesque parts of the country are open to everyone, unlike in England and Wales.
Where you can set up a wild camp
This type of camping involves placing a tent as far away from the infrastructure as possible. At the same time, tourists carry all their equipment with them, leaving no traces or even garbage after the vacation.
In Scotland, almost all lands, even those that are privately owned, are open to wild tourists, except closed fields. In addition, camping is laid out as far as possible from any buildings, historical structures, and roads. Restrictions due to overuse include the following areas:
Loch Lomond area;
Trossachs National Park.
It should be borne in mind that accommodation there is as limited as possible. In any case, Scotland has plenty of beautiful places for outdoor recreation from beaches and forests to incredible valleys and lakeshores.
Do I need to apply for a permit?
In most cases, you can set up a tent without permission. However, if you plan to stay in the Trossachs National Park or in some parts of the Loch Lomond area, you will need a permit between March and September to avoid excessive tourist traffic and damage to the unique landscape. You can get permission to set up a tent on the park's official website if the chosen location is part of the campsite management area.
How to choose a suitable place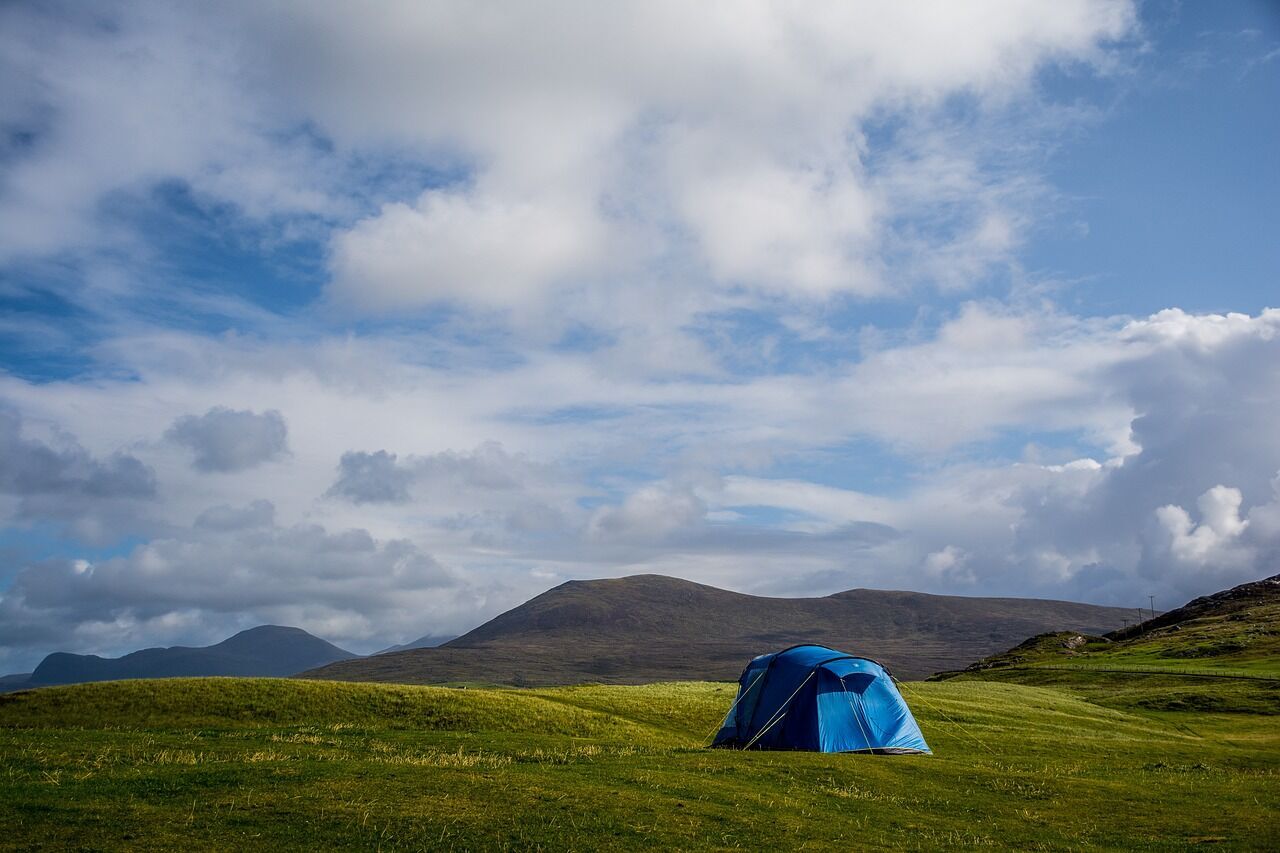 It is best to set up your tent on a dry, level area protected from the wind. However, you should not camp directly under a tree where branches can fall, especially in bad weather.
Another tip for wild camping in Scotland is not to set up a tent near water, no matter how beautiful the lake, river or other body of water is. When it rains, your camp can be flooded, so give preference to slightly higher ground. Also, don't camp between two hills, because such an area can easily become waterlogged and turn into a real wind tunnel during strong winds.
In any case, the choice of location depends on personal preferences. It can be either a beach or a secluded valley as far away from people as possible.
Rules to follow
One of the main tips for wild camping in Scotland and in any other area is not to leave any traces. It is necessary to minimize your impact on the natural environment:
take all garbage with you and dispose of it only in designated places;
do not make a fire, use a portable stove instead;
do not stay in one place for more than one or two nights to avoid damaging the ground cover;
do not pollute water sources with chemicals and use environmentally friendly products;
bury any human waste.
In addition, we advise you to leave early in the morning and set up your tent in the evening to avoid disturbing other tourists and avoid crowds.
What you need to take with you
When it comes to wild camping, you're likely to carry all your gear on your back. That's why you should choose a lightweight and comfortable kit that will still contain everything you need for a successful trip in nature.
Beginner wild camping in Scotland will not be complete without a quality tent. It's better not to skimp and choose a reliable and waterproof model with good fasteners that won't be blown away by the slightest gust of wind.
Another equally important component of a hiking kit is a sleeping bag. The weather in Scotland is changeable, especially at higher altitudes, where it can suddenly get cold. Therefore, you should make sure that the sleeping bag can withstand the temperature range possible in a particular season. Other things you should bring with you include:
a folding and lightweight camping mat;
a portable tourist stove, matches or a lighter, and utensils;
a basic set of products that will be enough for your trip;
a garbage bag;
a small shovel;
water filter;
toilet paper (biodegradable);
first aid kit, sanitizer;
flashlight.
You should also take care of your clothes, which should be multi-layered and waterproof in case of rain. All things should fit in a backpack. Choose an option that will be convenient for travelling and carrying equipment. For short one-day trips, a backpack with a volume of 40-50 liters is enough, for longer trips it is 60-70 liters.
Travelling by campervan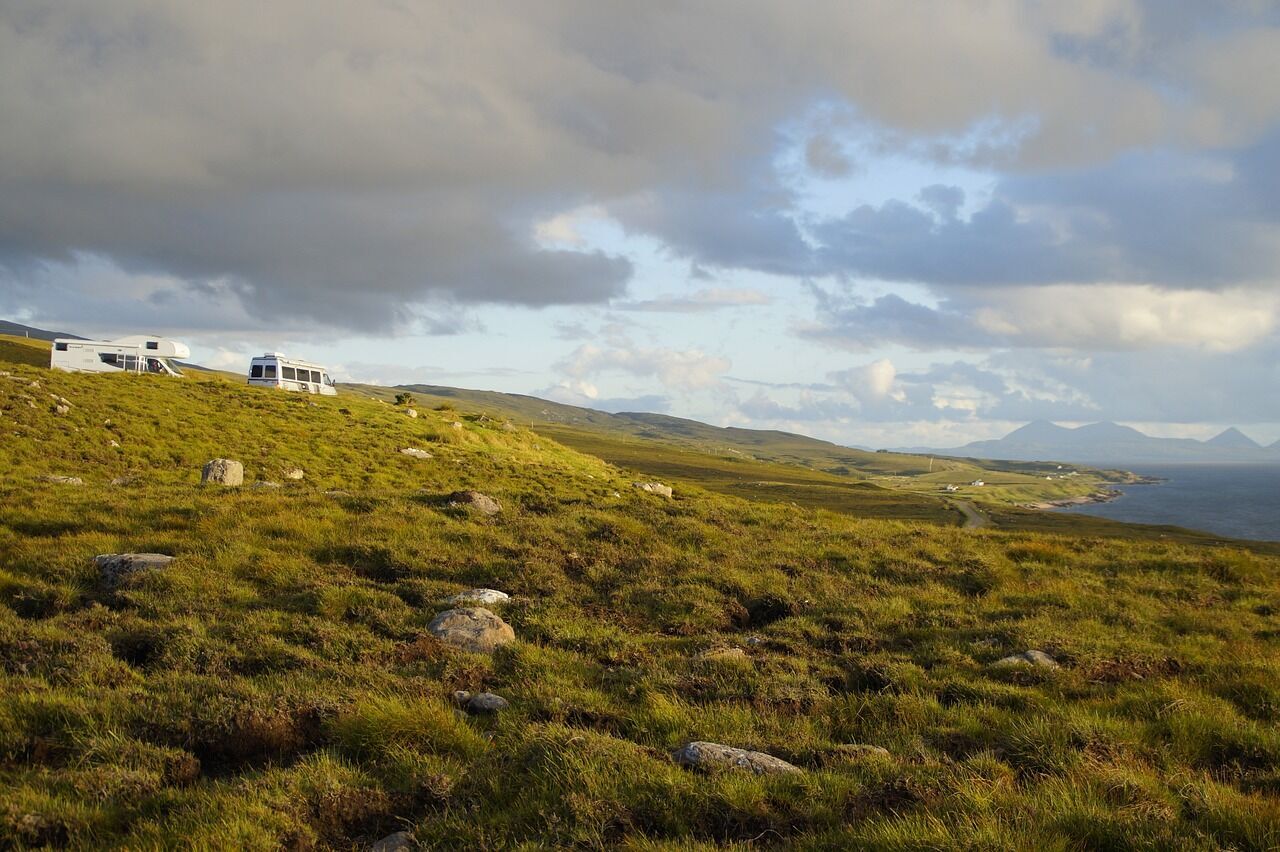 Unlike pitching a tent, there are slightly different rules when using an RV. For example, it is forbidden to park a campervan on private land without obtaining prior permission. According to the Scottish Land Reform Act, parking overnight in a motorhome is not wild camping. This applies only to hiking and travelling on any non-motorized vehicle, such as a bicycle.
In Scotland, there are special overnight parking lots, and there are also various campgrounds where you can park your RV. In particular, there is a network of Brit Stops, which offers free accommodation for one night in a motorhome on the territory of vineyards, farms or other places on the list. The service provides more than 110 places for free overnight stays in the UK and Ireland.
Another way to find a location to stay in an RV is Wild With Consent. This is a service for finding and booking camping spots in the wild. Each place is a separate plot of private land where only one camper can stay, which guarantees maximum privacy and peace. As in the case of wild camping, the main condition is not to leave any traces and not to harm nature.
Wild camping in Scotland is a great way to see unexplored parts of the country that cannot be reached by public transport or car. With a minimal set of things that you can carry on your shoulders, you can spend the night in the most beautiful places without spending money on accommodation.