Best beaches in New York: top 12 places to relax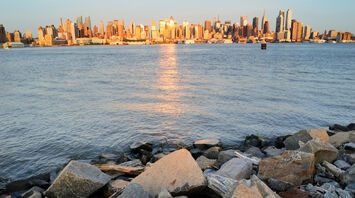 There are many famous beaches in New York. Source: Image TravelScape/Freepik
Hundreds of thousands of tourists visit New York City every year. In addition to its world-famous attractions, it also boasts many great places for a beach holiday. It doesn't matter if you're planning a weekend trip, a camping trip, a resort stay, or if you just want to freshen up and spend time on the beach with your group. In any case, you can find good beaches near New York or within the city.
Most of them offer not only beach activities, but also a lot of entertainment and extras: sports, water games, excursions, and much more. Beaches in New York City are free and open from 10am to 6pm, starting in May with the Memorial Day weekend and continuing through to Labour Day in early September. Some are accessible by subway, bus or ferry, while others are within walking distance.
In our top list, we've compiled the best beaches in New York with recommendations for choosing depending on what you're looking for - trendy holiday destinations, uncrowded beaches, beaches with lots of entertainment or those suitable for families.
1. Coney Island Beach, Brooklyn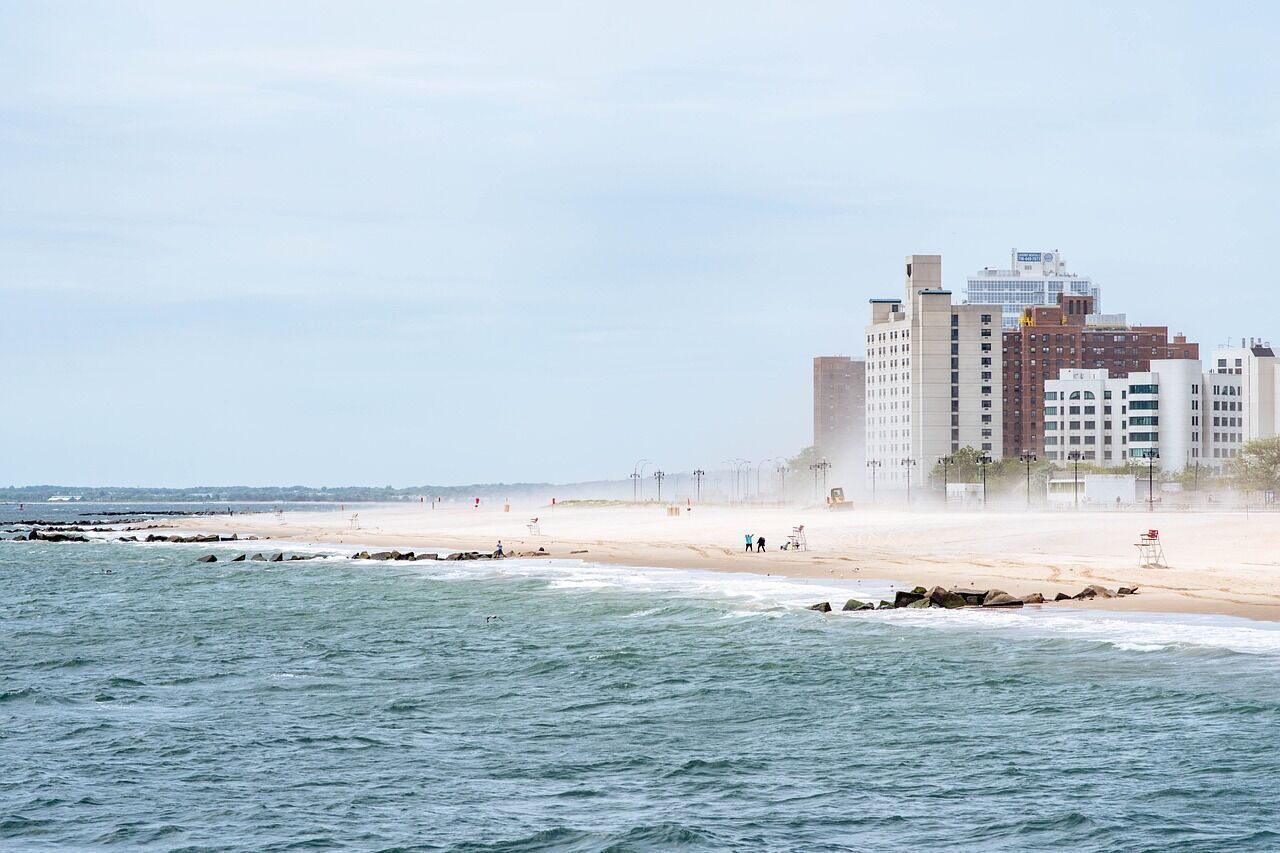 This famous beach in New York City on the outskirts of Brooklyn attracts thousands of visitors every year and is perfect for those looking for the perfect combination of sun, sand and fun.
Coney Island is three miles of sandy beach with volleyball and basketball courts. And of course, two amusement parks with the world-famous Cyclone roller coaster are the most iconic local entertainment. After a day at the beach, you can grab a hot dog from Nathan's at the original restaurant on the corner of Surf and Stillwell, or perhaps take part in the annual hot dog eating contest held on the 4th of July.
Friday nights end with a fireworks show. In June, the famous Mermaid Parade takes place here, marking the beginning of summer. And in the nearby aquarium (the oldest in the United States) you can see a collection of 350 marine species, including 18 species of sharks.
2. Brighton Beach
If you are looking for less crowded beautiful beaches in New York than Coney Island, then next to it in the area known as "little Odesa" is the clean and more spacious Brighton Beach. It's less crowded and mostly visited by locals to enjoy a picnic on the beach and play beach volleyball.
As you walk along the boardwalk, you'll see a lot of Eastern European restaurants, as Brighton Beach is home to the largest community of Eastern Europeans in the United States. So be sure to try new and interesting dishes, such as dumplings.
There are also several parks and playgrounds with baseball fields, handball, basketball and tennis facilities.
3. Jones Beach State Park, Long Island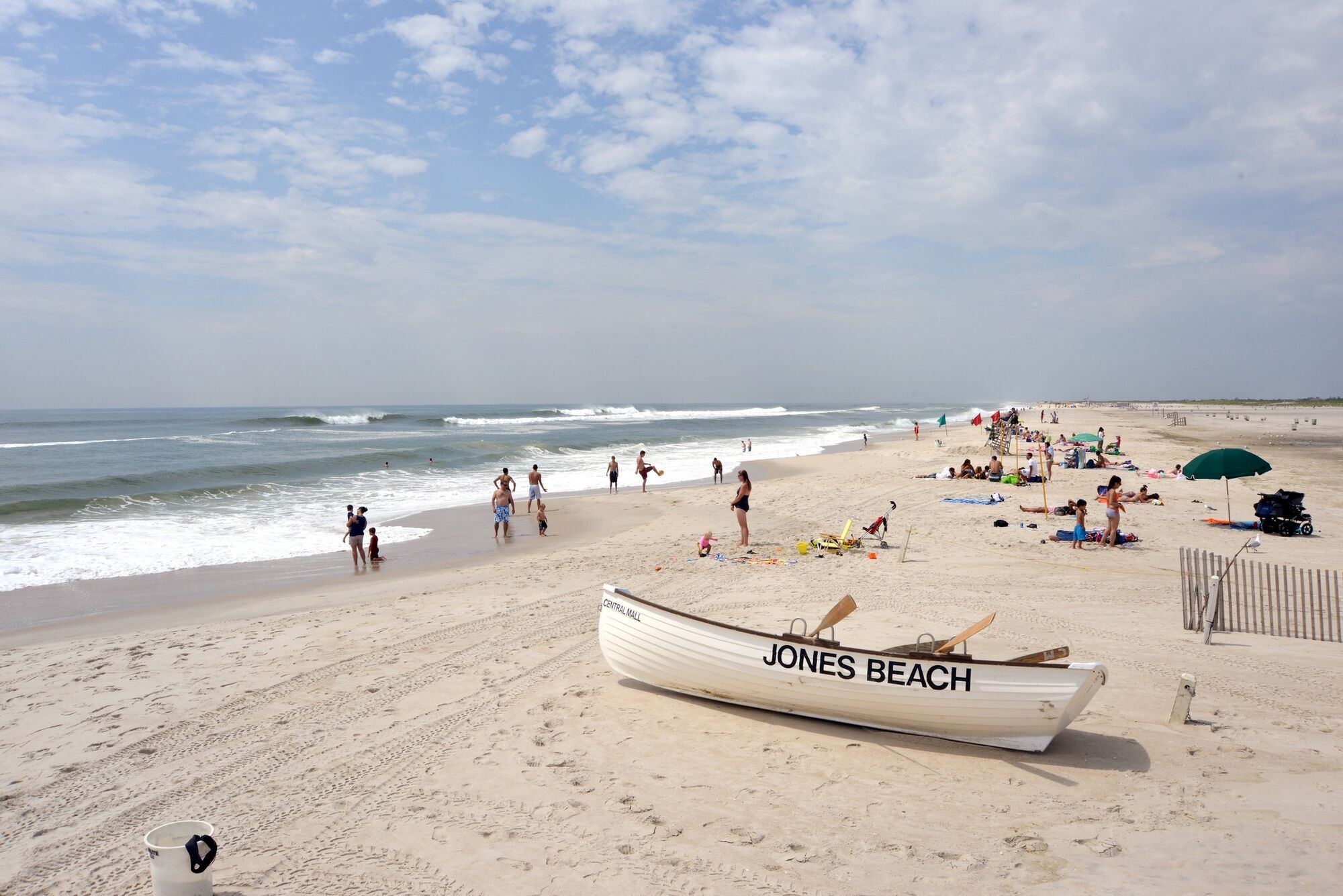 When it comes to beaches near New York City, Jones Beach is deservedly at the top of the list. With 6.5 miles of sand and a two-mile-long boardwalk, it's perfect for relaxing, sunbathing and playing sports.
The beach also offers additional entertainment beyond the beach activities themselves, with ball fields, mini-golf, shuffleboard, a swimming pool and the Northwell Health Theatre, which hosts live performances by up-and-coming and established musicians. You can go kayaking and surfing along the coast.
An air show is held here on Memorial Day weekend. Parking near the beach is paid - $10. During the high season, like many beaches in New York, it is filled with holidaymakers, so it is better to come early in the morning or before sunset.
4. Long Beach, Long Island
Long Beach is among the cleanest beaches near New York City. It can be reached in 50 minutes by train on the Long Island Rail Road (LIRR) from Manhattan. The soft white sands and 3.5 km of boardwalk are perfect for beach holidays, hiking and cycling.
In summer, Long Beach hosts free concerts and the Art on the Promenade festival. There are good surfing spots, and you can take surfboarding lessons. Beach umbrellas and bicycles are available for rent. There are several snack bars and restaurants along the boardwalk.
In summer, the entrance to the beach is paid and costs $12 for residents and $15 for non-residents. However, the LIRR sometimes runs a one-day weekend promotion where passengers receive a beach pass with their train ticket.
5. Cooper's Beach, Southampton
With its pristine coastline, this Hamptons beach is often included in rankings of not only the best beaches in New York City, but also in the United States. The 500-foot stretch on the South Shore is popular for strolling alongside magnificent historic mansions, sand dunes and beautiful ocean views. It is located next to the historic city market. Beach facilities include a snack bar, showers with hydromassage and fresh water, umbrella and chair rental, and a lifeguard station. Entrance to the beach is free, but a decent fee of $40 is required for parking.
This is the best beach in the New York area for families with small children: the soft sand is great for playing and building sand castles, and the waves are quite mild.
6. Main Beach, East Hampton
These places in East Hampton are rightfully included in the list of the best beaches in New York and the surrounding area. The main beach of East Hampton, Main Beach, is famous for its long stretches of soft sand and clear water. It is the most popular beach in New York among celebrities.
Main Beach is located very close to the city centre and has quite a few parking spaces. But in season, even they are not enough, and the parking fee is significant - $30. Therefore, it may be better to go here by bike. There are restaurants and pubs within a few miles, and a snack bar directly on the beach. Lifeguards are on duty from 10 am to 5 pm, there are several bathrooms and showers, and lockers for storage.
7. Robert Moses State Park, Fire Island
The beautiful beaches in New York City at Robert Moses State Park on Fire Island cover 5 miles. The stretch of sandy coastline is divided into 4 "fields", each with its own atmosphere and population.
The two central beaches are quiet and peaceful, but the beaches on the edges are more crowded. There is an 18-hole miniature golf course surrounded by wildlife and a historic landmark, the 200-year-old Fire Island Lighthouse, within walking distance. To get to the top, you need to overcome 192 steps, but it offers a spectacular panorama of the island and the ocean. There are also shopping stalls and a children's park near the beach.
These picturesque New York beaches are open all year round and are popular with fishing and surfing enthusiasts, and there are showers, a volleyball court, grills and picnic tables on site. You can get here by bus or train.
8. Orchard Beach, Pelham Bay Park
The 1.8 km long crescent-shaped beach overlooks the Long Island Sound. It is the only public beach in the Bronx and the closest beach in New York City for most of its residents. Therefore, there is always a lot of music and noisy companies. Quieter spots can be found at the ends of the beach with rocky shores, where people like to fish, or in Pelham Bay Park with shaded seating areas and bike paths.
There are many sports grounds, a barbecue area, bathrooms and showers, and snack bars on site. Pets are allowed. You can get here by bus, the trip from the centre will take less than an hour. There is paid parking for private vehicles ($8 on weekdays and $13 on weekends). In the evenings, you can visit the cinema next to the beach.
9. Rockaway Beach and the promenade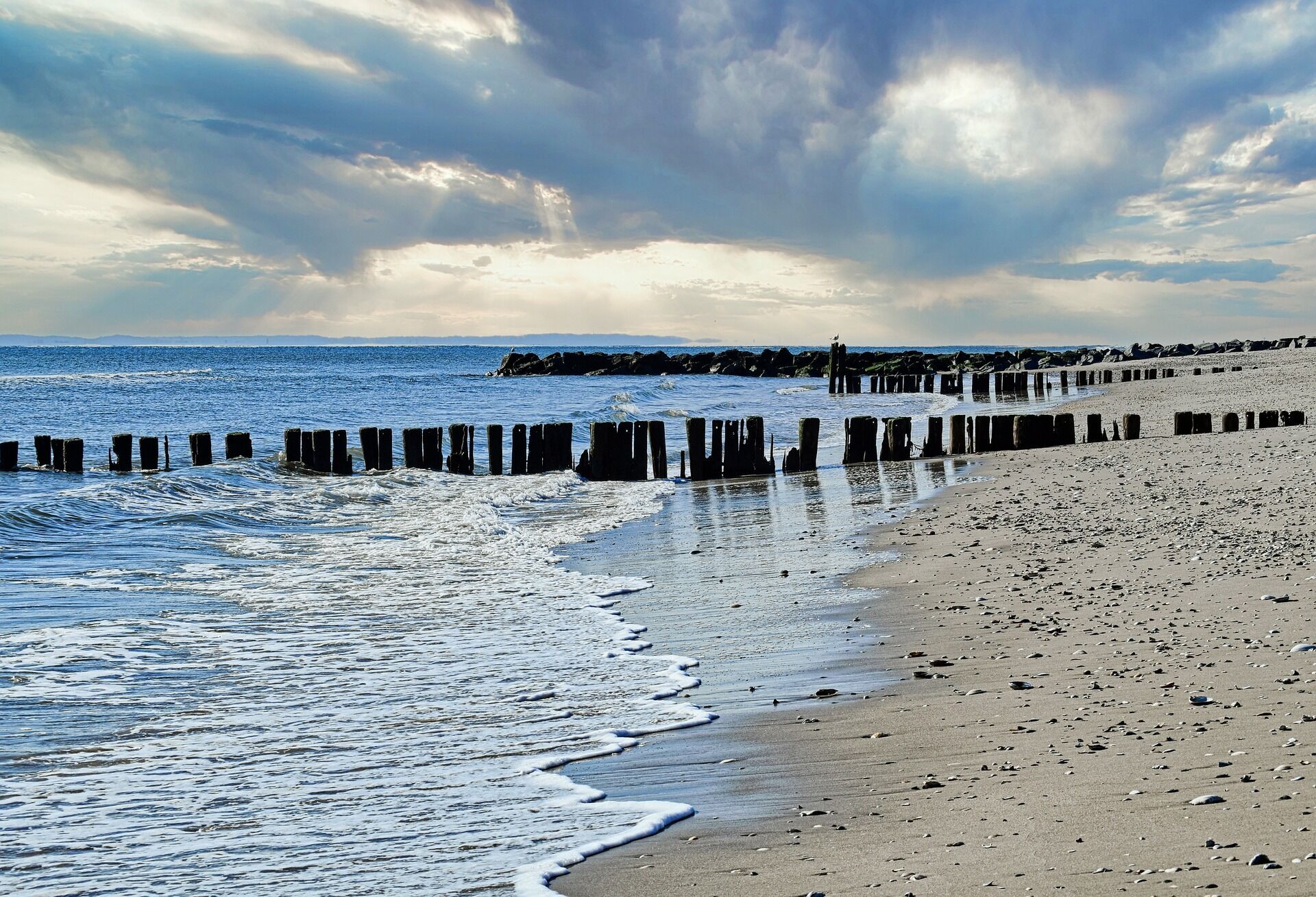 Rockaway's 8.5 miles of coastline and boardwalk, rebuilt after Hurricane Sandy, is the largest urban beach in the country. So there is more than enough entertainment and beach activities to suit every taste.
Along the beach are baseball and football fields, parks, courts, eateries and restaurants to suit all budgets. Many New York beaches allow water sports, but Rockaway is the only legal surfing beach in the city, with its own surf school and jet ski rental.
But this is a paradise not only for athletes but also for art lovers. There are many historical and cultural installations along the waterfront, as well as pavilions with live music and dance. You can get here by ferry or metro.
10. Jacob Riis Park Beach, Far Rockaway
This beach in Queens on the southwestern tip of the Rockaway Peninsula, like many beaches in New York, is part of a park. But it has a special feature - the boathouse, which originally served as the entrance to Jacob Riis Park and was built in 1932. The boathouse was created in the Moorish style, later its exterior decor was diluted with Art Deco elements, and in the 1990s, restoration work was carried out.
Jacob Riis Park has a shopping centre, a promenade, a small golf course, playgrounds and sports equipment. The crescent-shaped beach becomes the centrepiece of the park in warm weather. It has showers and toilets, and lifeguards are on duty. One of the main attractions of the beach is the nearby market, where, in addition to shopping, you can try the best New York dishes or watch live performances.
11. Asbury Park, New Jersey
Another option from the list of the best beaches near New York is located in the coastal town of Asbury Park. There are showers, toilets, beach umbrellas, and chair rentals on about a mile of white sandy coastline. This place is popular with surfers.
Asbury Park seafront has a cafe, mini-golf course, playgrounds and a water park. Nearby attractions include the Silver Ball Arcade Museum, the restored Paramount Theatre and Asbury Splash Park with many children's attractions.
Entrance to the beach costs $7 on weekends and $5 on weekdays. You can get here by taxi or New Jersey Transit with a transfer to Long Branch.
12. Barrett Beach Park, Fire Island
Head to Barrett Beach Park if you're looking for tranquility and good beaches near New York City. You can get here only by private boat or on foot, so you won't see any crowds here.
It used to be a resort town, but in the early 2000s it was closed and reconstructed. Today, there are no special amenities here, despite the fact that it is still included in the top beaches in New York. There are playgrounds and picnic areas along the shore, a mooring for private boats, and lifeguards on duty. It is worth taking a walk along the shore to enjoy the natural scenery and admire the architecture of the beautiful mansions lining the coastline.