Best campsites in New Hampshire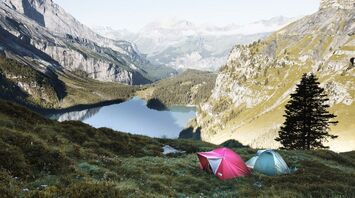 The campsites offer magnificent views of the peaks and mountain lakes. Source: Image Pexels/Pixabay
Famous for its breathtaking scenery and scenic trails, New Hampshire campsites attract both local mountaineering and hiking enthusiasts and tourists from all over the world. The White Mountains alone are enough to delight anyone who loves a holiday in the wilderness. The local areas of the national parks and White Mountain Forest are home to the best campsites in New Hampshire for every taste. In addition, some of the most popular tourist attractions in the state are located nearby.
If you're planning to stay here for your holiday, check out the top-rated campsites in New Hampshire to find the perfect place to stay.
1. Lafayette Place Campsite
Lafayette Place is located on the territory of Franconia Notch State Park. This is a great place for hiking. The eight-mile-long valley offers many places to explore and enjoy: Flume Gorge, fishing on Profile Lake, the Cannon Cable Car, the beaches of Echo Lake, and the New England Ski Museum.
There are 97 pitches for tents and motorhomes. The tent camp is staffed and ready to receive guests in the warm season, from May to mid-October, but like many other campsites in New Hampshire, you can visit it at any time. It is open all year round and is beautiful in different ways at any time, but some amenities are limited during the colder months.
2. White Lake State Park
One of the largest campgrounds in the White Mountains, attracting a large number of holidaymakers in the summertime thanks to the swimming beach on White Lake. There are 203 camping sites, many of them with great views of the lake. This campsite in New Hampshire offers walks under old-growth pines, swimming on a clear water beach, fishing, kayaking or canoeing, and the chance to spot loons or beaver dams and enjoy gorgeous sunsets.
White Lake is open year-round, but during the off-season and after hours, the park is unstaffed, comfort stations are not available, and gates may be closed. The beach and picnic areas are open for daytime use, but the number of visitors during peak times is limited.
3. Pawtuckaway State Park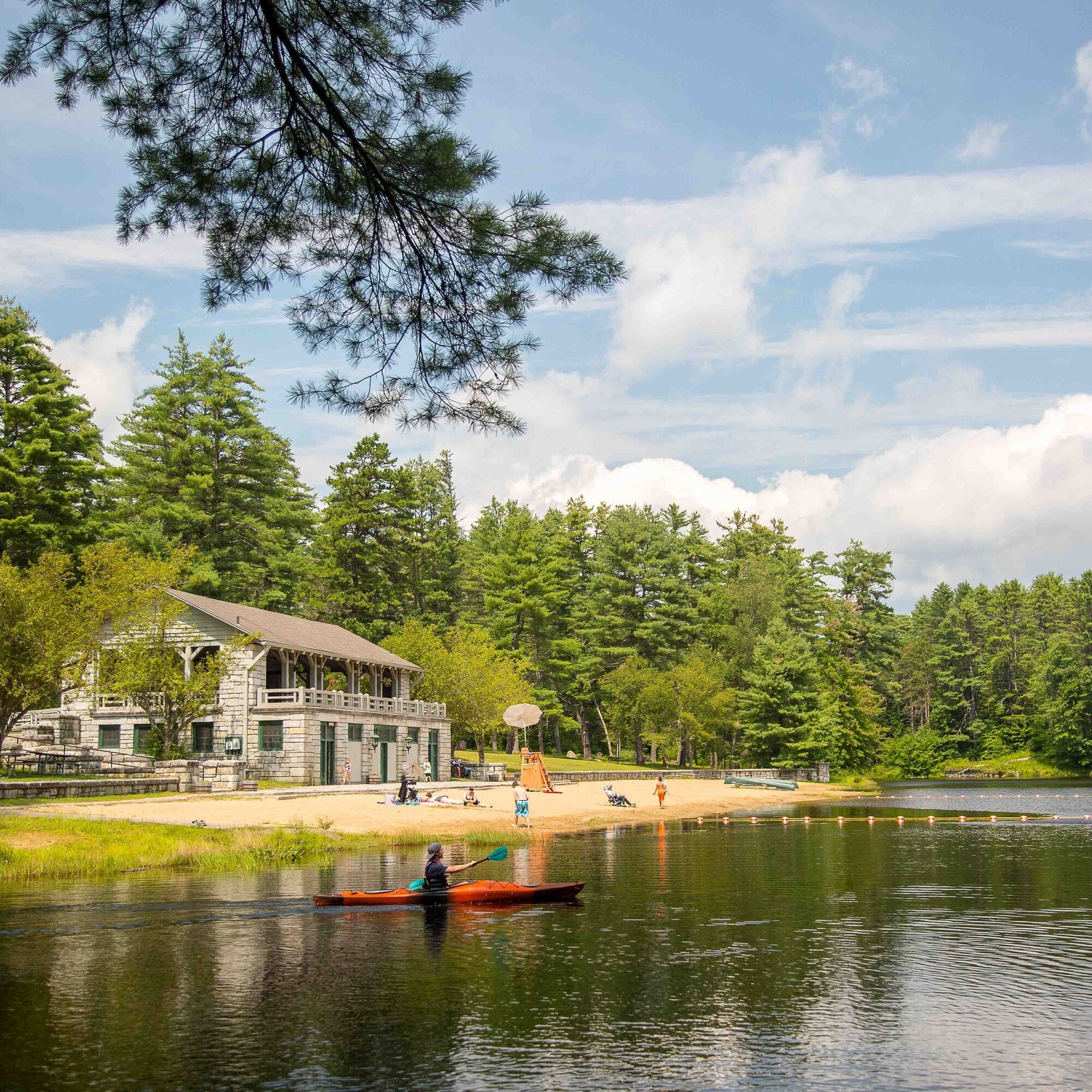 This is the best campsite in New Hampshire for outdoor enthusiasts. After enjoying the local scenery, start exploring the various leisure options. There are good swimming spots near the lake, and you can rent a canoe, kayak or launch a boat. There are many hiking trails leading to a low mountain peak, a beaver swamp or a field with glacier-scattered boulders.
The campsite has 192 pitches, showers and a shop, as well as five cabins for up to 6 people with electricity, picnic tables and fire pits.
4. Sugarloaf Campsites
These campsites in New Hampshire consist of two parts - Sugarloaf I and Sugarloaf II, and both are located along the Zealand River. They are owned by the US Forest Service and are located more remotely in the White Mountains than the previous campsites. So it's an attractive option for campers who like the feeling of being away from crowded places and don't mind harsher conditions like no showers.
From this double campsite, there are routes to the top of Sugarloaf Mountain, to the hut at Zealand Falls (a 4.8-mile hike there is suitable for families). On the Appalachian Trail, you can stay overnight in a staffed cabin and enjoy views of Zealand Hollow, and just a few miles away is Mount Washington with its famous cog railway.
5. Bear Brook State Park
This park is also generous with good camping spots in New Hampshire. It's located near the cities of Concord and Manchester, so you can alternate between outdoor recreation and city fun. The park has 101 campsites in the middle of the forest near Beaver Pond, where visitors can rent boats. The camp has a shop, showers and laundry facilities.
Hikers can enjoy forty miles of trails to explore the diversity of the local nature with its forests, ponds, marshes and hills. You can also go mountain biking, horse riding and archery. You can also visit the original museums located in the park - the Civilian Conservation Corps Museum and the New Hampshire Antique Snowmobile Museum.
6. Jigger Johnson and Blackberry Crossing
These New Hampshire campgrounds are located six miles apart along the banks of the Swift River in the White Mountain National Forest. Jigger Johnson Campground is located within walking distance of the Russell Colbath Historic Site, and Blackberry Crossing is just a short walk from the Albany Bridge. Hiking trails to the enchanting Sabbaday Falls and the summit of Mount Chocorua are well-known among hikers.
Johnson's Campground has 74 pitches for tents and motorhomes and more amenities than its neighbour. Blackberry Crossing was the site of a Civilian Conservation Corps camp in the 1930s, and the remaining fragments of it can be explored on your own. These campsites cannot be booked, so check the opening hours before you go (at the time of writing, Jigger Johnson Campground was temporarily closed).
7. Camping on Umbagog Lake
If you are a kayaking enthusiast, then these are the best places to camp in New Hampshire according to your interests. Umbagog Lake is located in two states: Maine and New Hampshire, but most of it is part of the New Hampshire Lake Umbagog National Wildlife Refuge.
This is a small campsite with only 27 tent and RV sites with electricity and water, as well as 33 remote sites accessible by boat, and three fixed cabins. Guests are offered canoe, boat and kayak rental, as well as the opportunity to rent transport to visit remote areas. In these places you can see many small mammals, elk and deer, and many species of birds. The lake has a beach for swimming and places for fishing.
8. Hattopia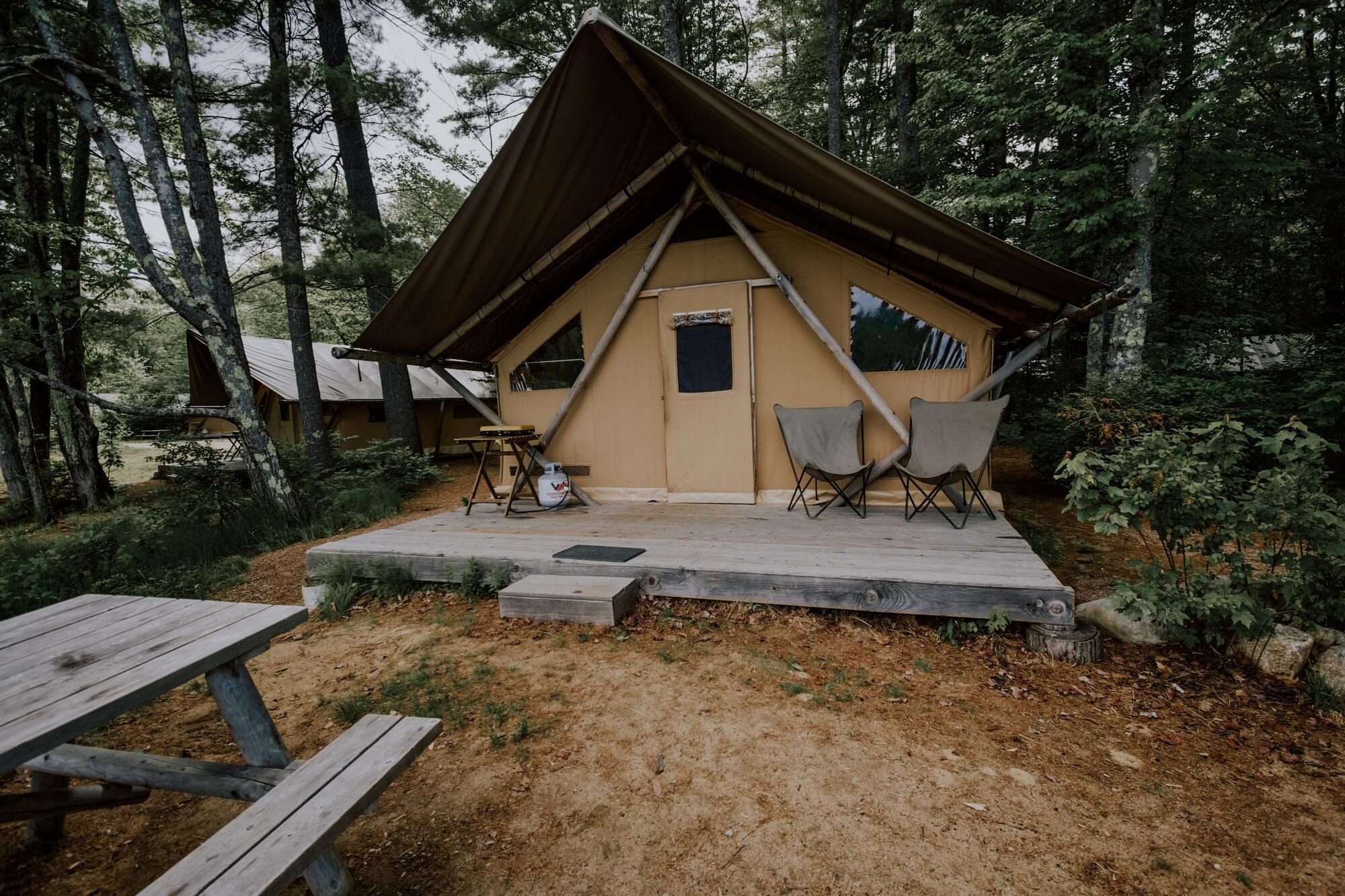 If you want to relax in nature in comfort, a unique glamorous camping in New Hampshire (or glamping) is at your service. The pre-pitched tents have wooden floors, beds with linen and other furniture, electricity and refrigerators. There is a choice of tents:
Trappeur - safari-style canvas huts with two spacious bedrooms, a bathroom, a kitchenette and kitchenware;
Canadienne Trappeurs - without bathrooms;
Bonaventure - large tents on a platform with a large bed, gas stove (not without places for cooking), refrigerator, fireplace, picnic table.In the centre of the campsite there is a large swimming pool and a cafe with tables on the terrace.
9. Dry River Camping
This small tent camp in the heart of the White Mountains is chosen by many travellers as the best place to camp in New Hampshire. It is located in the middle of Crawford Notch State Park on a mountain pass between two rivers in the White Mountain Forest. From this campsite you can go on short but extremely scenic hikes. Nearby are the trailheads for the mile-long Sam Willie Trail and the Pond Loop Trail, just half a mile away. A short hike along the Rillie Falls Trail will take you to a hundred-foot waterfall, and a half-mile from the campground begins the trail to the 200-foot-high Arethusa Falls.
There are more than 30 tent sites on site, including those with canopies, showers and laundry facilities, toilets and firewood for sale. By car, it is possible to reach the Willey House gift shop and snack bar, three miles away, or North Conway, 20 miles away, with its many shops and restaurants.
10. Lake Francis State Park
Probably the best camping spots in New Hampshire for fishing, kayaking and canoeing. The park has 45 campsites along the lakeshore, nine of which are equipped with RV pitches and the same number for ATV camping. Right from the campground, you can drive to the off-road trails of northern New Hampshire. Canoeing or kayaking enthusiasts can explore not only the 200-acre Lake Francis, but also a number of Connecticut lakes up to the Canadian border.
There is a small grocery and convenience store on site.
11. Lost River Valley Campground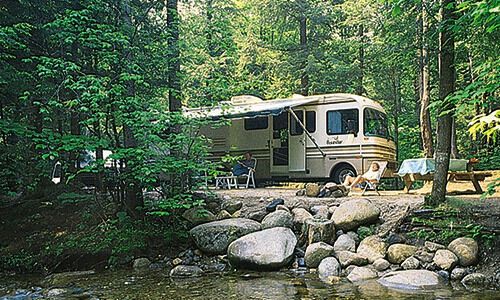 A large, private New Hampshire campground surrounded by the White Mountain National Forest with good access to the attractions of Franconia Notch. It has 125 sites, including RV hookups, a convenience store with groceries, firewood and other supplies, a sandy beach, kayak rentals, tennis and badminton courts, sports and playgrounds, and a game room. Fishing is also a popular activity here, as two mountain streams nearby are home to river trout.
Camping pitches cannot be booked from late June to Labour Day, during which time a minimum three-night stay is allowed.
12. Greenfield State Park
New Hampshire campsites are also available at this beautiful 400-acre park in the southwest of the state. This park offers visitors a 900-foot beach on Otter Lake for swimming only for residents and a secondary beach for day visitors. There are excellent fishing spots, and boats, kayaks and canoes are available for rent in July and August. There are several hiking trails in the park, the most popular of which include the Monadnock Mountain climb.
The campsite has 252 pitches, about half of which can be booked in advance. There are also pitches for caravans, but without hook-ups.
13. Hampton Beach State Park
It is New Hampshire's only oceanfront campsite, which attracts surfers. The campground has 28 sites with full hookups. Hampton Beach is renowned for its clean white sand beaches, excellent water quality and an active programme of special events, such as the large-scale sand sculpture competition held in late June.
Between Memorial Day and Columbus Day, sites can be reserved, and starting from the last weekend in April, the campsite is open to the public without a reservation.
What do you need to know about campsites?
Almost all campsites in New Hampshire can be booked in advance, and those in the National Forest offer good discounts on America the Beautiful and Golden Age passes.
New Hampshire campsites allow up to 2 adults and 4 children to stay at one site.