Hot chicken in Nashville: Top 11 famous restaurants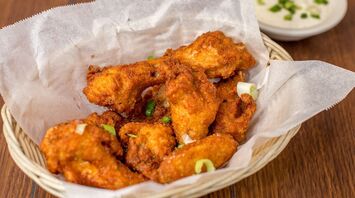 Delicious chicken that you want to eat. Source: Image Pizza Man/Pixabay
Nashville, the capital of Tennessee, has a rich history, attracting about 15 million tourists from the United States and around the world annually. In addition, the city is known for its hospitality and kindness, so it is quite ironic that its signature dish originated in the 1930s thanks to a woman who sought revenge and hurt her dishonest lover.
The famous hot chicken in Nashville is a real nationwide phenomenon that many tourists want to get acquainted with or rather taste. The dish is fried breaded chicken pieces seasoned with cayenne pepper and hot sauce. Traditionally, they are placed on a slice of fresh white bread and complemented with slices of pickled cucumber. It's a very simple dish and not sophisticated at all, but it's very tasty, so you'll want to try it again and again.
The main tip is to order milk right away (not beer, cold cocktail, or water) because it's the only way to reduce the intensity of the spices in your mouth. In addition, the darker the spice mixture, the spicier the dish will be. However, most establishments offer to choose the level of intensity depending on your preferences and training.
The following list from traditional Nashville hot chicken recipes to trendy, modernized versions of this delicacy will help you find your favorite restaurants in the town.
1. Hattie B's Hot Chicken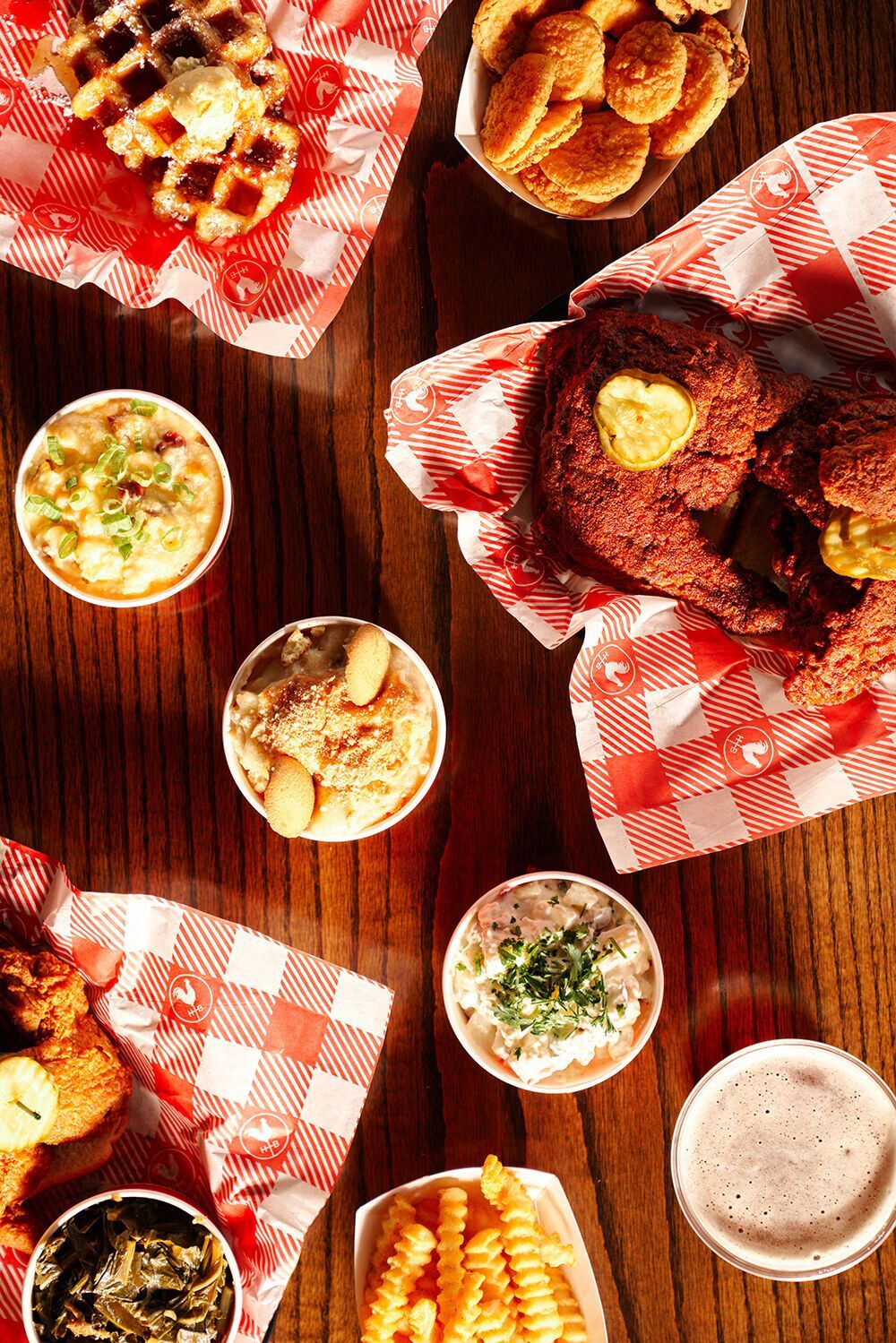 One of the best places to get hot chicken in Nashville is Hattie B's Hot Chicken. There is probably a long line of people waiting to try it while you are reading about the delicious famous delicacy.
Some purists argue that this restaurant serves unconventional things. Nevertheless, the chicken here is really delicious with perfectly matched spices. In addition, Hattie B's Hot Chicken offers a large selection of side dishes and beer, and the air conditioning will allow you to wait for your order with more comfort.
2. Prince's Hot Chicken
The original and one of the first places where you can taste the best hot chicken in Nashville is Prince's Hot Chicken. It is here that you can order a dish prepared according to a traditional recipe. The restaurant is open six days a week and is located in Nolensville Pike on the south side of the city.
You can also buy the famous hot chicken at Prince's Hot Chicken food trucks, which are located on Broadway and Fifth Street. Be prepared for an explosion of spices!
3. Boltons Hot Chicken & Fish
Next best place for Nashville's hot chicken is Bolton's Hot Chicken & Fish. It is located in the eastern part of the city.
The restaurant was opened in the 1980s. It took a break after ten years of operation and started welcoming guests again in 1997. Boltons Hot Chicken & Fish serves authentic dishes with a variety of spices. In addition to hot chicken, they offer other dishes, including
spicy fried fish dressed with traditional sauce;
catfish
ribs
chicken wings, etc.
While waiting for your order, we recommend choosing a table in the restaurant's open patio.
4. Chauhan Ale & Masala House
Manita Chauhan came to the capital of Tennessee to open not just the best place for hot chicken in Nashville but a whole restaurant empire, which currently includes four establishments. The menu perfectly combines traditional southern dishes with Indian motifs. The main restaurant also offers a large selection of alcoholic beverages, cocktails, and wines that go well with food.
Chauhan Ale & Masala House serves delicious hot chicken flavored with orange peel, cayenne pepper, chat masala, etc.
5. The Southern V
If you want to try unusual Nashville hot chicken in Nashville, Tennessee, go to the most popular vegan restaurant in the city.
The Southern V is located in the Buchanan Arts district. Here you can order a classic chicken made from seitan, a meat substitute made from wheat gluten. The menu also includes vegan versions of various traditional dishes, such as mac and cheese and green beans.
6. Biscuit Love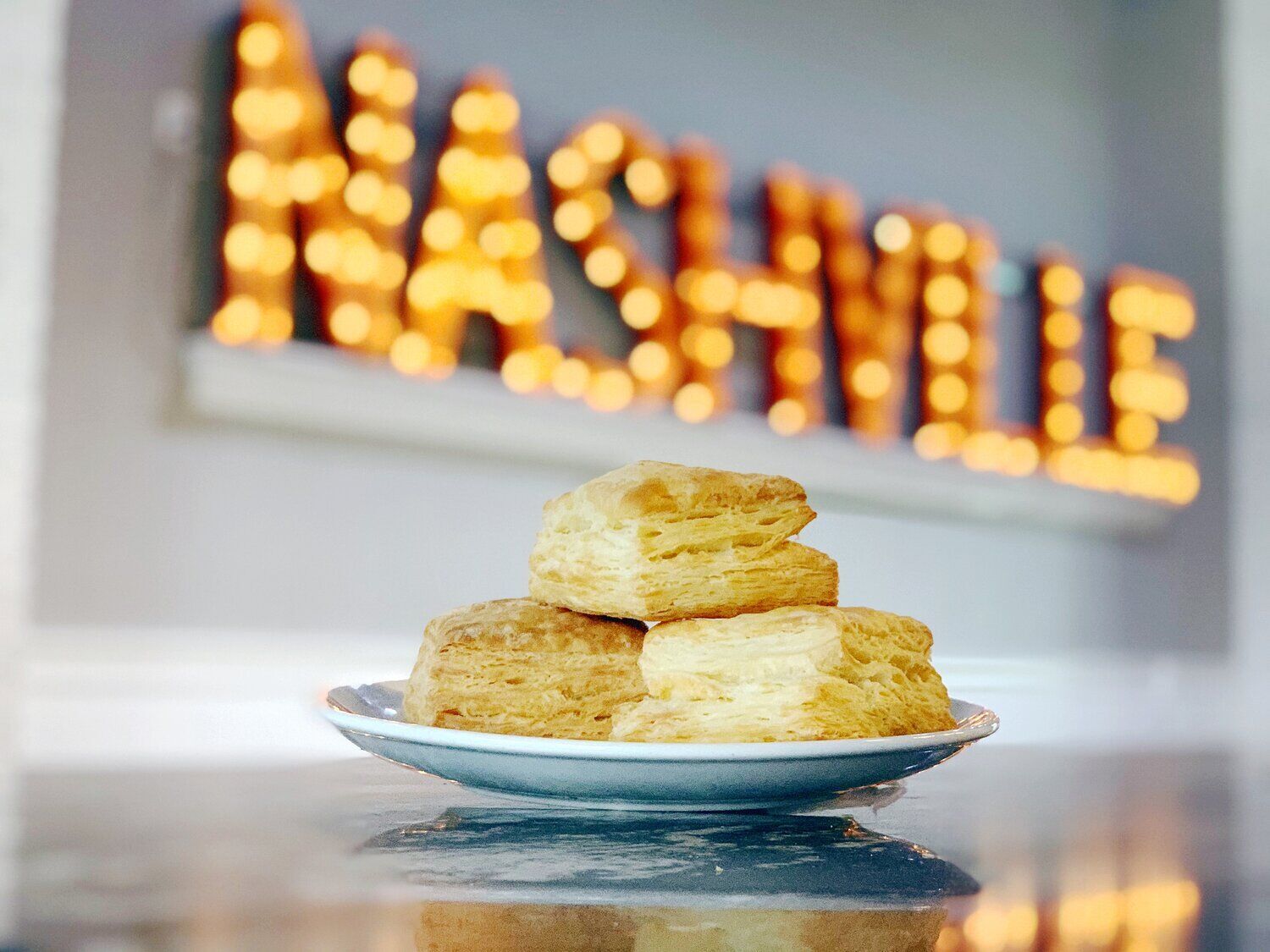 One of the best places for hot chicken in Nashville is Biscuit Love. This restaurant originally started as a food truck but then transformed into several great locations in Franklin, Gulch, and Hallsboro villages over time.
Every morning, there is quite a long line waiting to try the perfect puff pastry with buttermilk, a low-fat cream made from cow's milk. The talented chefs at Biscuit Love have created their own interpretations of a favourite dish. Thus, spicy chicken thighs are served on puff pastry with mustard, honey, and sweet cucumber. The dish is called Princess.
Biscuit Love is not just one of the best hot chicken restaurants in Nashville. It's a homey establishment that specializes in excellent breakfasts made with natural farm products.
7. 400 Degrees
One of the few traditional and the best hot chicken in Nashville is served at 400 Degrees. The owner of this establishment, located on Clarksville Pike, was a true Prince fan, and as a child, there were periods when she ate chicken every day without a break. As a result, the woman created her own recipe, which became a reinterpretation of the classic version. The spices needed for Nashville hot chicken - the best in Nashville - are the following:
paprika;
cumin;
cayenne pepper;
onion and garlic;
mixtures of peppers (habanero or "ghost" depending on the customer's preferences).
Openness and, of course, taste have made 400 Degrees one of the best places in Nashville to eat hot chicken.
8. Slow Burn
Located in the Cleveland Park neighborhood on the east side of the city, Slow Burn is a great hot chicken restaurant in Nashville, very popular with locals and tourists. Here you can also choose the level of spices depending on how much you want to "burn" your tongue.
In addition to chicken, Slow Burn's menu includes burritos, shrimp, fish, spicy chicken donuts, egg rolls, apple pancakes, and much more.
9. Subculture Urban Cuisine and Café.
An alternative to the most famous hot chicken in Nashville can be found at the original Subculture Urban Cuisine and Café. One of the levels of spiciness called "stupid hot" already testifies to the unusual nature of this place. The menu also has several creative dishes worth ordering, including a spicy chicken with waffles, in tacos, or even with ramen. If you prefer the traditional version with bread, the restaurant will offer a fresh homemade bun.
10. Scoreboard Bar & Grill
Located near the popular Gaylord Opryland Resort in Music Valley, this restaurant offers not only the top hot chicken in Nashville but also live music, a relaxed atmosphere, and late hours. In addition to the traditional dish with white bread and pickles, the following options are worth trying:
spicy salad with chicken;
nuggets;
chicken with waffles;
wings.
You can choose the level of spices for any dish.
Even though Music Valley is predominantly a tourist destination, locals make an exception and come here for the perfect hot chicken in Nashville, Tennessee.
11. Party Fowl
Hot chicken is served in many places in Nashville. If you want to have a delicious meal and have a good time, we recommend choosing Party Fowl. This is not only a restaurant but also a bar with cozy patios and large screens showing sports matches. The menu is extensive and varied. In addition to spicy chicken, nachos, po-boys or hot Cuban sandwiches with chimichurri and buttered bread are in great demand.