London best sunday lunch: 22 restaurants and pubs to eat like a true Londoner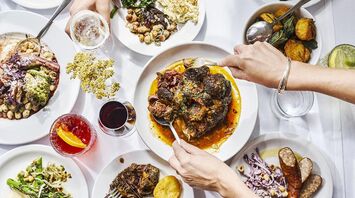 Whether it's a traditional roast, with a variety of accompaniments or even vegan options, there's a dish to suit every taste in London. Source: Image thecamberwellarms.co.uk.
It's hard to imagine anything more British in London than a traditional sunday roast. One of Britain's best-known rituals, Sunday lunch rivals the world's favorite national dishes, and a perfectly cooked good sunday roast is best enjoyed in London. There are many types of this dish, centered around meat: beef, lamb, chicken or pork. Vegan versions have also emerged. Each type has its own traditional accompaniments, for example, lamb is flavored with mint sauce, chicken with bread sauce or red currant jelly, pork with applesauce and scallions, and beef with Yorkshire pudding and horseradish. The best roast in London according to culinary traditions is served with roast potatoes, blanched vegetables and gravy. However, that doesn't stop Londoners from arguing for hours about what constitutes the perfect dish. It won't take long to find thebest place to have sunday roast in London. Whether you go to a traditional pub or a luxury restaurant, either way you're in for an amazingly delicious feast. Out of all these many places, we have gathered for you those that serve thebest sunday roast in London, UK. They are popular and crowded, so we recommend booking a table before you go.
1. Canton Arms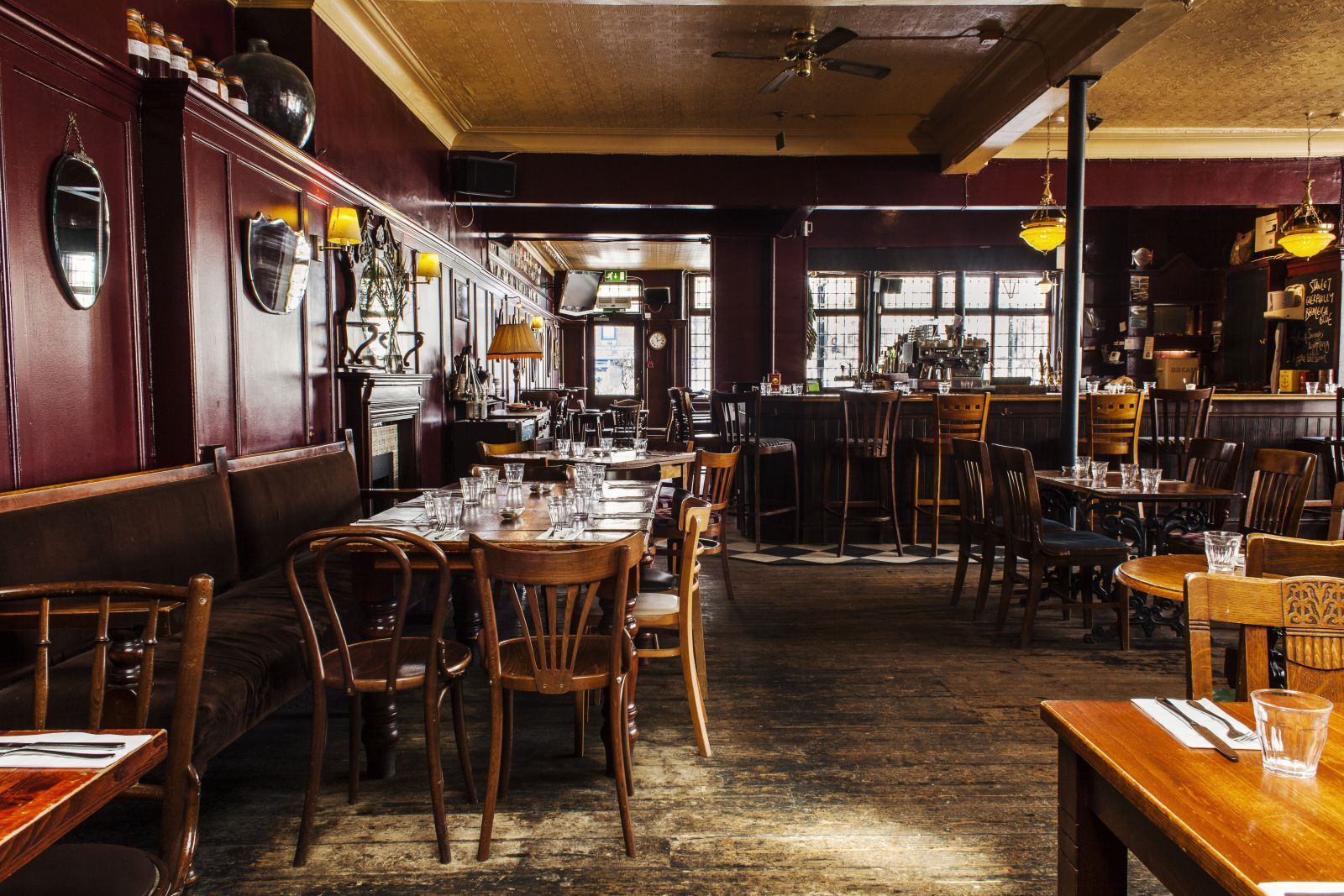 Stop by for a Sunday lunch, one of London's best Sunday lunches, at a gastropub in Stockwell for hearty meaty British dishes. Your plate might include a delicious Dexter beef roast with green beans, carrots and watercress. Alternatively, you could share a portion of roast chicken with coconut beans, corn and pickled pierogies with a friend, or enjoy Guinness slow-roasted short ribs with red cabbage slaw. Dining with company? There's a great suggestion for five guests - lamb shoulder, cooked for 7 hours, with Greek salad. And save room for dessert - apple pudding with custard and maple syrup. This gastropub is very popular and is one of the best places Sunday lunch in London, so take advantage of the opportunity to book a table.
2. Quality Chop House
This atmospheric dining room in Clerkenwell is a Victorian delight with excellent roast lunch in London. The two first floor rooms with dark wood paneling on the walls, checkerboard tiles on the floor, candlelit tables and large cushions on the benches can seat twenty guests. In its more than 150-year history, the meat menu and prime potatoes have become a major attraction. On Sundays they serve a great three-course set menu for £55, including one of the best London roasts. To accompany a juicy, perfect steak or chop, get the signature side dish of confit potatoes and choose a drink from the long wine list. Vegetarians have nothing to do here, however the name of the restaurant says that the highlight of the program here will be meat from the best suppliers.
3. The Black Heart
The Black Heart in Camden is the place to go for vegetarians and vegansin search of the best roast in London. It's a small bar on two levels, tucked away in an alleyway off the main street, that hosts live gigs. You'll recognize it by its black facade with an equally black heart. It serves the best vegan soul food and offers a full plant-based menu on Sundays. For example, order the mushroom "beef-style" steak marinated in red wine and grilled with sage and garlic, or the tofu "pork" brisket in maple-mustard sauce. The main course is served with roasted potatoes with garlic and rosemary, mashed rutabaga and basil or Yorkshire pudding. If you want to try this version of London best Sunday lunch, booking in advance is highly recommended.
4. Booking Office 1869
Once a train ticket office, this former booking office at St Pancras Station is now a delightful 30s-style beer restaurant. It's open daily from 7:0am to 10pm and offers a discreet food and drink menu, but we're interested in a good Sunday lunch in London. Set in a beautiful dining room with red brick arches, stained glass windows, palm trees and decadent chandeliers, you'll enjoy a fun two-course or two-course menu. First, you'll be served mackerel, beet hummus and thin slices of bresaola with pickled vegetables. This is followed by the main courses - muscat pumpkin in caramel, roasted ribeye with horseradish and soft chicken with bread sauce. Profiteroles with a jug of chocolate sauce round off the serving. This Sunday roast in London is sure to impress any visitor to the city.
5. The Gun
A stunning bar in East London, The Gun is a great choice for meeting friends, socializing, drinking and dancing, and for a hearty Sunday roast in the UK. Located just minutes from Liverpool Street Station, this restaurant attracts with its stylish interior, delicious food and great cocktails, as well as performances by some of the best DJs in the capital. But diners who come here later in the week know another of its attractions - the incredible Asian-inspired roasts from Chinese-Vietnamese restaurant Ling Ling's, which has found a home in the pub. The centerpiece of Sunday lunch will be a 5-spice braised pork brisket, sea bass or crispy chicken. These are complemented by Yorkshire pudding with sesame seeds, miso sauce and vegetables. And while you're waiting for your meal, order a drink: there's an excellent range of beers. Reasonable prices, delicious food and a rooftop terrace help The Gun keep its place on the list of the best places for Sunday roast in London.
6. Marksman
Your sleepy Sunday morning in London can start with a bunch of flowers at Columbia Road Market, and the best roast at the Marksman nearby will help you cement the ritual. This beautifully decorated pub with an oak-trimmed bar and green leather banquettes opened in 2015 and was the first of its kind in London to be awarded a Michelin star the following year. The food here is great any day of the week, but the Sunday menu deserves special praise. Start with oysters or a seafood platter, then move on to a three-course set - Hereford beef tenderloin with a huge Yorkshire pudding, roast chicken or Tamworth pork with mustard and chard. Add a leek and potato tart, roasted tomatoes or plaice with brown shrimp and finish with a honey pie. Marksman is not cheap, but such a good Sunday lunch in London is worth the price.
7. Camberwell Arms
This well-designed restaurant takes the concept of the best traditional Sunday roast in London to the next level with eclectic appetizers like celery fritters and capers with almond aioli. But the main event on your table on a Sunday is invariably the roast dish of choice for two. This could be spit roasted chicken, braised lamb or steaks, roast pork brisket or Hereford dry-aged beef. Also on the menu are a variety of pies and seasonal specialties, and to finish, ice cream and sherbets if you still have room. While waiting for lunch, guests sit at the front bar with aperitifs and small plates before being able to move to the quieter dining area at the back of the first floor. Pastel walls, dangling light fixtures and furniture emphasize the '40s beer bar aesthetic. Drinks include ales changing daily and a decent wine list at a reasonable price.
8. Hawksmoor Air Street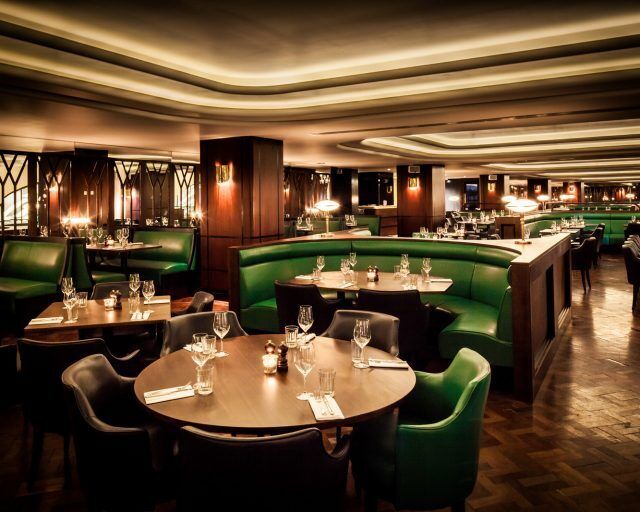 The Piccadilly branch of the famous steakhouse attracts big companies to its spacious art deco upstairs dining room, so it's noisy on Sundays. But their revamped roast lunch is second to none, so put it on your list of places to visit in London. It's a lively establishment with dark green booths and mirrored walls, where a steak is a must-order. The meat is served with crispy roast potatoes, carrots, greens, a huge Yorkshire and roasted garlic. Optional extras include sweet shallots, slices of roasted bone marrow or a topinambour and celery salad. Finish off the perfect meal with a caramel tart with a portion of crème fraîche.
9. Blacklock Shoreditch
One of the best places for Sunday lunch in London is in a trendy eatery in Shoreditch in a classic space with brick walls, large windows and polished concrete floors. Inside, there's a romantic 60s chic vibe, with mid-century furniture and stylish dark leather banquettes, vintage platters and a gilded cart on which bartenders bring drinks to your table. Pick it up for a date at the charming spot. The meat is roasted over open coals and you can choose from three types - pork, beef or lamb. There is also a vegetable option. The chop of your choice is worth getting crispy fries, roasted vegetables or cheese with cauliflower and horseradish cream to go with it. The portions are family only, as are the flavors and the ambiance, reminiscent of warm sit-down dinners at your grandparents' house, only even better.
10. The Twenty Two
The hotel's private club restaurant is surprisingly lively even on a Sunday, unlike the surrounding Mayfair neighborhood in London, and it's all about the best Sunday roast and the atmosphere. The mustard velvet armchairs here are filled with vibrant young people and sometimes even celebrities. During the week it serves Mediterranean cuisine from chef Alan Christie. And at the end of the week he offers a simple selection of beef, lamb and chicken roasts, which are complemented by an array of plates and miniature pots of Yorkshire. Sunday lunch here isn't a cheap treat, but the top-notch service and terrific taste and flavor of the dishes make it worth the splurge. Sit back and order a martini with Mexican coffee after the best roast lunch, enjoy a pudding and the best Sunday roast lunch in London.
11. Harwood Arms
This upmarket pub in Fulham should definitely be on your list of top sunday roast London places. In fact, it's a fine dining restaurant styled like a pub: large windows, cream walls, a bar counter and green paneling. The Sunday menu is three courses: tender sea bream tartare to start, followed by lamb shoulder, pork loin or beef tenderloin, and for dessert a delicate flan with plum jam and custard or tangerine trayfle. The menu isn't cheap, but keep in mind that this establishment has a Michelin star and uses only top-notch British produce. It is complemented by a serious wine list that is well worth spending your attention and money on. Getting into this restaurantin London, UK is not easy: due to its popularity, tables are booked weeks in advance, but the wait (and the Sunday roast) is worth it.
12 Hereford Road
This restored former butcher's shop attracts locals and visitors to London with cozy feasts opposite the open kitchen and soft leather booths under a round skylight - the perfect place to have the best Sunday dinner. Continue down the small staircase below and you'll find a modest dining room with austere wooden furniture, with only a woven mural to dilute the spartan decor. Nothing should detract from the exquisite meal. There is an impressive but sincere and simple British cuisine under the direction of chef Tom Pemberton. Sunday menus include roast beef with Yorkshire pudding, roast potatoes and parsnips and gravy or pork with applesauce and side dishes. You can also try more adventurous options like game or lamb. Service supports the overall atmosphere - confident and casual.
13. 12:51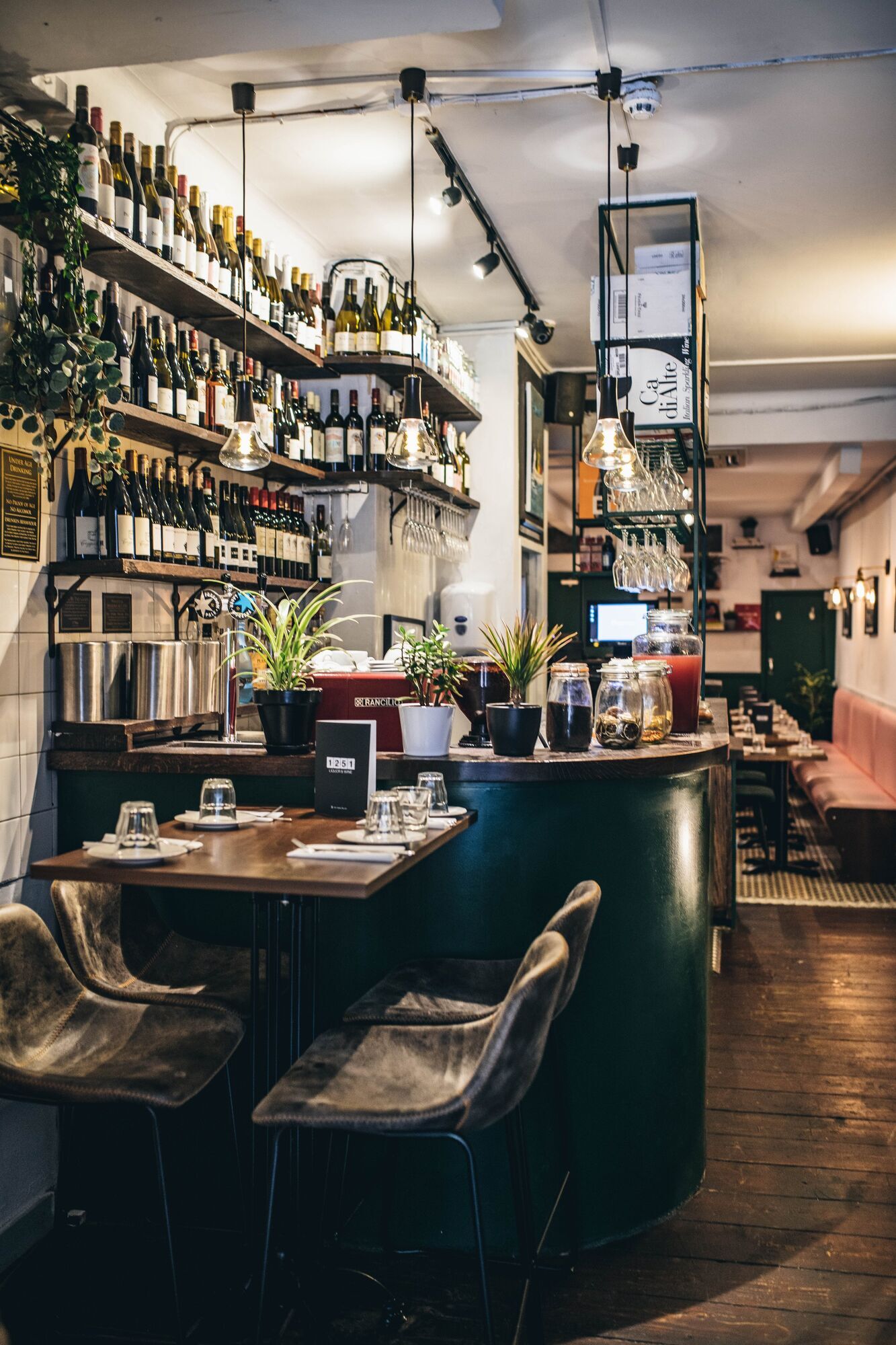 A restaurant with a laid-back, casual atmosphere in a modest Islington location is named after a song by the band The Strokes. The musical theme continues in its interior with vinyl-covered walls, worn tables and an energetic soundtrack in the background. This is the solo incarnation of chef James Cochran's signature restaurant idea of British cuisine with Scottish and Caribbean roots. It offers a five-course tasting menu throughout the week, which changes seasonally. Stop by for a good Sunday roast while in London and you'll get a huge £28 plate dominated by a 42-day-old Galloway beef tenderloin with roast potatoes, complemented by cheese and carrot puree with horseradish cream, grilled cauliflower, Yorkshire pudding and smoked bone marrow gravy.
14. Duck & Waffle
This mid-cloud institution presents a playful take on classic British cuisine. Duck & Waffle is located on the 40th floor of Heron Tower. Book a table by the window, most of which are for two, or sit at the bar to contemplate the best panorama. The best roast dinner in London includes three courses for £55. Guests are offered a choice of succulent beef, chicken or mushrooms with camembert served on a bed of mashed potatoes with crispy roast, tender broccoli, parsnips and thick gravy. Top off your meal with delicious waffles and butterscotch pudding, and choose from one of a dozen classic cocktails as your beverage of choice. This is one of the best places for Sunday roast in London for special occasions, with stunning views and a correspondingly high price tag.
15. The Farrier
One of the best places for Sunday roast in London combines a neighborhood pub, restaurant and liquor store in a restored landmark former equestrian hospital. It has complemented Camden Market's bar scene with a welcoming environment and high quality food. The upmarket and cozy pub offers an extensive range of drinks, from cold beers to signature cocktails and natural wines, to ensure that every visitor finds something for themselves. The cuisine is critically acclaimed by critics and regular guests with hearty, modern, rustic dishes using seasonal ingredients from local countryside suppliers and seafood. Here you can sample a good Sunday roast in London, where every bite is worth its money. Start with the chicken wings in hot sauce with avocado salad and Bloody Mary and move on to the 28-day aged rotisserie roast, chicken with lemon and thyme or the beet and walnut roast with roast potatoes, cabbage and red wine sauce.
16. Smokehouse Islington
This popular establishment in an Islington nook strikes a fine balance between restaurant and pub. At first glance, the menu seems trendy: top-notch British food alternates with French bistro fare and Korean cuisine. But the pedestal here is undoubtedly meat. This pub in London can claim to be the best for Sunday roast because it has a special advantage: the meat is smoked in house. Chef Neil Rankin has proven his excellent skills with the wood-fired and charcoal grill at some of the city's best restaurants. Sunday lunch here might include Tamworth pork brisket, beef tenderloin, smoked chicken or roasted salmon. They are served with roast potatoes, honey-glazed carrots, seasonal greens and Yorkshire pudding. The drinks list features a good selection of wines exclusively from family-owned wineries and a variety of craft beers.
17. Temper
This stylish Soho basement, once filled with jazz and all sorts of shenanigans, is now a great smokehouse with smoky mescal and barbecue. On normal days, you can sit at the long kitchen counter and watch the tacos roll deftly while the fire browns the best cuts of meat. But for Sunday lunch, you'll need a bigger table to spread out the Mexican-style barbecue. If people tell you that best roast in London should be eaten at home, ask them if they've ever tried lamb, pork and beef all at once. This is exactly the kind of feast for two you'll be served at Temper. The tender and succulent meat is complemented by seasonal side dishes - chunky vegetables, beef fat potatoes and a huge Yorkshire pudding. And don't forget a pint of pale ale.
18. Cow
Despite its name and matching decor, this gastropub in Notting Hill counts seafood as its attraction. The small downstairs bar is unpretentious: small round tables, stools and banquettes, yellowed décor, red linoleum and chalkboard menus. But they serve good beer and wine with great food. Tiger shrimp in a rich sauce, fish stew with croutons and roll or tagliolini with crab, chili peppers and tomato are worth trying here. But on Sundays, the kitchen lives up to the name of this pub in London and brings out a completely different trump card - the best pub roast, which guests are invited to taste in the colorful dining room upstairs. The beef tenderloin with Yorkshire pudding, carrots and horseradish cream is prepared in a way that makes it impossible to complain.
19. The Orange Public House & Hotel Victoria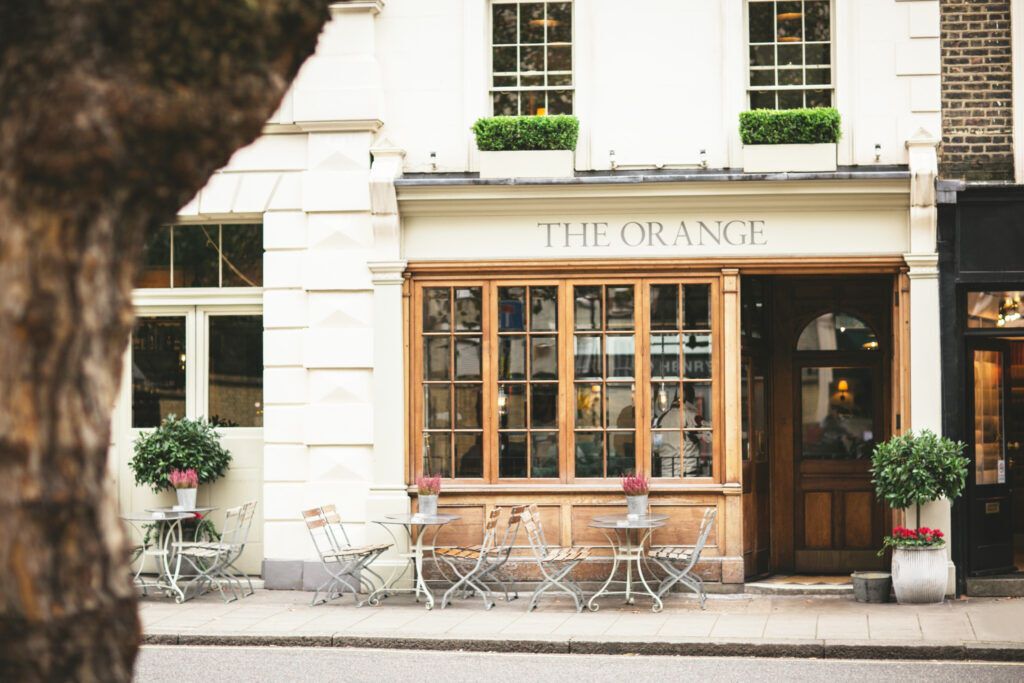 From the outside, this place in an exclusive part of Pimlico may look like a gastropub, but it's actually a sophisticated restaurant that attracts an affluent crowd. On the first floor there is a bar and dining room, often filled with customers. So if you want to avoid this hustle and bustle, settle down on the quieter and more relaxed second floor. Its refined atmosphere and deliberately aged décor are perfect for the best Sunday dinner in London with casual conversation. British ingredients are at the heart of the menu. A Sunday roast might be half a roast chicken with all the traditional accompaniments or a porchetta with spiced apple, for example, but you can also opt for pie, burgers or pizza. Pay attention to desserts, for example, coffee panna cotta or pudding and complement your meal with a glass of wine, beer or cocktail.
20. Culpeper
This gastropub in the heart of London's East End is known for its rooftop garden, which grows some herbs and salad leaves for the kitchen, and for the best Sunday roast dinner, although you'll have to get there early. Guests can be seated for lunch in the upstairs dining room or head downstairs to the pub on the first floor. With its vintage chairs, industrial lighting and bare brick walls, it resembles a typical trendy NYC loft. The London best Sunday lunch at this pub will delight you with the amazing taste of chicken, pork or lamb with roast potatoes, cooked to order yorkies, carrots in meat juice and greens from the aforementioned rooftop. The meal is complemented by an extensive beverage list - ales, craft beers, French and Italian wines and cocktails, including several specialty non-alcoholic ones.
21. The Crabtree
A luxurious Victorian brasserie with a huge garden offering some of the best drinks on the London waterfront and Sunday roast. The large Victorian-style building sits between Putney and Hammersmith bridges. The lounge bar under a high vaulted ceiling is decorated to your expectations of a place like this: dark maroon leather banquettes, heavy wooden tables, paintings and old photographs on the walls. Locals on sunny days like to spend time here enjoying drinks by the water, especially on the seats under the weeping willow tree. During Sunday lunch, you may see 28-day aged pork brisket, chicken or Angus beef with traditional seasonings, Yorkshire pudding and seasonal vegetables with red wine gravy on your plates.
22. Crown & Anchor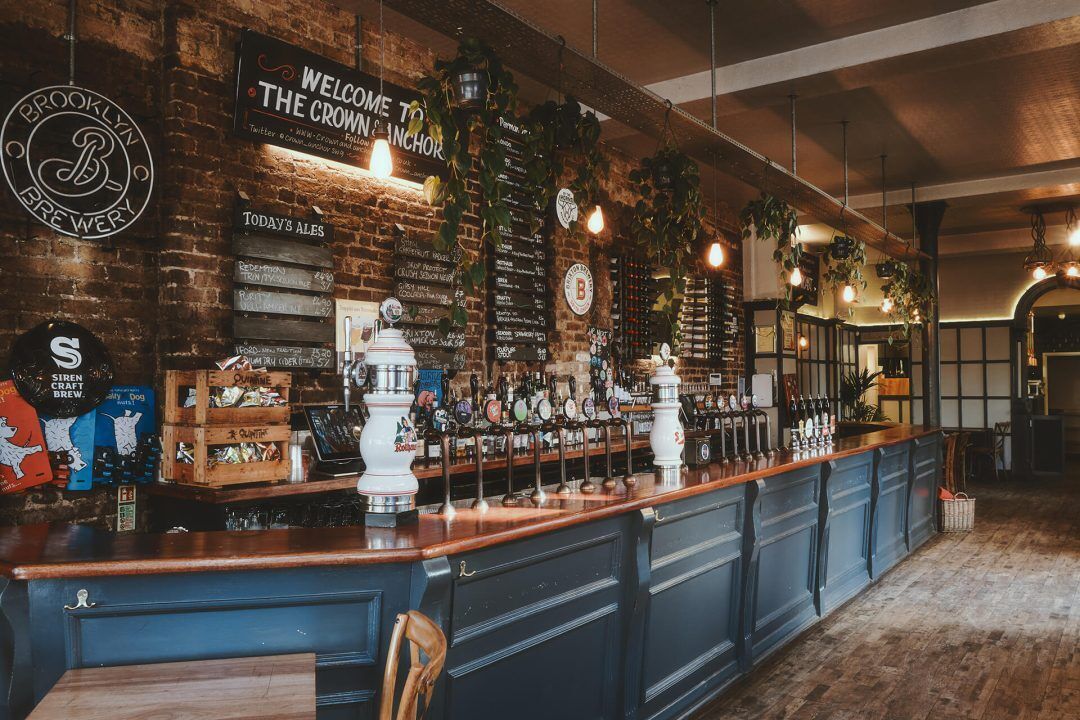 One of the best pubs in London for Sunday roast is located in Stockwell away from the noise and loud music. It is known for two things: an impressive range of craft beers and hearty Sunday lunches served throughout the day. At peak times, you may not find a seat inside the narrowly laid out pub, but then you can take one of the tables outside and still feel part of the crowd. Once you've found a seat, just expect succulent cuts of meat: it could be half a roast chicken, pork, shoulder of lamb or beef ribeye, as well as a few dishes for vegetarians and vegans. Extras include roast potatoes, vegetables, Yorkshire pudding and red wine sauce, and a chocolate brownie for dessert. Ask for help from the staff to match the best roasts with drinks among the many beers and ales - this pub has one of thebest selections in London. Traditional, atmospheric and delicious - the perfect list for a Sunday.