Las Vegas: the most popular pools for every taste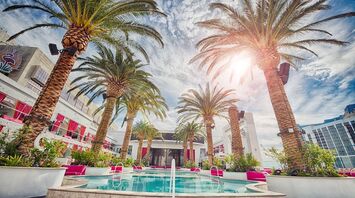 Luxury pools in Vegas. Source: Image stokpic/Pixabay
Las Vegas is not only about intense nightlife, gambling, and colorful live shows. Nevada is quite hot, so during the day, it is best to spend time by the water, enjoying cool cocktails, music, and high-quality service. Whether you are planning a family vacation with children or want to organize a romantic getaway, the most popular pools in Las Vegas are waiting for you, offering everything you need for an unforgettable adventure.
Many hotels in the city provide several recreation areas near the water. In addition, even if you don't plan to stay overnight, you can buy a season ticket or an entrance ticket. Keep in mind that some pools are open only during the season, and the opening hours and cost of a visit can change almost daily. Nevertheless, the best pools in Las Vegas are usually included in the list of amenities available to hotel or beach club guests. With the help of the following list, you can choose the best option for relaxing by the water in the hot Mojave Desert in Nevada.
Steadium Swim, Sarka Resort & Casino
Among the best swimming pools in Las Vegas, Nevada, is the luxurious Stadium Swim, part of Circa Resort & Casino. This is not just a recreation area near the water, but a whole complex, the main decoration of which is a huge 40-foot high-resolution screen. There are six outdoor pools on three different levels. The complex is designed for four thousand guests, who can swim, sunbathe, enjoy cocktails and snacks, while watching a big game or other shows on a giant screen.
Another advantage is the convenient opening hours. The pool opens earlier and closes later compared to similar locations in Sin City, so guests can make themselves comfortable on one of the comfortable sun loungers and spend as much time as possible on a hot day by the water. Moreover, the complex is open all year round, seven days a week.
Resorts World Las Vegas Pools
Opened in 2021, Resorts World Las Vegas launched one of the largest complexes on the Strip. It is not just a great pool in Las Vegas, it is five separate artificial reservoirs. Each of them is unique and distinguished by its design and functionality. The main pool includes a restaurant and sun loungers set in the water. Bimini is an ideal option for those who enjoy active water activities. Here you can find a massive bar, a separate place for games, etc. Visitors traveling with small children have the opportunity to spend time at the family pool, which provides not only interactive water activities but also private cabanas to hide from the scorching sun.
The World Las Vegas Pools Resort also offers amenities for those looking for a VIP vacation. Visit the Cabana Pool or an adults-only location with bungalows, lounge chairs in the water, and sunbeds available for rent upon request.
KnowMed Las Vegas Pool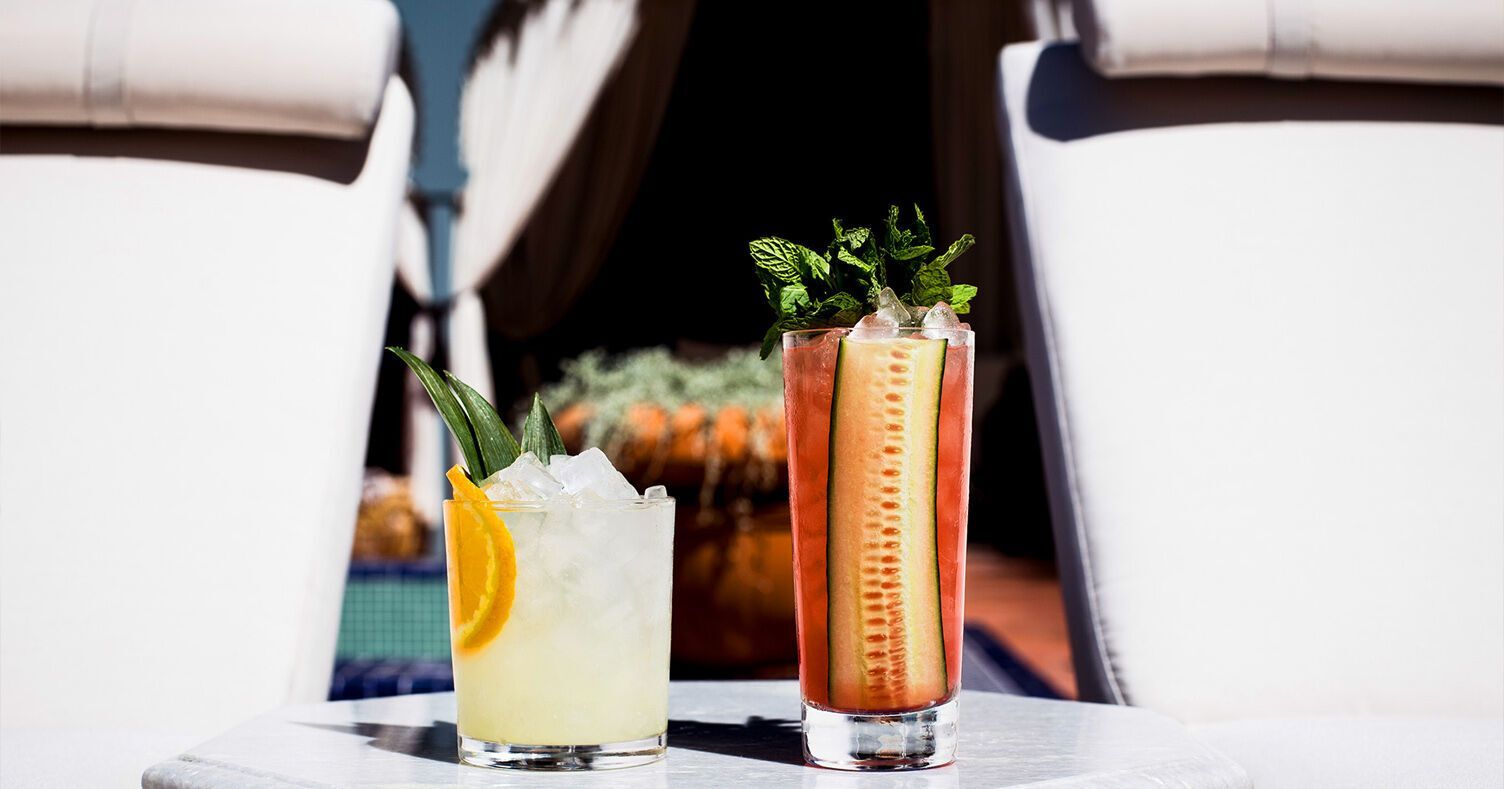 NoMad Las Vegas is a smaller, but very atmospheric boutique hotel located on the territory of the Park MGM resort. Its guests have access to a magnificent private swimming pool located on the fourth floor of the roof. The inspiration for the design of the space was the Moroccan garden of Majorelle. This relaxation area, with its intimate, tranquil atmosphere, allows you to experience maximum peace and comfort away from the noise and crowds of Sin City. The popular Las Vegas pool provides rattan sun loungers with a pleasant plush upholstery that encourages you to spend all your free time here.
Virgin Hotel Las Vegas Pool
Among the top-rated pools in Las Vegas, Nevada, is Virgin Hotels Las Vegas, opened in 2021. After Hard Rock Hotel & Casino acquired the resort, the lively, noisy parties by the water were replaced with a calm relaxation area with a pleasant atmosphere that inspires relaxation. The terrace is equipped with sun loungers and a large sunbed, so you can comfortably spend the whole day.
If you still miss entertainment and lively activities, we recommend visiting the two-story Élia Beach Club, which is open only in season. DJs constantly perform here and a relaxed Mediterranean atmosphere of non-stop partying reigns.
Delano Beach Club Las Vegas
Located on the territory of Delano Las Vegas, which is part of the larger Mandalay Bay resort, this beach club in Las Vegas offers a relaxing Miami style vacation. The recreation area, in addition to luxurious swimming pools, includes elegant comfortable furniture in light colors, interesting decorative items such as sculptures in the water, hammocks. Renting a Cabana, you can count on personalized bar service and sun loungers. Guests also have access to dining options at another pool located on Mandalay Bay Beach. This location with an aquatic play area covers 11 acres, also providing a Lazy River and a cozy lounge in the lagoon. The pool is open from 9:00 to 17:00 every day.
Go Pool DayClub, Flamingo Hotel & Casino
In search of a true tropical vacation in the Mojave Desert, check out one of the best pools in Las Vegas, located at Flamingo Hotel & Casino's Go Pool. Surrounded by verdant palm trees and lush greenery, the large complex stretching over 15 acres has everything you need for outdoor activities and endless fun. In particular, there is a huge wave pool, a cascading waterfall and other interesting attractions. If you want to feel more privacy, to take a break from the bright go-go dancers, we recommend renting a separate cabana, which includes the following amenities
mini-fridge
sun loungers
TV
comfortable sofas in the shade;
service on call and if necessary.
In summer, the Go Pool Dayclub organizes full-fledged parties with specialty drinks and DJs.
MGM Pools Park
Home to the best swimming pools in Vegas is the luxurious Park MGM resort, which offers a whole complex for relaxing in the hot desert. Here you can relax, swim, sunbathe, and even make new friends. In one of the two bars, be sure to order craft drinks and cocktails made with the freshest ingredients and high-quality alcohol. In addition, there is a waterfront service, so you can enjoy a Mediterranean salad, guacamole with chips or fajitas.
For those who like to party with DJs, the North Pool is the perfect choice; the East Pool, on the contrary, offers a relaxed atmosphere with a lounge bar and a VIP area. Another location is suitable for those who enjoy delicious food and cocktails. Seats with special privileges are available by reservation. If you need more peace and privacy, use one of the 12 booths or sun loungers in the shade, designed for two or even three people. To celebrate a birthday or other important event, book a waterfront bungalow for up to 20 guests with exclusive amenities. It is worth considering that this recreation area is open seven days a week, but from 10:00 to 16:00.
Boulevard Pool, Ze Cosmopolitan of Las Vegas
The Boulevard Pool is a multi-level popular pool in Las Vegas and one of the three available to guests staying at the Cosmopolitan of Las Vegas. One of its advantages is the unobstructed view of the famous Strip. Boulevard Pool's amenities and activities, in addition to standard sunbathing and swimming, include
large sun loungers for several people with sun protection;
tables for playing ping-pong and table football;
a lounge where you can enjoy food and drinks;
a children's area, etc.
Unlike other pools, which close mostly at 17:00, Boulevard Pool comes to life at dusk when a movie is shown on the big screen or live jazz music or other concerts are organized. Please note that the complex is available only to guests of the Cosmopolitan of Las Vegas hotel. Otherwise, if you just want to spend time by the pool, you need to rent a sun lounger or a cabana, and you can also buy separate tickets that allow you to attend a movie night.
Liquid Pool Lounge, Eria Resort & Casino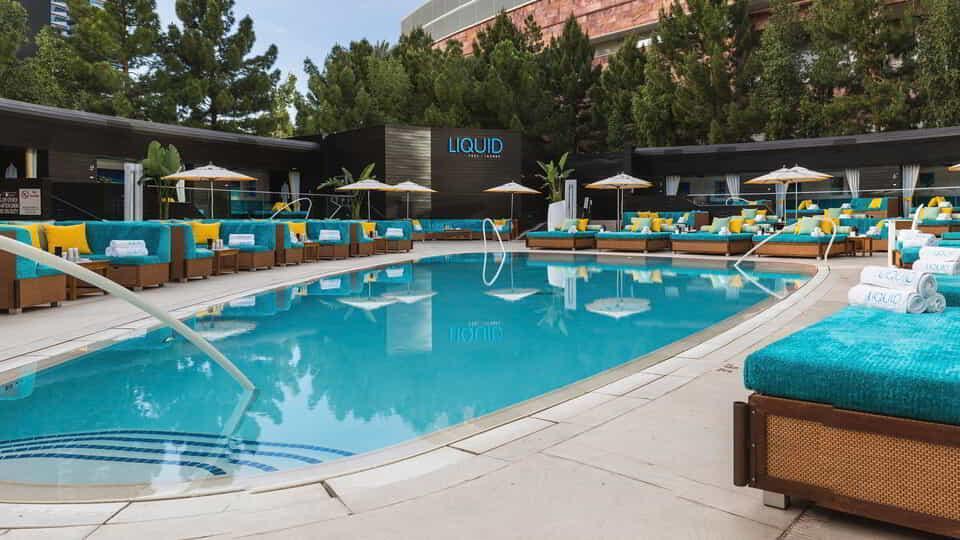 At Liquid Pool Lounge, you can enjoy a modern Tahitian vibe and a more intimate feel, despite the fact that the complex is 16,000 square feet. Boasting a beautiful Las Vegas swimming pool, this lounge harmoniously combines DJ performances with a relaxing waterfront experience without the crowds of dancers. The pool is surrounded by handmade sun loungers and wicker sunbeds. Guests can also book one of the eight secluded houses, each with a fridge and TV. There are several restaurants on site, and guests can enjoy delicious meals by the pool and refreshing cocktails.
Waldorf Astoria Las Vegas Pools
Formerly the Mandarin Oriental Las Vegas, now the Waldorf Astoria Las Vegas - despite the changes, it is still a good place to stay in Las Vegas. The luxurious outdoor pools, surrounded by majestic green palm trees, are still on the eighth floor, so the views from here are fantastic - of the shining Strip and the lights of CityCenter. Two jacuzzis are also available for visitors. Some of the positive changes that have come to The Waldorf Astoria Las Vegas pools include the addition of personalized waiter service and an expanded menu.
When renting Cabanas, guests receive a free minibar that includes soft drinks. Of course, you can also order champagne that cools down in ice buckets to make your poolside relaxation officially the most luxurious.
Bellagio Pools
For those who prefer a more intimate atmosphere and are not fond of crowds, the elegant Cypress Pool, located in a picturesque garden, is a great option for a vacation in Nevada. These beautiful pools in Las Vegas are located in the courtyard and are intended only for visitors aged at least 16 years. Depending on your preferences, you can book luxurious Cabanas, which are a private shaded space with sun loungers and a TV, and personalized bar service is also provided. Another option is the comfortable and soft sun loungers, which are best suited to spend time soaking up the sun. The pool is open daily from 9:00 to 16:00.
Garden of the Gods Pool Oasis, Caesars Palace
Not just a chic pool in Las Vegas, but a real oasis with Roman statues, classic landscapes and an 18-foot waterfall. Garden of the Gods Pool Oasis is located on the territory of the luxurious Caesars Palace. There are 65 comfortable sun loungers and 48 private cabanas located around seven different pools. You can not only sunbathe and swim but also play blackjack. In addition, one of the pools - Venus - is for adults only, and Bacchus Pool is available by prior invitation only.
Vet Public Ultra Pool
Also known as the "Ultra Pool" owned by MGM Grand, Wet Republic is one of the most popular pools in Las Vegas. The unique complex covers 54,500 square feet and includes the following amenities
two pools filled with seawater
sun loungers
bungalows
three private VIP pools;
soft sun loungers;
an open-air lounge area of 2,500 square feet.
Under the LED displays with special effects is an extended DJ stand. Also noteworthy is the 95-foot-long marble bar, with drinks served exclusively by models.
Encore Beach Club, Encore at Wynn Las Vegas
Encore at Wynn Las Vegas is a bright pool complex decorated with red drapery, natural wood, and white vines. Here, visitors can relax on huge lily loungers in the water under umbrellas or enjoy incendiary dances. For those who are looking for luxury and more privacy, detached bungalows with views of the Strip are a great choice. These open houses include showers, climate control and access to private plunge pools. You can also book cushioned sofas equipped with personal safes for storing your belongings, or spend time in one of the 26 cabanas with a refrigerator and TV.