Best all-inclusive resorts in Florida: 14 vacation ideas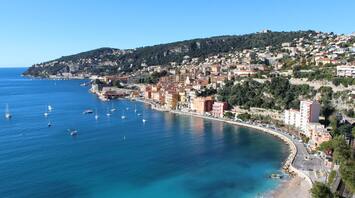 Florida resorts offer many beach and water activities. Source: Image Valentina Rossoni/ Pexels
There is no thing that simplifies a vacationer's life more than an all-inclusive system. No worries about time, finances, and planning, but instead a measured time filled with relaxation and entertainment. The best all inclusive resorts in Florida will take your idea of such a vacation to the next level. It's a good option if you're looking for a family vacation spot with plenty of water activities for all ages or a relaxing, full-service vacation.
This selection contains top all inclusive resorts in Florida that will provide immersive tropical beaches, first-class service and total comfort during your perfect vacation. Some of them do not have an all-inclusive rate, but instead offer almost all-inclusive packages with similar conditions.
1. Little Palm Island Resort & Spa, Little Fackel Key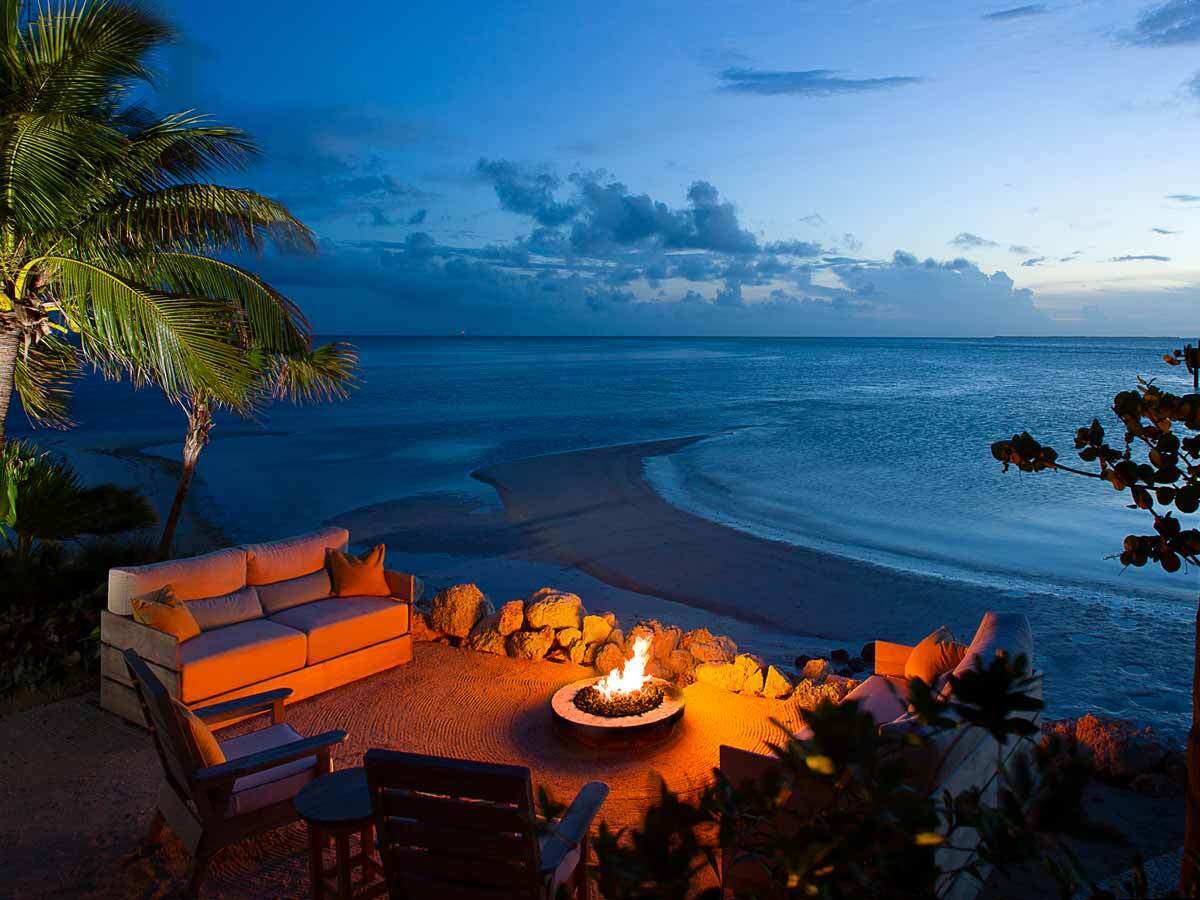 A luxury island resort in the Florida Keys for exclusive retreats is popular with celebrities and dignitaries. It can be reached by seaplane or boat. Guests can stay in 30 private thatched bungalows. The views are not inferior to the Seychelles or Mauritius.
A special feature of the resort is only available to those over 18 years old. The hotel will help you get away from the hustle and bustle of the modern world by eliminating technology, including televisions and phones. You'll have plenty to do without them: visit a world-class spa, kayak, or splash around in the palm-fringed pool. Water sports, boat transfers, and non-alcoholic drinks in the minibar are included.
This Florida resort has one all-inclusive resort Florida option: with a minimum two-night stay, meals are covered in the Culinary Paradise package, and as a bonus, each guest will receive a $100-a-night spa credit. You can choose the Get LOST package, which includes only breakfast and costs a little less.
2. Sandpiper Bay, Port St. Lucie
This is the only all-inclusive resort in Florida where the all-inclusive package is 100% in this category. The price includes taxes and tips, food, lodging, activities and nightly entertainment. The resort is only a 2-hour drive from Miami, so you can visit the theme parks while you're here. But the resort itself has more than enough activities for the whole family: golf, sailing, kayaking, tennis, spas and pools, kids club, music and dance shows, theater productions, nightly entertainment and many other activities.
The resort offers 337 rooms in seven buildings with comfortable accommodation for both adult companies and families with children. There are three on-site restaurants with a terrific selection of dishes included in the price. Don't miss the chance to try something unusual, such as white chocolate bread.
3. Key Largo Bungalow, Key Largo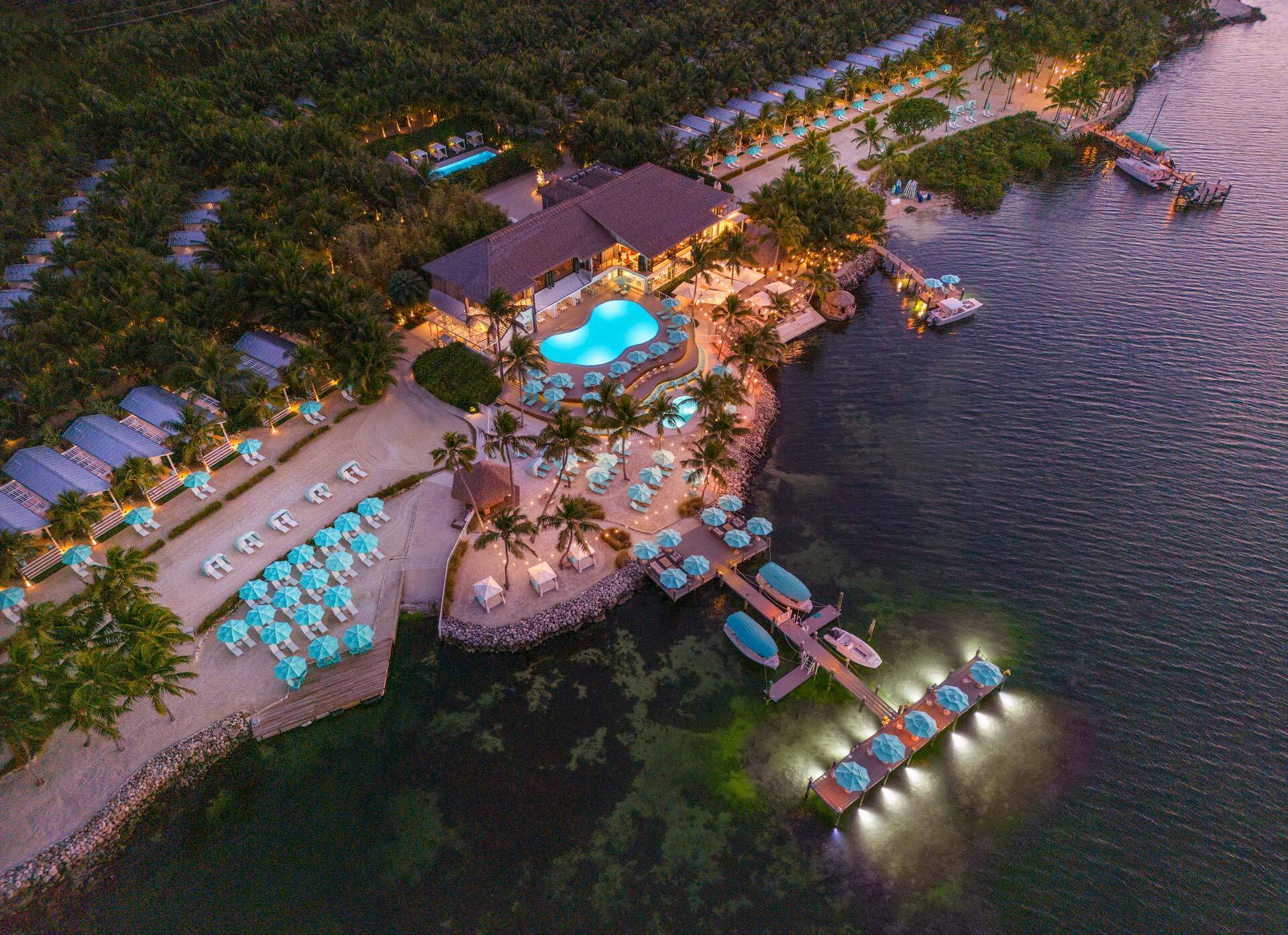 The 2019 list of all inclusive resorts in Florida includes this bungalow surrounded by an azure ocean and a beautiful botanical garden. Located on 12 acres of coastline, this resort features more than 900 square feet of living space with private verandas, patios and outdoor hot tubs and welcomes adults only.
Guests have access to a spa boutique with a Himalayan salt room, two pools, water sports (kayaking, kayaking, pedal boats, surfing), yoga, karaoke and tiki bar overlooking the waterfront, fitness center and other activities. There are several premium restaurants with indoor and outdoor terraces on site. All meals and drinks at two of the three restaurants and three bars are included, and there is also a poolside menu.
4. Legoland Florida Resort, Orlando
If you're considering all-inclusive resorts in Florida for vacations with kids, you'll probably choose Orlando. You can stay in one of three hotels in the resort: LEGOLAND Florida Hotel near the amusement park, Pirate Island Hotel with a pirate-themed interior and LEGOLAND Beach Retreat with country bungalows on the shores of Lake Dexter. All hotel rooms have separate children's sleeping areas and a heated pool.
Inclusive vacations here include themed room stays, breakfast and dinner at the hotel and lunch at any park restaurant, theme park and water park tickets, mini golf, Lego model building workshops and kids programs, park photo packages and other activities.
5. "Disney's Animal Kingdom", Orlando
Immerse yourself in the atmosphere of the African continent by combining it with vacations to go all inclusive Florida. When creating the Animal Kingdom, the architects were inspired by the traditional African kraal, which has 4 savannahs in the center of a horseshoe shape. More than 200 species of animals and birds live here. Book a savannah view room to watch the animals from your balcony.
The all-inclusive rate covers Disney hotel stays, park and bus tickets, lounging by the huge heated pool and water slide, outdoor movies, exciting animal programs and an introduction to one of the largest collections of African art in the United States. Disney's meal plan usually includes two or three meals a day depending on the package.
In the U.S., many all-inclusive resorts United States Florida offer an all-inclusive system. But even more do not have such rates and instead create special packages with "almost all inclusive".
6. Holiday Inn Resort Panama City Beach
This is a resort with a vacation program for the whole family. Stay in rooms (there are 340 in total) with a view of the bay, take a walk on the beach or splash around in the pool, relax your body and soul in the spa or play sports with friends. At night you can also enjoy dancing performances, fire and magic shows and concerts.
We guarantee that your children will have a good time, too: the children's club has various programs, including crafts, colouring with aqua make-up and a real treasure-hunting adventure through the resort, led by pirates.
The place is also one of best inclusive resorts Florida, although there is no rate per se. Instead, guests are encouraged to book an "Extra Credit Package," which includes a room with a balcony, food at one of the resort's restaurants plus a large pizza every day, a drink at the beach lounge, lounge chairs and umbrellas, $25 "beach" dollars a day and activities for kids.
7. Acqualina Resort & Residences on the Beach, Sunny Isles Beach, Miami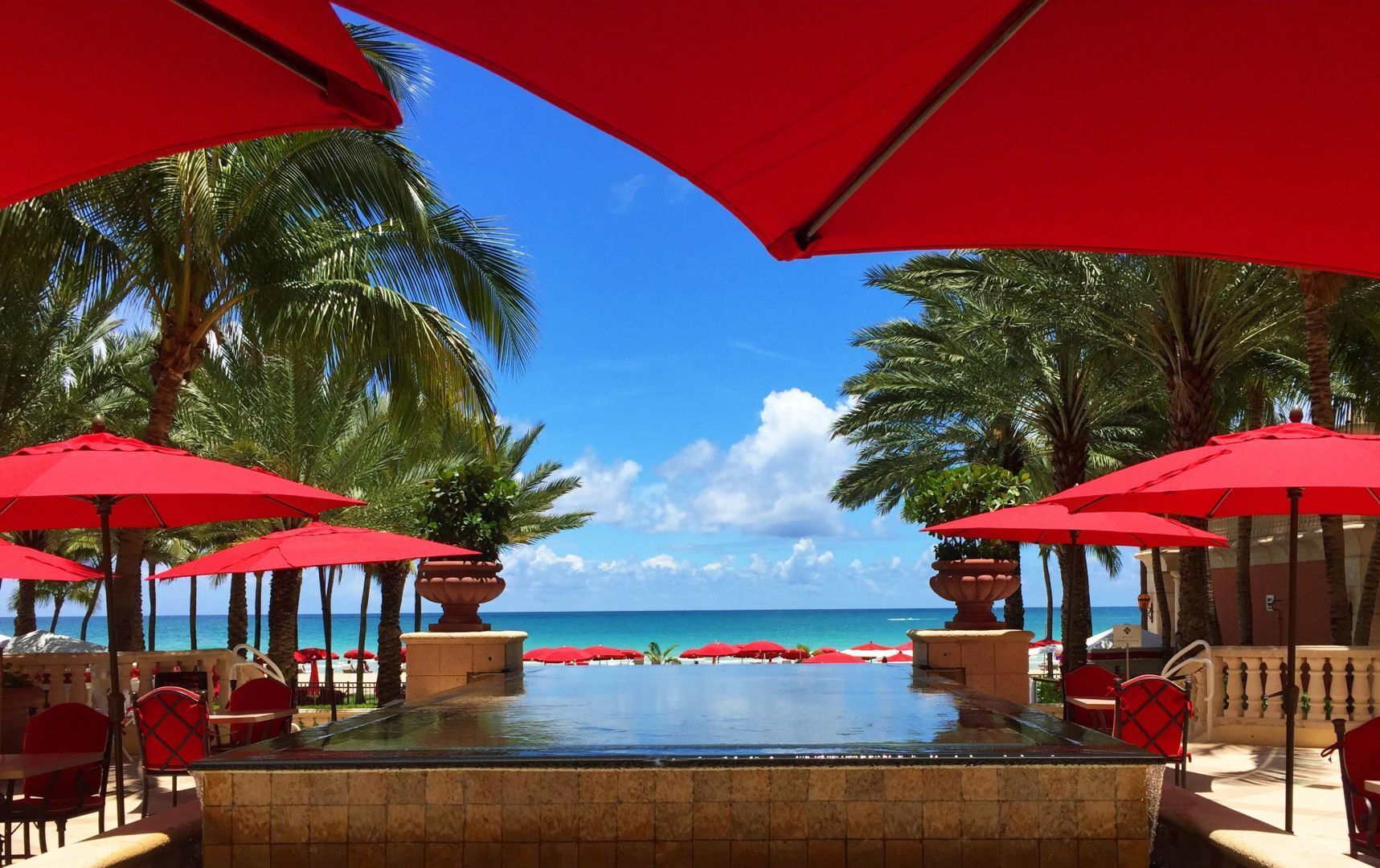 When choosing all-inclusive resorts in Florida, consider this luxury option, considered one of the best beach resorts in Florida (Florida all inclusive resorts Florida). Its first-class service, chic spas and exquisite accommodations helped it win the AAA Diamond Award 2020.
This resort will delight guests with pristine Sunny Isles Beach, three oceanfront pools, three restaurants and a children's program. Vacations in this center of glamour and glitz come with a corresponding price tag, but there are options to make your stay here more affordable.
By booking the included breakfast package, a resort guest receives daily credit for an a la carte breakfast for two people, plus $40 a day credit for treatments for two guests at the spa and a 90-minute private AcquaMarine program each day for children ages 5 to 12. Package credit increases when booking a 2 or 3-bedroom suite.
8. Ritz-Carlton, Naples
If you choose all-inclusive resorts United States, Florida has, among others, two Ritz-Carlton hotels with packages. The first, the Ritz-Carlton in Naples boasts access to pristine Naples beach with soft white sand, amazing sunsets over the Gulf of Mexico and luxurious suites with private balconies.
First-class service, a huge spa, golf courses and several swimming pools make this a top-notch vacation resort, with prices to match. But before booking, it's worth checking the site for specials that can help you save, sometimes significantly.
Guests can book the Reconnect package, which, in addition to the room, gives a $100 daily credit and breakfast for two at the Terrazza restaurant.
9. The Ritz-Carlton, Amelia Island
Inclusive resorts in Florida are complemented by another Ritz-Carlton, despite the lack of an all-inclusive system. It is located on the coast of Amelia Island and welcomes its guests with the service of a first-class five-star resort. There is a diverse system of activities for adults and children: pools, golf, tennis, themed children's programs.
Throughout the year, the resort posts various offers on its website, which change periodically. Guests can save up to 20 percent on room rates, receive a $100 daily credit and free parking with delivery if they book a room for at least two nights with the Beach Road Trip package.
The Bed & Breakfast package comes with daily breakfast for two and parking on top of the room, and the Weekday Breakaway package comes with $100 daily credit on your room. The latter offer is available Sunday through Thursday.
Golf enthusiasts can take advantage of the Beaches & Bunkers Golf package. It includes in-room accommodations, breakfast for two each day and two games at the Island Golf Club.
10. TradeWinds Island, St. Pete Beach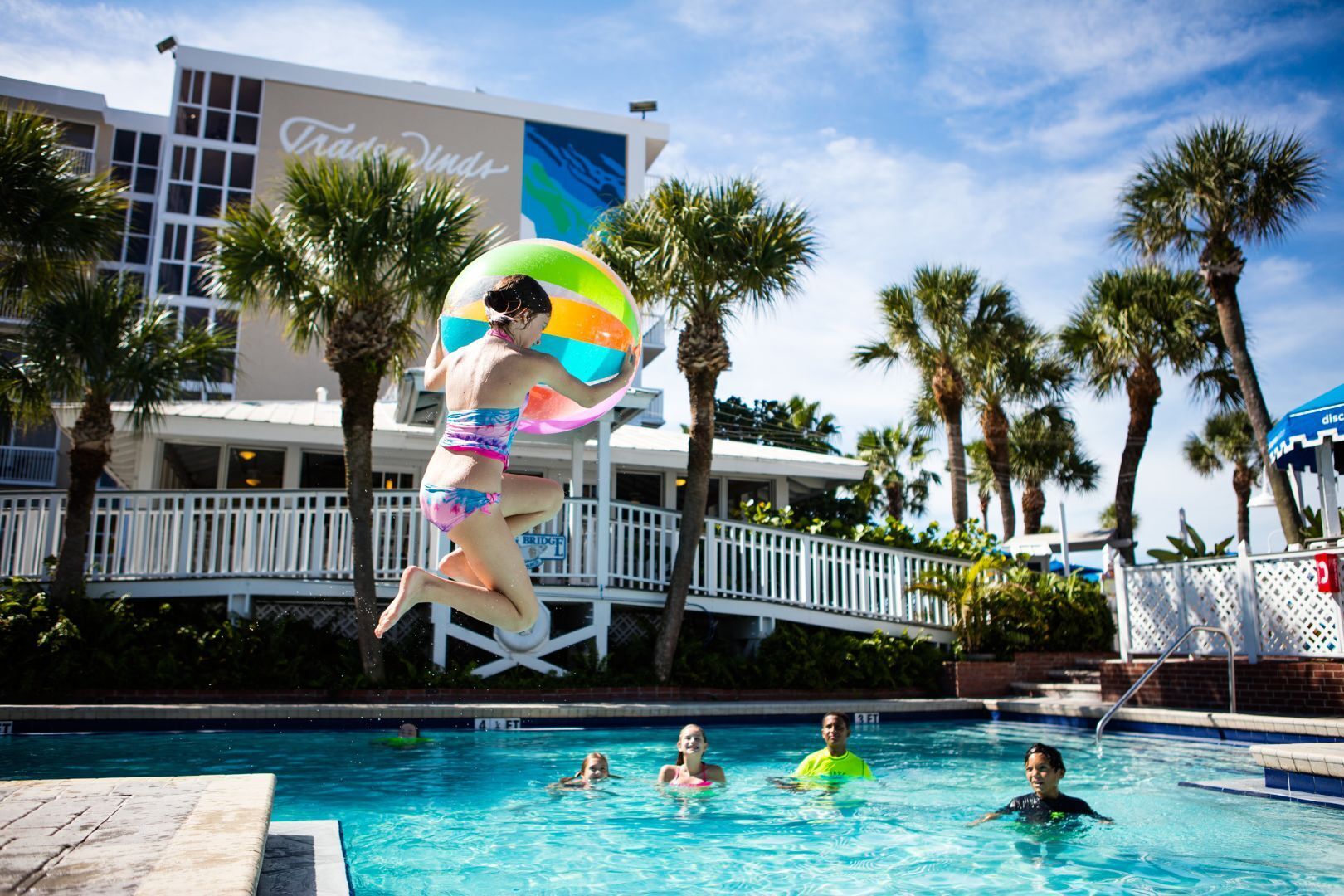 This grand resort does not have a traditional all-inclusive package, but these all-inclusive places in Florida are great for families and pets, but hardly suitable for a romantic vacation. Who is sure to get a lot of memories and excitement here, it's the kids. Five heated pools, a three-storey water slide, a floating water park, a pirate island and an entertainment center - an unforgettable program for children here. The adults also have plenty to do: sandy beach, swimming pools, spa, tennis courts, water sports (extra charge), movie nights by the pool and nightly dinners around the campfire.
The Grand Resort offers Value packages with discounts on lodging and daily resort fees, tickets to the Busch Gardens theme park and Clearwater Marine Aquarium.
11. RumFish Beach Resort by TradeWinds, St. Pete Beach
The partner hotel of the previous resort is right next door, and many of the entertainment and dining options at the hotels are available to guests of each resort. It's not on the list of all-inclusive resorts in Florida if we're talking about its traditional version, but there are several packages - Family Adventure, Dolphin Tale or Go Get Out There. They entail discounts on accommodations, dinners for two, tickets to the aquarium and other amenities depending on the package you choose.
The resort attracts guests with its waterfront pool and 33,500-gallon aquarium, renovated rooms and beautiful views of the bay from the balcony.
12. Pink Shell Beach Resort & Marina, Fort Myers
12. Pink Shell Beach Resort & Marina, Fort Myers
Here you can have fun on the beach or by the pool, take a catamaran ride on the Gulf of Mexico, or relax in the spa. The beachfront hotel also doesn't have the standard all-inclusive system, but all inclusive Florida pleases guests of its resorts with other attractive offerings.
At this hotel, for example, each room reservation also includes a daily breakfast for two, a lounge chair, umbrella and beach bag, two bottles of water, and the resort fee covers Wi-Fi, steam room access, kayak and surfboard rentals.
13. Ocean Key Resort & Spa, Key West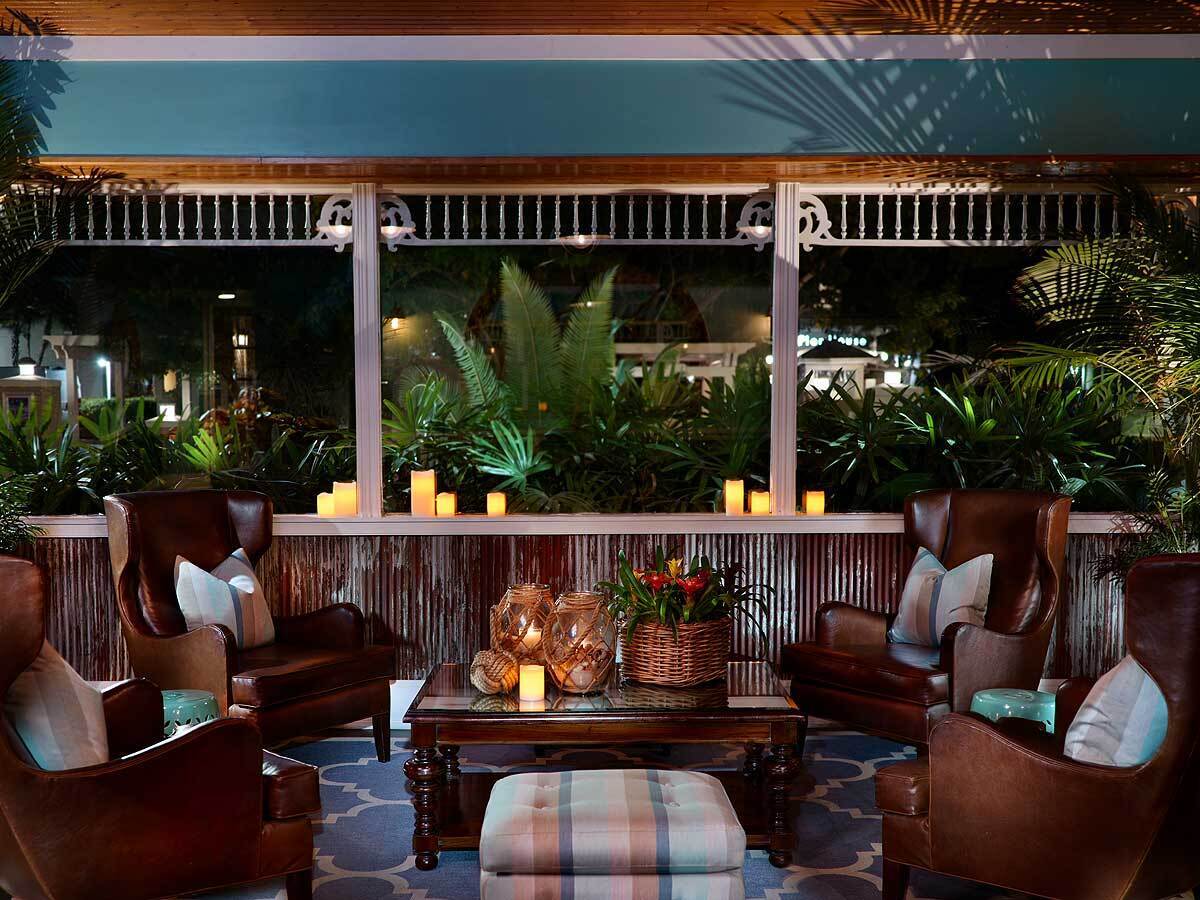 This tranquil retreat is located where the Atlantic Ocean and the Gulf of Mexico meet. The hotel is decorated in the style of Old Florida, and you can combine your vacation here with trips to authentic Key West stores and restaurants.
A resort fee is added to the room rate, for which guests receive newspapers, bed preparation for the night and beach towels. This hotel, like many all-inclusive resorts in Florida, does not have an all-inclusive system, but instead offers several packages. Sunnyside Up includes a daily breakfast for two and the Romance in Paradise package includes spa credits, food and drinks every day.
14. Holiday Inn & Suites Daytona Beach on the Ocean
A good option for a vacation with a pool overlooking the ocean, great sandy beaches and interesting entertainment.
Like many other all-inclusive resorts in Florida, it does not have an all-inclusive system, but it does offer great deals. The Park, Stay, and Eat package includes parking and breakfast for two people a day. Children under 18 can stay in their parents' room for free.