Best campsites near Santa Cruz California: places in the woods, mountains, and coast of Monterey Bay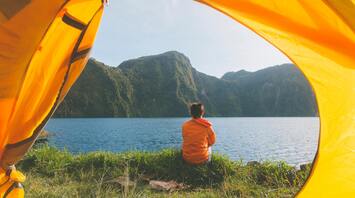 Campgrounds in the Santa Cruz, CA area. Source: Image Robert Forever Ago/pexel
Santa Cruz is the largest city of the county of the same name in the state of California. Its peculiarity and attraction is an amazing combination of mountains with picturesque panoramas, forests with majestic sequoias and the coast, with golden beaches. Not surprisingly, the area has become a great place for an authentic vacation, reconnecting with nature and rebooting after a tempo city life.
However, even an authentic vacation, these days, requires a minimum of comfort and conditions. Campgrounds are a combination of both. You can easily feel alone with the flora and fauna, without getting fire from sticks, and not cooking porridge from an axe. All of your small and so many needs are met by campground and park organizers. This helps to keep private and public parks clean, and to observe the rules of harmony between man and the environment. Many of the huge parks are nature reserves and are protected.
So you can safely find camps Santa Cruz, which will help you spend time comfortably, informative and relaxing from the hustle and bustle of the city.
Each chosen place has its own twist and features. Some areas overlook the ocean, some are surrounded by century-old sequoias, while others are located at the top of mountains and hills, where you get a unique view of the vast horizon. Our list: bests campsites near Santa Cruz, will help you find a place that meets your needs for an authentic vacation.
For details on booking all campgrounds near Santa Cruz, visit the California Parks website.
1. Henry Cowell Redwoods State Park Viewpoint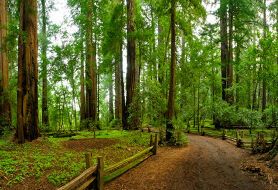 A wonderful tourist spot. The state park area is protected, ensuring your safety.
The location in the Henry Cowell Mountains will provide good views, plenty of trails to explore the park and local attractions. And the banks of the San Lorenzo River will add swimming and water sports to your list of activities. The best place to swim at Henry Cowell Redwoods is the Garden of Eden.
The camping area has a separate entrance from Graham Hill Road in Scotts Valley.
The 107 designated campsites are nestled in the shade of an oak forest. The convenient location allows for equal access to such attractions in the park:
Redwood Grove Loop Trail
Santa Cruz Sandhills rare habitat
a viewing platform on the highest point of the park (805 feet high)
Even if you stay on the territory of the camp, you will not be bored. Under the guidance of an interpreter, activities are organized during the summer season:
young rangers
little rangers
guided hikes on the best hiking trails
campfire programs
a walk to the oldest tree in the park (over 1,500 thousand years old, 277 pounds high)
Four-legged friends are allowed in part of the park, i.e. paved roads and the camping area (on a leash). Your beloved pets should be taken to your tent or car for the night.
The facilities at Henry Cowell Redwoods Campground are more than comfortable. Facilities include:
hot water showers
flush toilets
bike camping
ADM campsite
drinking water
picnic tables
food lockers
fire pit and grill
generators are allowed from 10.00 to 20.00
The park warns tourists about the growth of poisonous plants in the area. They are home and food for animals, but can have negative effects on humans. For example, poison oak grows in many camping areas and, if not careful, can cause a nasty rash. In any case, before camping in a park, learn the cautions and how to identify dangerous plants. Special park tours can help you with this, where you'll learn a lot about the flora of these picturesque places.
Visit the official website for current prices and to book the best camping near Santa Cruz (reservations are open six months before the summer season) - California Parks
2. Majestic sequoias in Big Basin Redwoods State Park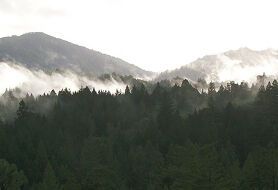 Less than an hour from Santa Cruz and you're in California's oldest state park. This makes its flora and fauna truly unique. The 300-foot-tall coastal sequoias have made the park famous and picturesque. Some are as tall as the top of the Statue of Liberty with a trunk diameter of over 50 feet. Would you like to measure how many people it takes to hug such a trunk by holding hands?
In addition to the long history these trees remember, they serve as a wonderful decoration for your authentic home for days or weeks.
Day parking at Big Basin Redwoods Park is currently available by reservation only and costs $8 per car.
Located throughout the park, 5 separate campgrounds (about 150 sites), will help you get situated most conveniently, depending on your desired attractions.
A huge number of hiking trails will allow you to dive into the adventure, and bike rentals will speed things up.
For an enjoyable and active vacation at your service:
horseback riding (only on authorized roads)
bicycle rides (only on authorized bicycle paths)
free guided walking programs
Conditions provided by the park:
showers
toilets
lockers for food
fireplace
picnic tables
fairy rings for entertaining children
Please note that conditions may vary slightly depending on the chosen camp area.
It is interesting and necessary to remember that the entire Big Basin Redwoods Park area is a so-called "crumb-free zone. This means that no crumbs can be fed to the birds in this area, and all food scraps must be taken away with them.
At this time, not the entire area of the park is open to visitors and campers. You can always find up-to-date information on the website - California Parks.
3. Sunset Coastal State Park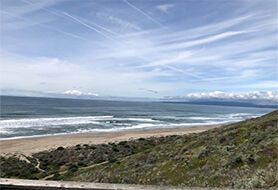 Campgrounds near Santa Cruz CA just half an hour away, with access to the ocean is fabulous. And it's located in Sunset State Beach. More specifically, there are 90 campgrounds sprawled across its grounds.
The beach areas host RVs as long as 31 feet, but the campgrounds are located behind high sand dunes among pines and cypress trees. This helps protect against ocean gusts of wind. It's only a quarter-mile up a scenic trail and you're by the waters of the Pacific.
What you need to know about Sunset Camping:
Parking fee includes 1 car and trailer
There is a separate fee of $10 for the use of the trash station
No more than 1 vehicle and 8 people per campsite
Maximum stay at the campsite is 30 days, after which you can check back in only 48 hours later
Dogs are allowed on a leash everywhere except the beach
Quiet hour from 10.00 to 6.00
Alcohol is prohibited on the beach and in the day area
The camping fee includes coin-operated toilets and showers.
The waters of the Pacific Ocean are dangerous enough to swim or surf in these areas. Only the most experienced surfers are allowed. But the sunsets and sunrises here are a separate art form, changing daily.
4. New Brighton State Cliff Camping
100 campsites on top of a cliff overlooking Monterey Bay. This is what camping in the Santa Cruz area looks like near the Palo Alto shipwreck. But that's not the only attraction. Next door to the campgrounds is the Pacific Migration Visitor Center, where you can take a tour and learn a lot of interesting things. Tourists can use the store on its premises. Which is very convenient when living in a campsite.
The average parking fee for a car is $10, but it's a different story with buses, where the price will jump from $50 - $100.
Four-legged friends are allowed, as long as the rules are followed (leash; only in approved areas).
The availability of toilets and showers softens the authentic experience, and sunrises and sunsets will provide unforgettable pictures of art.
Campfires are forbidden on the main beach, but designated areas will provide opportunities for nightly gatherings by the fire, the quiet song of the guitar with soul-stirring stories.
Being able to walk the trails, either on your own or with a guide, fishing for which the cliffs are great and swimming, in the warm water of the bay, will make this place - the best campsite near Santa Cruz, which you will return to every year.
5. Summer at the Santa Cruz Redwoods RV Campground
In the Santa Cruz Mountains on the sparkling San Lorenzo River, in the shadow of the majestic sequoias of Henry Cowell Redwood State Park, stretches the best camping near Santa Cruz, for large RVs and tents. The park and camping area welcomes guests year-round, providing wonderful facilities:
children's club
toilets and showers with hot water
RV sites, almost all sizes
campsites
full hookup of motorhomes
free WIFI
free cable TV
playground for children
disc golf
skateboarding
streetball courts
Santa Cruz winery tour
trip to the mysterious place of gravity
The beach area, located near the camp (a short drive) allows you to relax on the water and admire the vastness of the ocean.
At your disposal:
Surfing Santa Cruz
surfing school
boating
whale watching
river and sea kayaking
The park hosts festivals, trail hikes, and numerous organized recreational activities in season. That's the kind of all-inclusivity in the authentic hiking business.
The average price for a tent space is $60 a night, and $80 for an RV. And reservations go through pretty quickly. Check to see if there are any dates available for you at
6. Manresa Highlands Camping Site
A short walk down the coast from Santa Cruz brings you to the Manresa Highlands, where there is a tent-only campground.
There is parking for cars next to the campground. Parking for one vehicle is included in the tent fee.
Pets are only allowed on site near the tents and strictly on a leash.
Camping on the coast, near the ocean has its pros and cons. Of the issues that arise, open, often windy, and raging waves that make swimming a rather dangerous activity.
Of the wonderful bonuses: wonderful views, fishing for starry flounder, California halibut, striped bass and smelt (sport fishing license required).
There are restrooms and showers near the campsites. There's a picturesque wooden ramp down to the shoreline.
Campfires are allowed only in organized places.
This camping near Santa Cruz is only 1.6 km from Sunset Beach, if you want to make a trip somewhere nearby.
7. The Hills of Camping Rancho Coe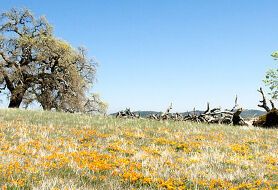 A 90-minute drive from Santa Cruz (about 50 miles) is Henry W. Coe State Park. The park stretches 87,000 acres northeast of Gilroy. The dramatic valleys of the Diablo Range paint an absolutely incredible picture of steep ridges and hills.
Plenty of campsites for large RVs and cars, as well as tent camping-easily accommodated in the expanse of the park. The tent or campground of Coe Ranch is very popular, and includes the Henry W. Coe Hotel.
There's plenty to do here - more than 250 miles of hiking trails. Some trails are set up specifically for hiking. The campgrounds and park grounds include restrooms, showers, a restroom, and a camp store.
The vegetation in the park is more than unique, from chaparral to a grove of coastal sequoias. The park's bicycle trails with equipped paths, make it easy and enjoyable to explore the scenic nature and enjoy your favorite recreation.
8. Fremont Peak State Park Heights
Rising above the Salinas Valley, Fremont Peak gains its altitude with a fairly steep climb. Heavy vehicles are not recommended on this route. This campsite Santa Cruz California is beloved by lovers of heights and winding roads.
The picturesque panoramic views and soaring spirit of freedom are a highlight of the campgrounds here. The campgrounds are divided into two large sections: Valley View Campground and Oak Point Campground. The latter has better vantage points for views of the valley skyline. The road is winding and steep, so it's not overcrowded, but that's a positive thing.
The conditions provided by the park for hikers are a bit more modest, but that doesn't hinder recreationists who like to conquer peaks and hike dozens of miles of trails. The Peak Trail reveals the power and beauty of the area's rolling hills and soaring peaks.
Knowing the area, regulars recommend that you pack your trunk carefully to take everything you might need on the classiest authentic hike.
9. West Ridge Trail Campground curiosities at Nissen Marks Forest State Park
Places to camp in Santa Cruz delight you with their wild beauty and ability to combine it with comfort as much as possible. The West Ridge Trail Camp sequoia retreat is just what you need for good traditional camping.
The state park is located on the outskirts of Santa Cruz and to get to the camping area you have to hike 6 miles - not a bad start to give your vacation a hiking and scouting atmosphere.
Tent camping sites are available by reservation only.
And the conditions are most primitive. So you'll need to bring all the gear you need. The fee for parking a regular car is $8.
There are four separate trails for bicycles, and pets are only allowed in designated areas. The campground is currently closed. But you can be the first to know about the opening of this unique place for real camping, near Santa Cruz.
10. The Silence of Portola Redwoods State Park
Just imagine the lush forests, the waterfall, the winding hiking trails, the rumbling of water in the creeks. A beautiful scenic picture is painted at Portola Redwoods, home to a comfortable camping near Santa Cruz. The park's boundaries accommodate 2,800 acres of beautiful sites and unseen nature.
55 tent-only sites, no RV hookups. A beautiful guest lodge will help start your journey on local trails and offer refreshments. There are group camping options on site and several areas for biking and hiking.
Two Fall and Pescadero creeks, will help keep you cool on hot days, and insect sprays allow you to enjoy your vacation without unpleasant adventures.
Get ready for the winding local trails, which can be tiring and challenging to climb. But once you overcome your fatigue, you can enjoy the views and unique vegetation of Portola Redwoods State Park. Many of the trees are very conveniently shaped to teach kids to climb, play parkrunners, and even make primitive tree houses.
The sites at Portola Redwoods, covering the east side of Peters Creek, are hidden between large trees. Car and RV camping is most common here, and only a few sites are designated for tent homes (maximum RV length is 24 feet). All sites are fairly close and convenient to restrooms and showers, as well as the park's 18-mile web of hiking trails.