Places to see in Belgium: Learn the secrets of medieval castles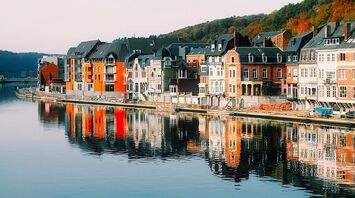 Dinant, Belgium. Source: Image 12019 from the Pixabay website
Belgium is a country that can surprise and delight its guests with the variety of its attractions. From medieval castles and Gothic cathedrals to modern museums and fashionable boutiques, you can find everything you need for an interesting and rich travel experience. Belgium is a must-visit destination at least once in a lifetime.
We will tell you about the top 10 places to visit in Belgium that will not leave you indifferent. You will learn about the most beautiful and unique places in this country that will show you its history and culture. These are the places to see in Belgium if you want to have an unforgettable experience.
1. Bruges is an ancient city with beautiful architecture and canals
Bruges, one of the most famous cities in Belgium, attracts tourists with its beautiful architecture, cozy canals and plenty of cultural attractions. It is worth a visit as part of a travel itinerary of famous Belgium places.
Bruges is home to many castles and beautiful medieval buildings like:
Belfort Tower;
Town Hall;
Christ the Savior Cathedral.
It is also worth visiting the Museum of Ancient Art and the Groeninge Museum, where works of art from different epochs are presented.
In addition, you can stroll along the cozy canals on barges, enjoy beautiful views of the city from Markt Square and taste the famous Belgian waffles and chocolate.
All these attractions make Bruges a must-see place in Belgium.
2. Brussels, the capital of Belgium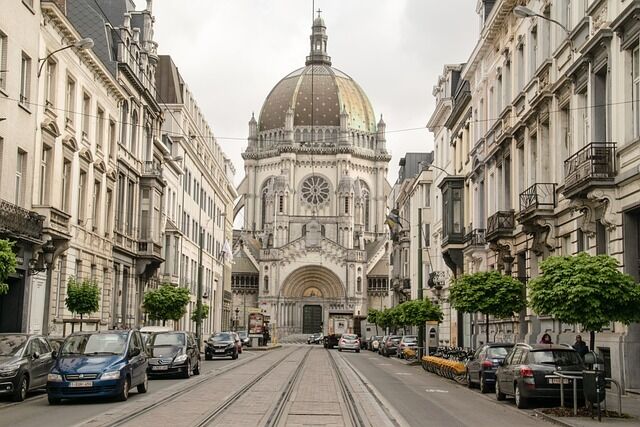 Brussels is not just the capital of Belgium but also a whole world full of amazing discoveries and impressions. Here everyone will find something to their liking because the city is famous for its wealth of cultural, architectural and culinary delights.
Of course, it is impossible not to visit the most famous tourist places in Belgium, such as:
the symbol of the city, Manneken-Pis;
the majestic Grand Place;
the impressive Basilica of the Sacred Heart of Jesus.
To see the real Brussels, you have to go beyond the usual routes and explore its hidden corners.
There are many little streets in the city where you can enjoy the beauty of old buildings, pop into cozy stores with Belgian delicacies and relax in shady parks. These are some of the best places to go in Belgium, where you can feel the atmosphere of the city and its unique spirit.
To get to know Brussels better, you can take a walking tour or rent a bike and make your own sightseeing plan. This way you will be able to see not only traditional but also unusual and interesting places that will please with their originality. Don't forget to stop at funny fountains, try mouth-watering waffles and enjoy the variety of cultures that have merged in Brussels.
Brussels has many must-see places that will not leave you indifferent.
3. Ghent is a university city with beautiful medieval architecture and canals
Ghent is an amazing city in Belgium that often remains in the shadow of other more popular destinations. But that doesn't make it any less attractive to tourists who want to see the beauty and culture of this country.
Here you can enjoy the medieval architecture that has been preserved in the Old Town. You should visit the Town Hall, which impresses with its style and details, as well as Saint Nicholas Church, which is one of the most important religious monuments in Belgium. These are some of the must-visit places in belgium that will allow you to experience the atmosphere of the past.
Ghent is not only about history but also about the future. The city has many modern buildings that demonstrate the development of art and science. For example, you can visit the SMAK Gallery of Modern Art or the Dr. Guislain Museum, which is dedicated to mental health.
The city also delights its guests with culinary dishes that are characteristic of Belgian cuisine.
Ghent is one of the most beautiful places in Belgium. The city is not overcrowded with tourists and retains its unique charm.
4. Antwerp is a major port city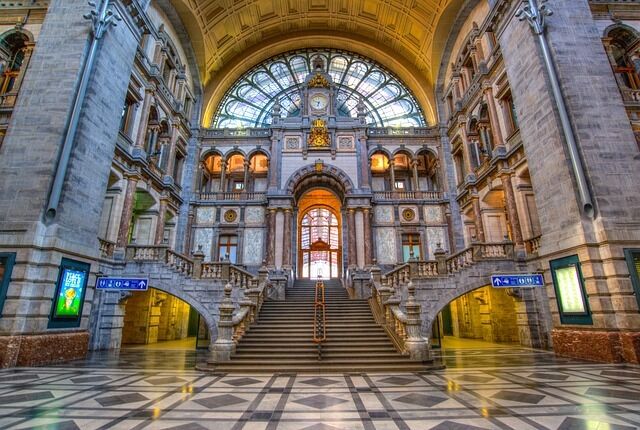 Antwerp is the second largest city in Belgium, which is located on the Scheldt River and attracts with its charm. This place combines the tradition and modernity of this country.
Here you can admire the architecture of different eras, styles and visit famous places of interest like:
Antwerp City Hall, an example of Gothic;
the train station impresses with its beauty and elegance;
the Cathedral of Our Lady is the tallest and most magnificent church in Belgium.
The city is known for its cultural attractions and variety of entertainment. For example, you can visit the Royal Museum of Fine Arts, which shows the development of art from the Renaissance to the present day. Fashion and design lovers should check out the MoMu Fashion Museum to learn about the secrets and trends of world fashion.
You can enjoy the atmosphere of the city's cozy streets, numerous restaurants and cafes, where you can taste real Belgian beer and large portions of food, which is better to share with loved ones.
If you are planning a visit to Belgium, be sure to stop by Antwerp to discover the culture and history of this wonderful country.
5. Liège is a city on the Moselle River
Liège is a city that rarely features on the list of tourist destinations, although there are many sights to visit.
The first place to visit in Liège is its famous Town Hall, which is located on the Promenade de la Gare and is a Belgian national monument. This beautiful historic building used to serve as a former seat for city councils and other important events.
Other places to visit in Belgium include the Grand Curtius Museum. It is located in the Curtius Castle, where you will learn about many aspects of the culture and art of this city:
furniture;
glass;
silver.
The most important attractions of the city include Catholic churches, the magnificent St. Paul's Church in particular. The exquisite Gothic building with its decorations, stained glass windows and religious symbols, is truly amazing.
If you're thinking of places to go in Belgium to get a new perspective on the country, head to Liège.
6. Binche is a small town with beautiful castles and parks
This Belgian town is worth seeing. Each castle in the city is a true work of art that amazes with its luxury and architectural beauty.
Besides castles, Binche has many cozy parks where you can spend time with your family or friends. The atmosphere here is very romantic and peaceful, ideal for lovers of walks and picnics.
But the most important thing that distinguishes Binche from other cities and makes it a popular places in Belgium is its unique atmosphere. Here you can spend time and relax from the hustle and bustle of the big city. If you haven't visited it yet, make sure you catch up.
7. Dinant, a romantic town on the banks of the Moselle River
Dinant is a charming town in the province of Luxembourg in the south of Belgium. Its old town is full of narrow streets, stone bridges and Gothic and Baroque buildings that create a unique atmosphere. It is another great place in Belgium to visit.
The main attraction of Dinant is its fortress, Bouillon Castle. It is an ancient building that was built back in the 8th century and has been restored many times since then. It was used to defend the city from enemies, so its walls and towers have remained intact for centuries.
Another interesting attraction is the Semois River, which flows through the city. It creates very beautiful scenery for nature walks.
You can also try the local cuisine, which is famous for its delicious dishes made from local products.
If you want to travel to small towns in Belgium, Dinant is the best destination. Its history, architecture and nature will leave you with unforgettable impressions.
8. Oostende is a city on the North Sea coast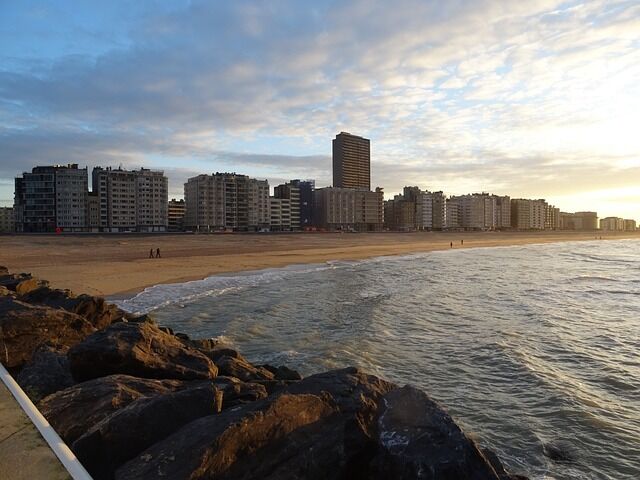 Where to go in Belgium to enjoy a beach vacation?
It would be Oostende, a picturesque city in the northwest of Belgium, which is located on the coast of the North Sea. The city is famous for its sandy beaches, which attract many tourists, including those from other countries.
One of the main attractions of Oostende is its waterfront, Plage d'Ostende. This is the place where you can bask in the sun, swim in the sea or just stroll along the shore enjoying the beautiful views.
There are also many museums and art galleries in Oostende, where you can get acquainted with the works of local masters and famous foreign artists.
Its symbol - a wrought-iron Monument of Leopold II - is at the very centre of the city. This monument is dedicated to the legend that the heroic horse saved the city from enemy attack by jumping over the fence and waking up the sleeping defenders.
Oostende is one of the best places to see in Belgium. Its beautiful beaches, atmosphere and architecture will leave unforgettable impressions in everyone's hearts.
9. Turnhout is an ancient town on the border with France
Many people come to Belgium to see the beautiful Catholic churches. Turnhout is a lovely town in the southwestern part of the country that attracts tourists with its medieval charm and beautiful architecture. The town is located in the gorge of the Lille River, which gives it even more charm.
One of the main attractions of the city is Notre Dame de Turnhout, a red brick Gothic cathedral built in the 12th century. This cathedral is one of the city's most famous architectural treasures that attracts attention for its amazing beauty.
In addition, you can also visit the Turnhout Castle, built in the 15th century. This impressive building with a long history creates an atmosphere that will leave no one indifferent.
There are numerous museums in the city, which keep an account from the very beginning to the present day. You can learn the history of the city firsthand, and see exhibits related to Gothic and abbey life.
If you are interested in history and architecture, you have to visit Turnhout.
10. Mechelen, a city with many castles and beautiful Gothic architecture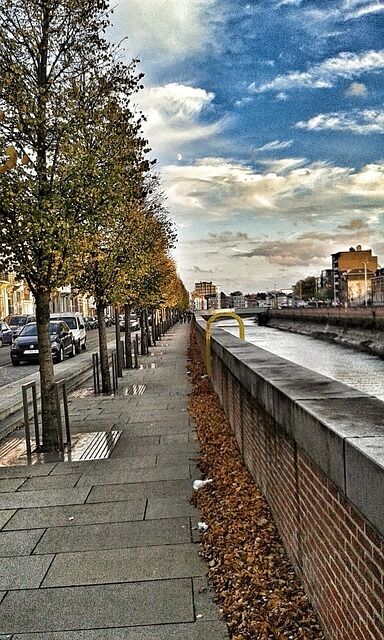 Mechelen is a small city in northern Belgium, located between Brussels and Antwerp. It is famous for its rich history and cultural heritage, as well as its beautiful Gothic and Renaissance buildings.
One of the best places to visit in Belgium is the beautiful old town of Mechelen, which is located in the historic center and is full of different buildings, museums and recreational facilities. Here you will see many canals and bridges that create a unique atmosphere.
Another great spot of Mechelen is the large abandoned castle, which was built in the early 16th century. Today, it houses a museum that tells about the life and culture of the city in the Middle Ages.
There are also several beautiful churches and cathedrals in the city, including St. Rumbold's Cathedral, which was built in the 13th century and is one of the largest Gothic cathedrals in the country.
Mechelen is home to many interesting places to visit in Belgium to enjoy the Gothic and medieval atmosphere.
Belgium is a country that can satisfy all tastes and interests of tourists. There are many places to visit in Belgium that will allow you to enjoy its beauty and charm. Now you know what to see in Belgium. You can visit ancient towns with narrow streets and architectural masterpieces, look at picturesque landscapes with green meadows and forests, taste the famous Belgian waffles and chocolate, and feel the atmosphere of European culture and fashion.
We have presented the top 10 must-see places in Belgium to know more about this country and its people. These places will make you fall in love with them and make you want to come back here again.
We hope that our article helped you decide what to see in Belgium and prepare for your trip. We wish you a pleasant vacation and unforgettable impressions of Belgium!