Top 8 All Inclusive Resorts in Turks and Caicos. Find your own Bahamian paradise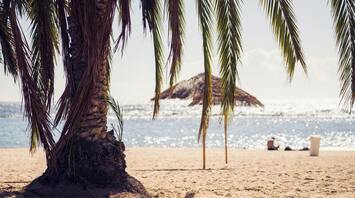 All-inclusive resorts in the Turks and Caicos Islands. Source: Image Magik K
The Bahamian archipelago is known worldwide as one of the best tropical resorts. And even if you've never been there, 100% have seen its panoramic landscapes in glossy magazines and brochures. Talented nature has created works of art, and man has accentuated them with frames of comfort and various affordability offerings.
The Turks and Caicos is a succession of islands with stunning white beaches, green palm trees, diamond waters, and stunning accommodations. Of course one wants to include all the services in one fell swoop and not have to think about all the points of the trip. This is handy for budgeting and peace of mind on your vacation. We've gathered for you the best all inclusive resorts in Turks and Caicos. There are quite a few of these, but they all rival the offerings of separate reservations for services. Turks and Caicos all inclusive, in some cases, even a little more financially advantageous if you book the same list of services separately.
Each island in the Turks and Caicos group is a different resort, with its own twist, activities and comforts. But what they all have in common is their stunning scenery and pleasant tropical climate in season. Now, you can choose the best all inclusive in Turks and Caicos.
Don't miss some important tips for visiting the best resorts in Turks and Caicos so you don't get caught up in the weather surprises.
1. All Inclusive at Alexandra Resort
It's well deserved to open our list: The top 8 all-inclusive Turks and Caicos is Alexandra's resort on Grace Bay. Very few can compete with the services provided by this paradise destination.
Blending harmoniously with Providenciales and making good all-inclusive accommodations, the resort will delight you with: restaurant meals and premium spirits, beach access, comfortable suites and the opportunity to visit a neighboring all-inclusive resort.
You can choose from 90 studios located right on the white-sand beach. The design of the rooms is in harmony with nature and adds some nice colors, creating an atmosphere of relaxing rest and refined luxury. All rooms have access to a balcony or terrace, where you can endlessly admire the spectacular sunrises and sunsets, with a cup of coffee in the morning and a tropical cocktail in the evening. All studios are equipped with kitchenettes and have one or two bedrooms. There is a four-bedroom penthouse option with a large kitchen. For children under 12, room and board is free, as long as they share a room with their parents, which does not require extra beds. The large pool, made in the shape of a lagoon, will be a nice addition to the included services. And the included various water sports in the pool are just the cherry on the cake. The cream on your sweet dessert will be a small fitness center, and the icing on the cake will be a small spa.
The appeal of this Grace Bay resort is its proximity not only to the beach, but to the stores of Regent Village.
As you can see, the list of amenities at the Alexander Resort is truly luxurious and makes it a top all inclusive Turks Caicos resort.
Reservations and list of services of Alexandra Resort.
2. Ambergris Caye Resort Private Island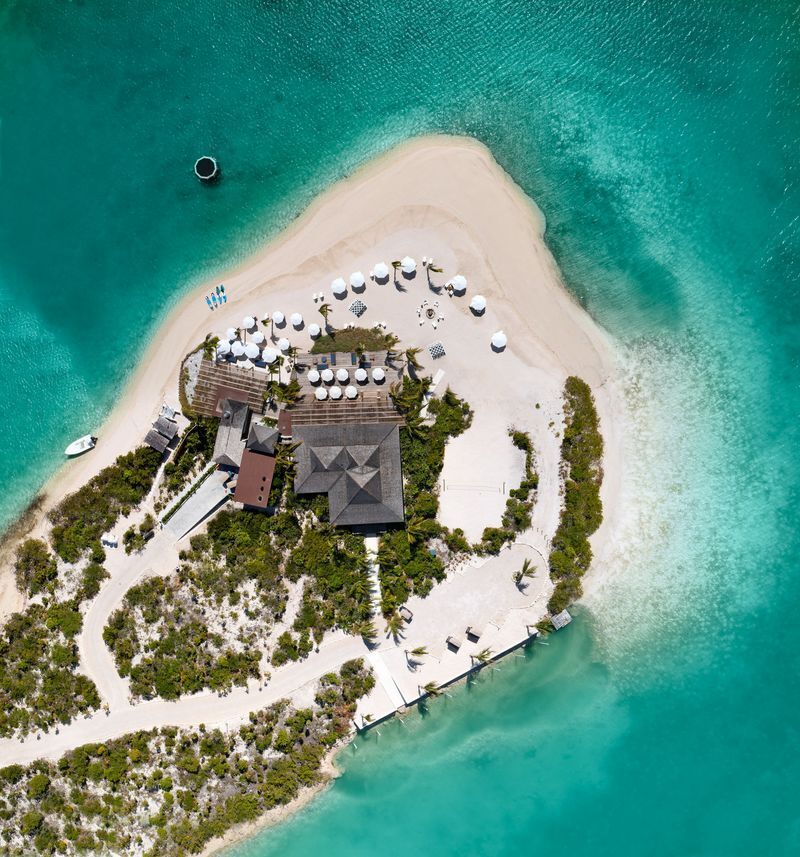 The southeastern part of the Bahamas archipelago, offers its own private resort, Ambergris Caye: Turks and Caicos Islands all inclusive. This is a truly luxurious vacation in the most comfortable conditions and invariably picturesque nature.
This is the place for those who want to escape from everyday worries and activities, enjoy all possible experiences and taste the richness of a tropical resort.
And perhaps a few thousand dollars a night is a reasonable price for this level of service and list of services.
From the moment you arrive at the airport, you will feel all the care and warmth that an all-inclusive resort is ready to provide. You will be met and organized a 20 - minute flight to the island, where you will be transported directly to your chosen first-class room. Ten suites and seven villas, as well as a collection of private homes, will accommodate you with an elite spread of accommodation. The opportunity to savor the best food and premium drinks from professional chefs, in any restaurant or bar located within Ambergris Caye, all the way to breakfast, lunch and dinner by the pool. This dining experience is sure to satisfy all your gastronomic dreams.
The list of included activities is impressive: kayaking, diverse excursions on the water (mangroves, whale watching, freediving, fishing, sunset cruises, snorkeling and a variety of water sports. The main thing is to fit all the activities in a day, so you have some time to relax at the spa treatments, sit by the beach fire or order an exclusive dinner from the chef. The Ambergris Caye resort is the best all inclusive Turks and Caicos, justifying its 5 stars 100%.
3. Turks and Caicos Beaches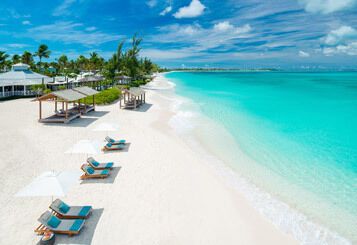 On one of Grace Bay's most stunning beaches, you'll find a great deal among all-inclusive resorts in Turks and Caicos. Famous for its family-friendly vacation, Beaches Turks & Caicos has captivated many with its huge list of activities, both in the water and on land.
With this type of vacation you have the opportunity to visit the architecture and atmosphere of Italy, France, the Caribbean and Key West without leaving the island. A great idea of architects and designers erected on the island 4 villages, imitating the styles of these countries. Sophisticated romance of France with its gourmet restaurants; bright colors of the Caribbean surrounded by tropical nature; temperamental Italian-style entertainment with a huge swimming pool or Key West Village, with landscaped views of the ocean - a matter of taste. You'll be able to choose your own accommodations, and entertainment is available to you in all four areas.
Premium rooms or one-bedroom suites, as well as two-story multi-room villas. Some reservations even include a butler and exclusive baths.
Beaches Turks & Caicos is home to 21 restaurants and an incredible number of ice cream and gelato stands. For those who like to get a little stronger, there are 15 bars with premium alcoholic cocktails.
As for your adventures and entertainment on the island, the main thing is not to overdo it. You won't be able to try everything in one vacation, so we suggest you make plans right away:
diving and snorkeling
with an exclusive dive program, professionals will spend hours exploring the scenery
Sesame Street Kids Club & Camp, with babysitter - enjoy adult activities
45,000 square foot water park
numerous pools and whirlpools
spa
saunas and steam baths
nail salon and a variety of treatment rooms
teenage lounge area
beaches with open ocean waves, shimmering white sand and diamante waters.
Choose your atmosphere with an all-inclusive resort - Turks & Caicos beaches
4. Beach House Turks and Caicos
Looking for a secluded vacation, among the list of:Turks and Caicos Islands - all-inclusive resorts? We found it for you. Beach House Turks & Caicos offers you 21 huge hotel rooms, right off the ocean. This will allow you to enjoy the view 24/7 right from your room's terrace. Each suite has its own quirky name. The room includes a kitchen, TV and comfortable stylized furniture.
One of Grace Bay's most beautiful beaches won't just be in your face every day, each suite has its own private spot on the white sand with sun loungers, umbrellas and a table.
The hotel's own restaurant will offer you a wide variety of Caribbean cuisine or make your dinner truly romantic by moving it to the beach terrace.
The gym and spa, will give you more than one pleasant opportunity to improve your health and well-being. Bicycles for long walks, swimming pool with lounge areas and gazebo surrounded by green palm trees, event area - all very atmospheric and cozy.
A variety of water sports and activities are available.
The design of the hotel with wooden shutters and terraces creates an atmosphere of lightness and coziness, a calm and harmonious tropical holiday.
5. Blue Haven Resort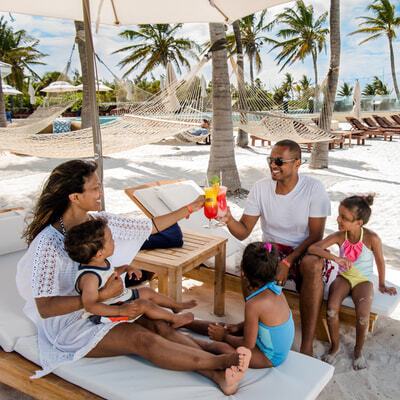 In the top 5 best all inclusive resorts Turks Caicos, Blue Haven Resort easily flies in. This truly beautiful tropical resort is a fellow Alexander Resort, so you'll thoroughly enjoy both a great list of inbound services and premium comfort. Added to its traditional tropical scenery are views of the marina and snow-white sailing yachts. The architectural space, surrounded by turquoise waters, will give spaciousness and enjoyment to the view. Therefore, planning a wedding reception here, for example, would be a stunningly successful idea.
In addition to comfortable rooms overlooking the ocean, you can have breakfasts, lunches and dinners in all of the hotel's restaurants. Unlimited drinks, a 24-hour snack bar and an in-room refrigerator with water, soft drinks and beer. And that's before you get to the entertainment:
water trampoline
diving
kayaking
24-hour fitness room
bike rides
sailing boats
kayaks
A wonderful list of activities worthy of more than one vacation. Add to all that extra-paying kayak yoga, sailing lessons, windsurfing lessons, kiteboarding lessons and a host of other enjoyable experiences and you can relax, at one of the stunning resorts in the Turks and Caicos Islands Blue Haven Resort, without any boredom for years on end.
6. Club Meridian
Just 15 minutes from Providenciales, on the edge of the world's third-largest barrier reef, sits a secluded, private, all-inclusive Caicos Islands. Meridian Club Resort, surrounded by expanses of white-sand beaches, exquisite indigenous simplicity of interiors, shimmering pools of blue water and endless expanses of Atlantic Ocean waters.
Rooms at Club Meridian harmonize with the tropical landscape and light breezes. An air of lightness and ease soars in literally everything, from the flowing white fabrics, to the expertly chosen pillows on your bed. You can choose from 10 rooms overlooking the beach or secluded suites with access to the coastal area of white sand. Whatever location you choose, you'll be surrounded by dazzling beauty, luxury and comfort.
Poolside lounges, swinging hammocks and outdoor showers with waterfall are chic additions to your dream vacation.
You can take your lunch to any nook and cranny of Meridian Resort. Cuisine from around the world, allow you to taste the most famous dishes without having to move to another country. The variety of sea food, freshly caught seafood, will satiate any gourmet.
In addition to the traditional water activities inherent in Turks and Caicos Islands all inclusive resorts, you can visit coral reef balls, dive the world-famous reef and store on the main island of Provo.
7. East Bay Resort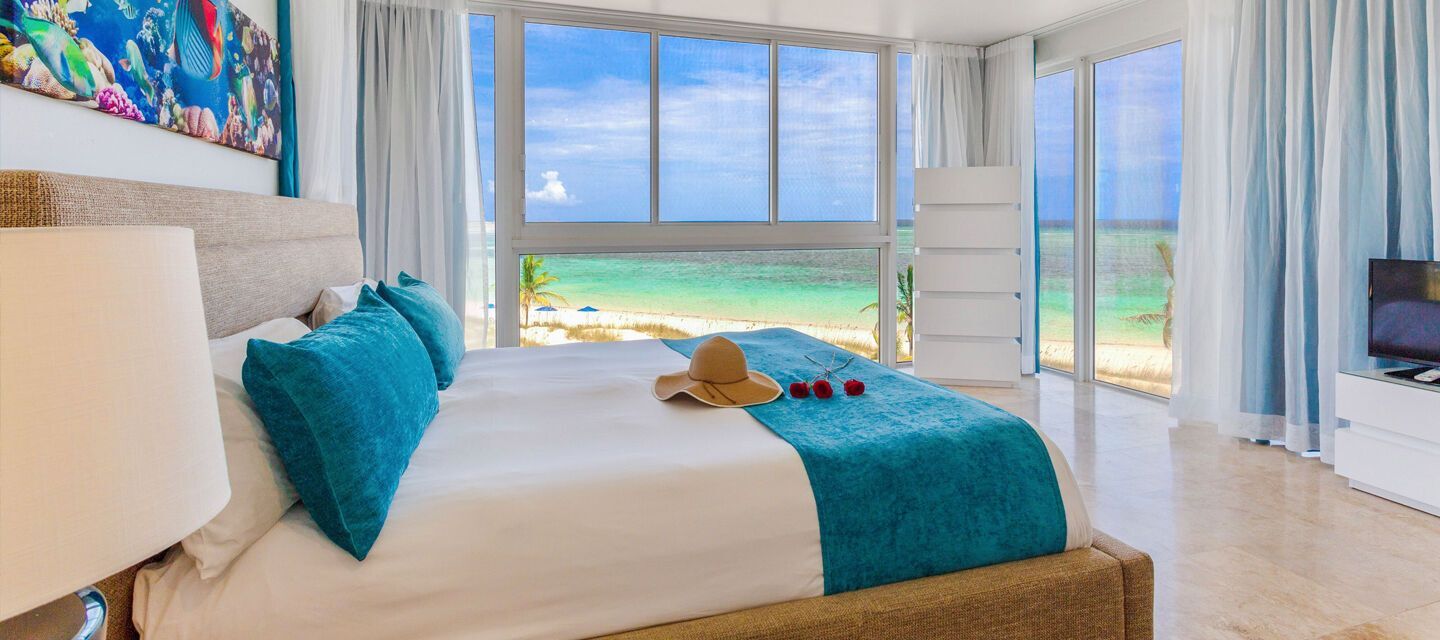 On South Caicos Island, the East Bay Resort Hotel offers its own option: Caicos all inclusive.
Whether you prefer a studio or a two-bedroom suite, you'll see the tropical landscape with diamante surf from every window framed by weightless white tulle. The rooms are fully equipped with everything you need for your comfortable stay and have kitchenettes and refrigerators.
As you leave the hotel, you'll step onto the soft, sparkling sand of East Bay Beach, where lounge chairs, blue umbrellas and refreshing cocktails await you. The all-inclusive package will include a pool, tanning bed, fitness center and spa.
Traditional tropical non-motorized sports and the chance to visit a coral reef with stunning marine life. And the opportunity to see humpback whales up close will leave vivid memories to last a lifetime.
Learn about East Bay Resort's current prices.
8. Club Med Turkoise
With its recent upgrade, the Club Med Turkoise Resort Hotel easily rivals its closest neighbors, the Alexandra and Beaches resorts. Its Turks all inclusive offerings will impress you and keep you coming back for more. Made for adult entertainment, its activities and activities will bring a lot of adrenaline and the feeling of a bubbling hot tub all around. All water sports and activities will be available during your stay, as well as tennis and volleyball courts.
A fitness center with cardio machines, yoga classes will help keep your body toned, for active recreation, which Club Med Turkoise offers in a special way.
The resort has two restaurants that will serve you during gourmet dinners. For morning and lunchtime meals, a separate restaurant is open with continental breakfasts and a wide variety of dishes to suit your preferences at any time of day. Snack bars are for those who are tired of the frills and dream of chips, burgers and tacos. The highlight of this resort is the in-water bar, where you can enjoy a drink without getting out of the warm water.
Tips for visiting all inclusive resorts Turks & Caicos.
The Atlantic Ocean, with its unpredictable waters and rapidly changing weather conditions, can make your trip dangerous if you get into hurricane season.
Keep in mind that August and September are the high season for bad weather. And from June through November, you can get caught in a storm. So, in general - these months are considered the rainy season and not a good time to visit the islands.
But some people successfully use this period to rest in tropical resorts for half the price of the active season. If you're lucky you'll have a quiet week with wonderful weather.
The so-called high season lasts from December to March. At this time your long-awaited vacation will not be marred by bad weather. At most, you will get beautiful waves for surfing.
The period from April to May is very comfortable in the weather, in addition, at this time prices begin to fall and the number of people decreases significantly, which means you can enjoy even more comfort for less money.