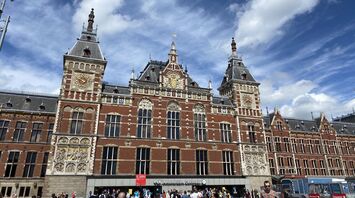 Amsterdam is called the Venice of the North. Source: Lesia Gasych
Amsterdam is recognized as one of the most expensive cities for tourists in the world. Prices in restaurants and lodging may seem almost robbery compared to many other European cities. But don't rush to cross it off your wish list. We've prepared 25 tips for you on how to visit Amsterdam cheaply.
1. Take Eurostar flights from £35
If you need to get from London to Amsterdam on a tight budget, Eurostar trains are the best option in both cost and time. This way you avoid queues at the airport and get to the city faster than by bus. Ticket prices start at £35 and you'll arrive right in the city center and can also take a direct flight back without a change. The trip will take up to 4 hours of time, you can take 2-3 suitcases in addition to hand luggage as luggage (depending on the ticket class).
Is it possible to buy the cheapest tickets?
A one-way trip costs at least £35, with round trip tickets starting at £70. Budget tickets sell out quickly, but if you buy in advance it's possible to find cheap options for most dates.
Ways to save money on the train
Book tickets. It is now possible to book tickets for a direct flight 180 days in advance. If you travel frequently on Eurostar, you can join the customer club and enjoy discounts on tickets and hotel reservations through the loyalty program.
Monitor tickets on several sites. Budget options other than Eurostar are also available on the websites of the Dutch railroads NS International and the Belgian rail operator SNCB Europe. This method comes in handy if you are considering indirect flights. But be careful when you pay to avoid unnecessary fees: these sites use Euros.
Children under 4 years travel for free. On Eurostar, a child of 3 years old can travel for free sitting on an adult's lap.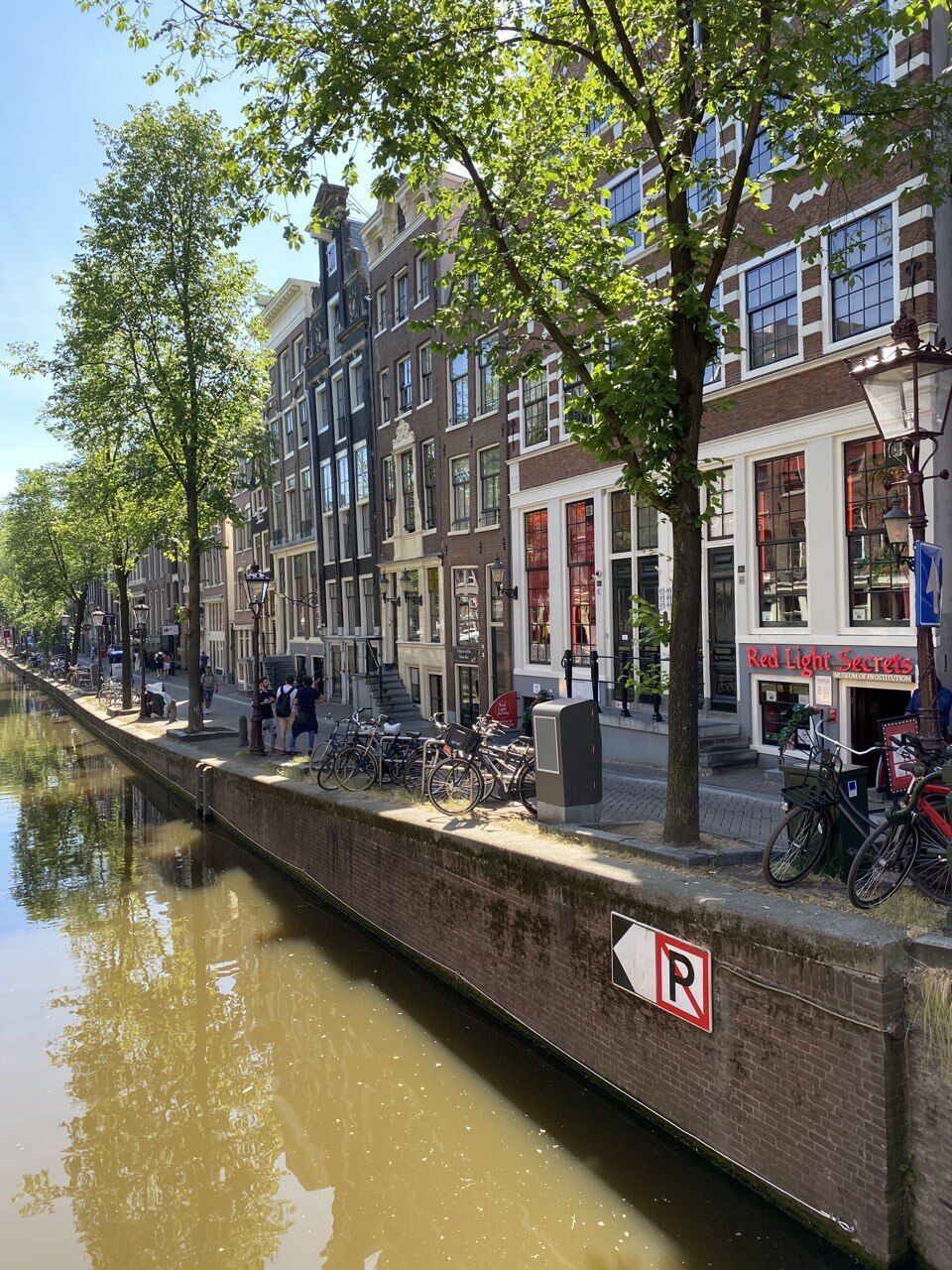 2. Compare prices: plane, bus or ferry - from 39 £
Apart from the budget train, there are other modes of transport you can use to get to Amsterdam cheaply. Compare all the ways, taking into account ticket price, convenience for you and the time you will need to spend on it.
Let's compare prices for different roundtrip options
The rule "the earlier you book, the cheaper it is" applies in all of these cases, too. Also, prices may increase several times during rush hours or at the last minute before departure.
Airfare is from £39. From London such a flight would cost from just £39 one way and take just over an hour. As with the train, look for tickets on several services at once. Kayak and Momondo are good places to start.
Buses start at £42. The trip from London to Amsterdam will take at least 10 hours. But it is one of the cheapest options. The websites of operators Flixbus and National Express offer tickets from £21 one way (the second option is plus £1 for online booking).
The ferry is from £60. From Newcastle the trip to Amsterdam takes 16 hours. This option in itself is already a whole trip. You also have to share a cabin with another passenger.
Take into account possible extra costs and the time you need to spend to get to the point of departure and check in. For example, from central London it is best to take the Eurostar, and from Essex a combination of train and ferry through the port of Harwich.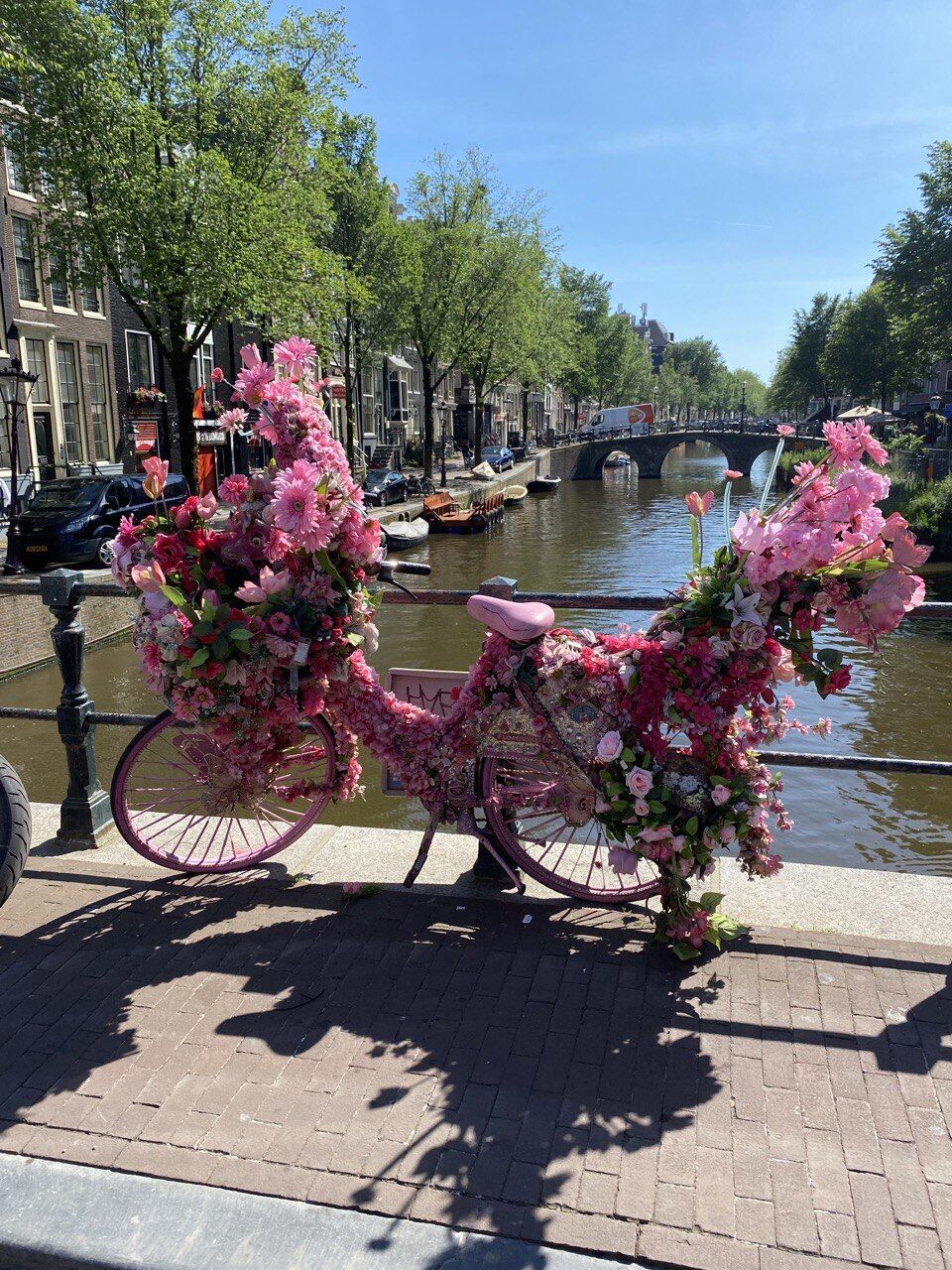 3. Book tickets in the middle of the week
Weekends in Amsterdam are a time for stag and hen parties. The guests of these parties come from all over the world, which has a significant impact on prices. The cost of accommodation and tickets can increase several times. Therefore, the cheapest time to go to Amsterdam is on weekdays.
A 3-day mini-vacation for a couple of tourists will cost almost £200 cheaper if it falls in the middle of the week. For example, an Easyjet flight from London to Amsterdam from Monday to Thursday is about £15 less than the same flight with the same company from Thursday to Sunday.
The difference on lodging is even more impressive. A room for two in a three-star hotel in central Amsterdam from Monday to Thursday will cost an average of £442, while the same option from Thursday to Sunday is already over £600.
4. Look free entertainment: 10 ways
Cheap holidays in Amsterdam does not mean boring. In this city there are many ways to relax and have fun in an interesting and inexpensive way. You can see the sights, get acquainted with the cultural features, experience the atmosphere of the city, try something new for yourself and attend various events. And with all this - not to empty your wallet. We offer you the top ten ideas for a free holiday in Amsterdam and get good memories.
Walk on foot. You do not need to buy a tour and pay for a guide. Take advantage of Amsterdam's downloadable map system for offline use, or use a travel app to create an itinerary, such as Amsterdam The Map or the WeCity guidebook, which offers interesting and unreplicated ideas for a tourist getaway in the city. The usual paper guides with information about attractions, transportation, and coupons for discounts are available at the GVB, Schiphol Airport, or at your hotel. There are also a number of conditionally free tours in Amsterdam. Tourists only need to pay the "entertainment tax" of 1.5 euros in some cases, and the cost of the reservation (about 1.89 euros) or admission ticket in other cases, and leave a tip for the guide if desired.
Relax in green areas. Amsterdam has many parks and green spaces to spend time in on a nice day. The most popular is Vondelpark. In addition to admiring the beautiful park landscape with its neat lawns, fountains and lakes, you can relax on the benches and enjoy the silence, feed the ducks, ride a bike, and watch an open-air movie or theater performance.
Go to the ballet or opera. Usually tickets to cultural events in Amsterdam are expensive, but it is possible to get into free shows. From September to May, there are free lunchtime concerts almost every Thursday at the National Opera and Ballet Theater.
Take a walk along the canals. Amsterdam is called the Venice of the North for a reason: a system of 165 canals and about fifteen hundred bridges divides the city into 90 islands. Swimming through the canals is not free. But you can explore the waterways of the city on foot or by bicycle.
Go to the beach. Amsterdam has several free city beaches where you can walk along the coastal paths, do water sports, sit in beach cafes or have a picnic. Some of them have free ferries from the central station.
Familiarize yourself with cannabis culture. It's worth clarifying here that the wording of drug laws in the Netherlands can be a little confusing. People over the age of 18, including tourists, in Amsterdam are allowed to buy up to 5 grams of cannabis a day in coffee shops, but not on the streets. It is technically possible to smoke it in public places (but not near playgrounds and schools), but it is still customary to do it within cafes. Instead of using it, we recommend a better visit to the local cannabis college, which is dedicated to spreading objective information about the plant.
Admire the panorama of the city.A magnificent view of the city opens from the top floors of the largest in Europe public library of Amsterdam, located a five-minute walk from the Central Station.
Attend free concerts. Vondelpark hosts free music and theater performances from June to September, and lunchtime concerts in the Concertgebouw Hall from September to June.
Take selfies with the city's symbol. Although the famous I amsterdam sign in Museum Square has been removed because of too many tourists, there are lots of other places to take selfies, like at Sloterplass Lake or Schiphol Airport.
Check out the narrowest house in the world. In fact, there are two such buildings, choose the one that suits you best. The house at Singe 7 has the narrowest facade in the world at 1 meter, but the other side is wider. And the house at Oude Hoogstraat 22 is two meters wide and six meters long.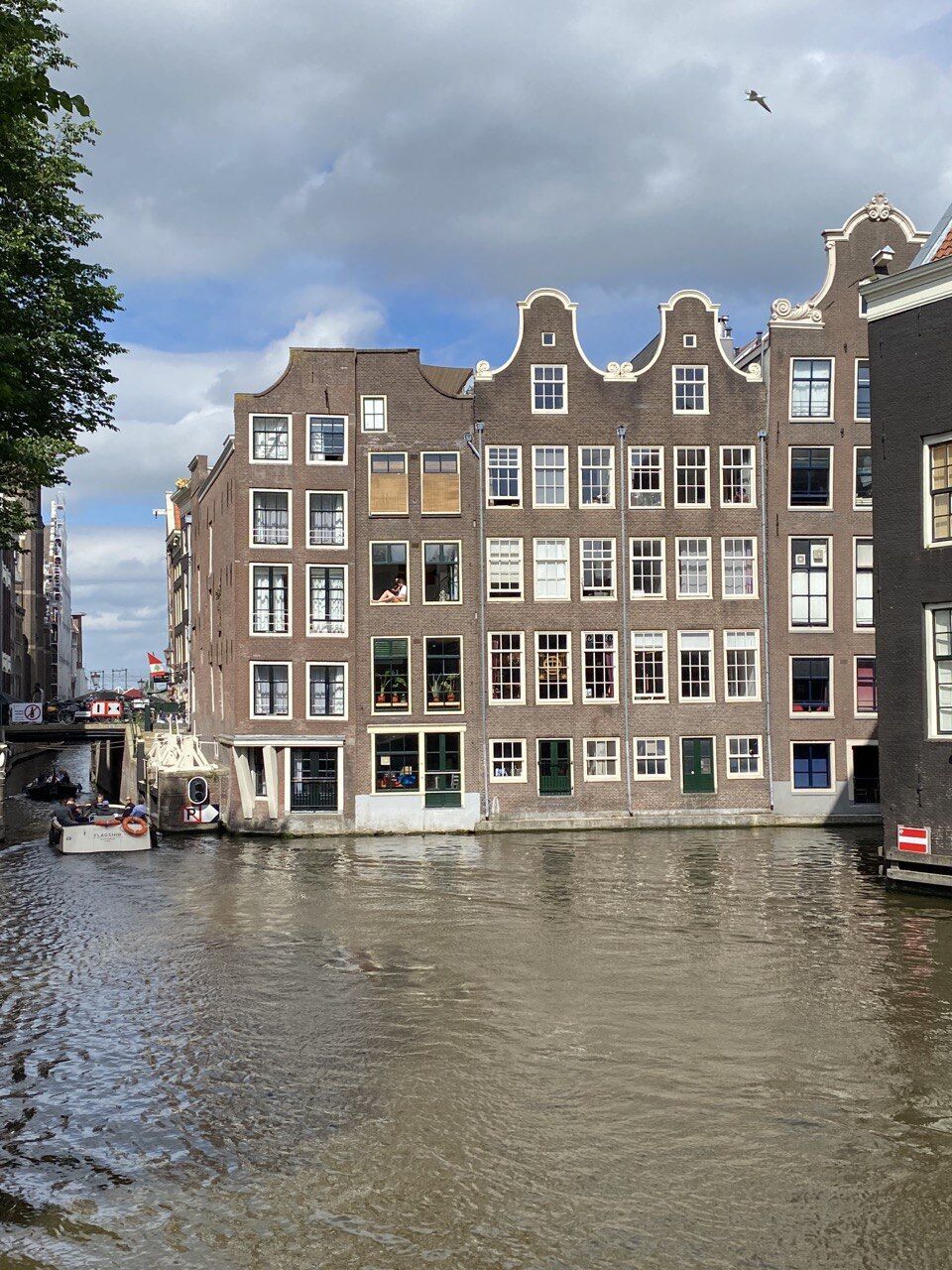 5. Go to a soccer game
The Dutch soccer team Ajax is the most successful in the country and one of the top teams in Europe. Therefore, Amsterdam attracts many soccer fans. If you want to go to a game - buy tickets on the website of Ajax: tickets for home matches of the highest soccer league of the country cost from 14 euros. The website is in Dutch, but the matches are listed in English, so it's easy to understand.
If you know exactly when you will be in Amsterdam and want to go to a soccer match, book tickets in advance - the number of cheap seats is limited.
6. Purchase public transport tickets
In order to use any type of public transport in the city, you need to have an OV-chip-card. In essence this is a normal plastic transport card: you fill up your balance and pay with it in all types of public transport. There are several types of these cards, choose the conditions that suit you best.
Disposable time cards. This is the most advantageous option if you have a cheap trip to Amsterdam for a couple of days and are going to travel a lot by public transport. You get unlimited rides for a certain amount of time. An hour costs €3.2, a day €8, two days €13.5 and seven days €36.5. Such cards are not suitable for routes outside the city, for example to or from the airport, and can be purchased on streetcars, buses and in most stations.
E-wallet cards. You also top up your balance, but you are charged depending on the route you travel on it. It is accepted on trains all over the country. In airports and train stations you can buy an "anonymous" card for 7.5 euros or a "personal" card for those who are in Amsterdam for a long time.
GVB public ferries can be ridden for free, regardless of whether you have an OV card or not. Children under 4 years of age use any transport free of charge. There is also the Amsterdam Pass for travel to and from the airport. Its cost is 17 euros for one day, 22.5 euros for two days and 28 euros for three days. If in addition to it you were going to buy a temporary card for a day or two, these two types of passes can be combined into one card Amsterdam & Region and save a small amount.
7. Renting an apartment can be more profitable than staying in a hotel
The biggest expense when traveling to Amsterdam, as in most European cities, is for lodging. Cheap hotels in Amsterdam book very quickly. But if you are traveling in a group of several people, opt for an apartment. The difference in the cost of an apartment for a company of, say, four people, and a room in a three-star hotel in the same area can range from 500 pounds.
According to city rules, up to four people can stay in private rented accommodation. But on the thematic sites there are a lot of proposals and for larger companies. Find travel accommodations on Airbnb, TripAdvisor, and HomeAway. Read reviews, compare prices, and compare accessibility to different places and attractions you are going to visit.
8. Book a ticket to the Anne Frank House in advance
Since its publication in 1947, the diary of the Jewish girl Anne Frank, who hid with her parents from the Nazis in an annex of a house, has become a symbol of Nazi genocide. Anne Frank died in a concentration camp, but her diary has since been read by millions of people around the world.
Today, the house at 263 Prinsengracht Embankment, where the Frank family had taken refuge, has become a museum and one of the most visited places in Amsterdam. Therefore, it is impossible to get here without a pre-purchased ticket.
According to the official website of the museum, about 80% of the tickets go on sale two months in advance, the rest are released daily at 9 am. They need to be booked online, the commission for the reservation is 0.5 euros, the tickets are not sold at the entrance. The cost for adults is 10 euros, for children from 10 to 17 years - 5 euros. Children under 10 years old and holders of a museum card (a single pass to all museums of the city) pay only the fee for the reservation.
9. Rent a bike for 8 euros per day
You're unlikely to see more cyclists than here in any other city. Amsterdam is convenient for cycling thanks to its flat terrain and well-developed infrastructure.
Discounted bike rentals in Amsterdam are offered by most of the available services. Discount Bike Rental, MacBike and Rent-a-Bike, for example, boast good reviews from users. Rental prices start at €6 for three hours or €7.5 per day for a regular bike without hand brakes. If you book online you can get a 10% discount. Some rentals require identification and a deposit, so you should bring some cash with you.
10. Don't splurge on an Amsterdam city card
The official tourist website I Amsterdam offers a 24, 48, 72, 96, or 120-hour city card. It includes a pass for public transport, access to some attractions, or discounts on entrance tickets. But do not rush to buy one. The price for the City Card starts at 65 euros. For 24 hours is quite a lot, and some popular attractions, such as Anne Frank House, are not included. If your list has a few specific places you want to visit, it is better to do it separately.
...better buy a museum card.
If your goal is to get a good look at Amsterdam's museums, the Museumkaart is your perfect option. It includes ALL museums, including the Anne Frank House. Plus, you can get into some museums without waiting in line. The museum card costs 64.9 euros (32.45 euros for children and teenagers under 18). You can buy it in almost all museums and it will be valid for 31 days. If you register it online, it will last for a year (but the permanent card can be delivered within 5 days to a Dutch address only).
11. Insure yourself for emergencies
Don't wait until departure to purchase travel insurance. In the event that you have to cancel your trip due to injury, illness, or other emergencies, travel insurance will cover your expenses (or at least part of them) if taken out from the date of booking. The scenarios that insurance covers depend on the insurance company's policy. Predominantly good insurance will cover cancellations, medical expenses, involuntary trip shortening, cancellation of events, etc.
12. Check your health insurance
The European Health Insurance Card (EHIC) and the Global Health Insurance Card are essentially the same. Both allow you to be treated in public hospitals under the same system as locals. If they pay for some medical service, you pay, too. Some procedures in the Netherlands are paid for, some are free.
If you have an EHIC card, check its expiration date before you travel - it is valid for 5 years. The EHIC is gradually being abolished in favor of the CHIC, so if you renew your health insurance or take it out for the first time, you will probably be given the CHIC. You can apply for it free of charge through the official NHS website.
13. Rollerskate
The Friday night skate tour starts at Vondelpark usually at 6-7 p.m. (times vary). The route changes each week and is about 9-15 miles. The end point is also Wondellpark, and you can join on the way back. If you don't have your own rollerblades or skateboard, you can rent them at the park - from 7,5 euros plus deposit.
14. Save on airport transfers
Amsterdam city center is only 19 kilometers from the Netherlands' main airport, Schiphol. There are many ways to get there. Don't rush to take a cab: it will cost about 40 euros. There are several regular bus or train services. There are also night flights, though less frequent.
The train is the best option in terms of money / time. The trip lasts about 14 minutes, the cost per one way is 4.5 euros plus a 1 euro fee for printing a paper ticket if you buy it at the station. Save on commissions if you buy an OV-card. The disadvantage is that the railroad site does not accept foreign cards.
The bus from the airport takes 25 minutes and costs 6.5 euros one way, but if you buy online there and back - only 11.25 euros. The advantage of this option is that the bus can go directly to the popular tourist areas - Museum Square, the art museum Rijksmuseum or Amsterdam's nightlife center Leidseplein Square. If you want to save even more, check out the 9292 app: with the OV card, a trip from the airport can cost as little as 4 euros.
The Schiphol hotel shuttle is advantageous if you are traveling together. It will take you to many hotels, but you will pay 18,5 Euros one way (or 29,5 Euros round trip). But the larger your company, the cheaper the fare.
15. Find the best bank card option
If you're planning a trip abroad or regularly shop at foreign sites, it's best to get a special travel credit or debit card. It provides a near-perfect exchange rate and will help you save well.
The best credit card. Barclaycard Rewards offers favorable terms: a decent exchange rate, no bank fees if you pay off the card in full each month. You'll also get 0.25% cashback on all spending and 25.9% APR.
Best debit card. For this option, you'll need to apply for a new account and pass a "soft" check by the bank. The Chase card provides spending and withdrawals of the first £1,500 a month in cash worldwide with no fees and in addition a 1% cashback for two years. The card is for apps only.
16. Try street food and vending machine food
Amsterdam has a wide variety of inexpensive street food, so you can eat well on a small budget. There's the usual fast food and interesting local snacks, from chips with mayonnaise and falafel to pickled herring.
The Febo chain of eating places, which serve food from vending machines, is open 24 hours a day. Try something special and "Dutch": meat croquette or "fricadelle" - deep-fried sausage. If you don't want to risk it, order the standard hamburgers and fries. The price for some dishes is only 1.8 euros, so you can get enough to eat for not much money.
17. Keep track of mobile roaming charges
For a long time, mobile operators were prohibited from charging for minutes, text messages and data bundled within the European Union in the UK. But after Brexit, there was a change.
Vodafone is charging new subscribers or those who renewed their contract after August 11, 2021, a flat fee of £2 per day. You can reduce it to £1 by buying "roaming passes": it will cost £8 for eight days or £15 for 15 days. So, for example, if you go to Amsterdam for 5 days, it is more profitable to buy a "pass" for 8 days for 8 pounds than to pay daily.
EE introduced a similar fee of £2 daily from March 3, 2022. It applies to new customers or those who renegotiate their contract after July 7, 2021. EE subscribers can also save money with the 30-day Roam Abroad Pass, which costs £10. It will pay for itself even if you are only going to use the phone in Amsterdam for 5 days instead of the full 30.
Three introduced a fee of £2 to £5 a day depending on the customer's location from May 23, 2022 for new subscribers and contract renewals.
18. Save £100 by staying out of town
To be frank, cheap hotels in Amsterdam are rare rather than common, and rooms are flying at the speed of light.
But there is an attractive alternative. A 15-minute train ride from Amsterdam Central Station or 30 minutes from Schiphol Airport and you are in the medieval city of Haarlem. Authentic architecture, unique museums and historical sites, proximity to Amsterdam - and on top of all that, impressive savings on accommodation.
Here it is much easier to find a budget accommodation, and the difference with similar accommodation in Amsterdam can be up to 100 pounds. It is also a good way out of the situation if you do not manage to rent cheap accommodation in Amsterdam on a certain date.
19. Book a ticket to the Heineken Experience
Although Amsterdam's famous Heineken Experience is open 365 days a year, there are always crowds of tourists, especially on weekends. But if you buy tickets online, in addition to entering at a certain time with a minimum wait, save some money (from 21 euros for admission - to 18, for children - 14.5 euros, free for children under 12 years).
In addition to an hour and a half self-guided tour, during which you will learn about the history and technology of the most famous beer in the Netherlands, each visitor will get two free beers for tasting. Minors will be able to taste two non-alcoholic beverages.
20. Don't worry about service: it's included in the price
According to local law, restaurants in Amsterdam already include a service charge in the price of food, so tips are not required. If you still want to encourage the staff for the service rendered, it is customary to leave about 10% in restaurants or "round up" the amount to euros "higher" in cafes and bars. The same rule applies in cabs and hotels - a tip on the customer's wish.
21. Avoid bachelor and bachelorette party deals
Amsterdam has become practically a cult venue for such parties. And local travel companies do not miss the chance to make good money on this.
Offers from travel agencies for pre-wedding parties, in addition to accommodation, can include beer cycling tours, dance lessons, paintball and more. But if you organize such events yourself, the cost is cut in half!
For example, a package including two nights in a hostel, go-karting and entrance to a nightclub and casino cost 180 pounds per person. You could plan the same program on your own for £85.
22. Relax in the fresh air for 10 euros per night
Amsterdam has a well-developed camping system. The Gaasper campsite, for example, is located just 15 minutes from the city center in the middle of a large park.
If you have your own tent, you have to pay 13.25 euros for a place for it during the season, or 21.25 for two people. In the off-season the rate is only 10.75 euros for one person or 17.5 for two. Campsites have showers, free Wi-Fi, and a restaurant. Alternatively you can hire a caravan (from €35 to €41.50 for two people depending on the season) or a camper van (from €28 in the off-season to €34.50 on peak dates for two people).
23. Have a three-course meal for 5 euros
In the past few years, several legitimate restaurants have sprung up in former squats with their authentic ambience, offering budget-friendly dinners. The place can be booked online and they serve mostly a few vegan or vegetarian dishes to their diners. The cost of dinner remains between 5 and 10 euros.
There are two such restaurants in the city center. The most popular is De Peper, located in the former Dutch Academy. This is a project of vegan and organic cafe with a large performance hall, so visitors are offered a rich cultural program. It can be reached by streetcar from Central Station to Overtoom station.
Restaurant MKZ is located near Vondelpark. It serves a three-course vegan meal for only 5 euros. Part of the area is dedicated to a library and an underground music venue. The restaurant takes part in social initiatives and is staffed entirely by volunteers.
24. Pay in Euros
When paying for goods and services, choose the local currency. Otherwise you will spend a lot of money on bank fees for converting currencies at not the most favorable rates. Even if the bank terminal promises you 0% commission, choose to pay in euros: if you choose another currency, it is likely to find some hidden commission due to the difference in exchange rates.
25. Download a language translation app
For example, it could be Google Translate supported on Android and iOS. Trust me, it will save you a lot of time. View menu texts in restaurants or some signs and markings on the street through the camera of your phone and quietly read the information in a language you understand.