"Iron Curtain" vs. selfies: how a wooden shield became a problem for a paradise in Austria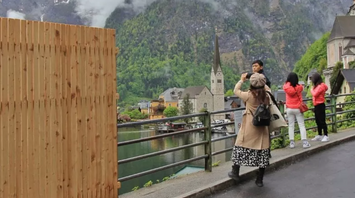 Hallstatt (Austria) . Source: repubblica.it
Austria, too many tourists in Hallstatt, the village that inspired Frozen: barriers against selfies at the King of Instagram's review
The famous ancient settlement of Hallstatt is called the pearl of Upper Austria for a reason. The area is known as a center of salt and ore mining in the first millennium BC.
It is the center of Hallstatt culture and a UNESCO monument. Hallstatt is located in a remote alpine area on Lake Halstatt. At the same time, the town with a population of only seven hundred and fifty inhabitants is visited by a million tourists a year, Repubblica reports.
Hallstatt turned out to be so beautiful that the Chinese cloned it and now admire it right at home. However, the locals, although suffering from excessive tourism, do not appreciate it, the article says.
The journalists remind us that Austria's true tourist gem even inspired Disney to design the sagas in its own image.
However, modern technologies are in conflict with the needs of the city. The mayor is trying to put an end to it: wooden panels that do not block the view but prevent people from taking selfies.
The wooden panels on the shore of a local lake have already been called "anti-selfie barriers." The mayor of Halstatt wanted to install them, but the initiative was met with resistance.
"An imbalance that does not exist even on the increasingly dense global map of the criticality of excessive tourism," the journalists summarize.