African safari on a budget: from Kenya to Botswana at a reasonable cost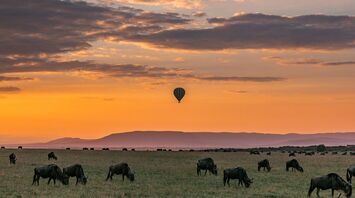 Discover the best safari ideas in Africa. Source: Image Antony Trivet/Pixabay
Many travelers dream of an African safari, but this adventure is by no means the cheapest. So many people do not risk to realize this dream, considering such an undertaking too expensive.
Indeed, the safari industry likes to emphasize the exclusivity of conditions, offering luxury lodges, glam campsites, etc. In addition, safari destinations are remote from major transportation hubs and some can only be reached by small plane, which multiplies the level of costs. It should be recognized that a good safari cannot be very cheap. But expensive - yes, even astronomically expensive. For example, in Zarafa camp in Botswana during the peak season the cost of one night can reach 5 thousand dollars for one person. And now add to that the flight, transfers and other local expenses. Thus a vacation for 6 days can cost about 35 thousand dollars.
But let's recognize that for different tourists the concept of comfort may differ. For someone cheapest African safari in camping will be the best option. This is important to consider when planning to get the most out of your trip. After all, if your goal is to spend as much time as possible in the bush, observe wildlife and take great pictures, you shouldn't spend money on Egyptian cotton sheets or high-end wines.
Also the organization of affordable Africa safaris depends on the time of year. The right period will save you a huge amount of money. For example, consider a shoulder season rather than a peak time and the quality of your safari will not be compromised. From November to January in East and Southern Africa is the period of so-called "short rains": there may be one or two showers in the afternoon. They will not seriously interfere with your safari, but on the other hand, if the trip is short, every moment is precious. But even at the height of the rainy season in Kenya and Tanzania there can be clear days, and national parks with wild animals will be practically deserted.
The bottom line is that if you plan affordable safari trips wisely, you can have an exhilarating experience without blowing your budget. This guide will tell you the cheapest safari destinations and advise you on when and where to look for your African adventure.
Kenya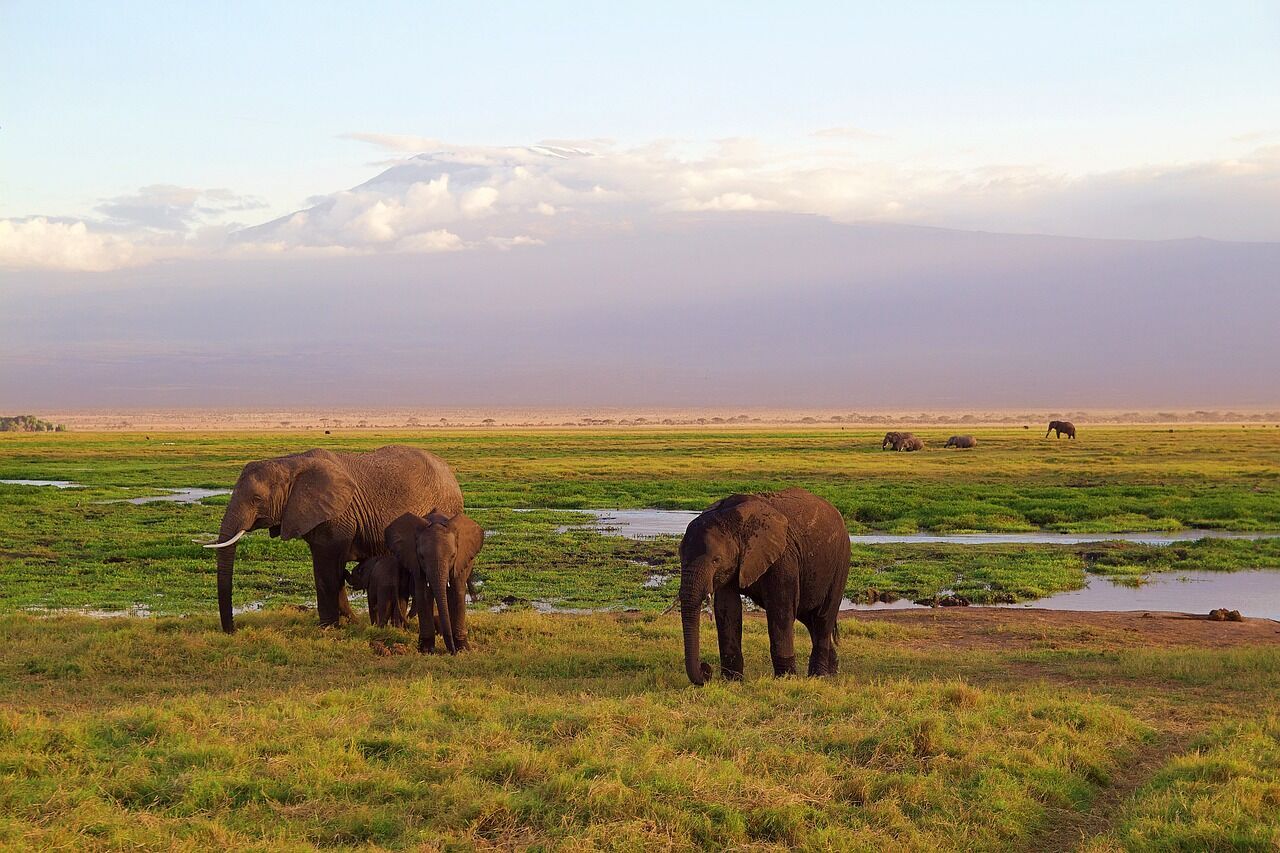 It is possible to find good value for money safaris in Kenya. Of the unpleasant moments for the wallet, it is worth noting the increase in entrance fees to the park (for a day per person - about 60 dollars). But on the other hand, here are excellent opportunities to observe the most charismatic representatives of wildlife.
When to go
From June through October, Kenya has minimal rainfall and is not as hot, so this is peak time. From mid-March to May-June is the heavy rainy season (masika), while November-December is the short rainy season (vuli). On this basis, the shoulder seasons should be considered the end of May and the beginning of November. Of course, no one can guarantee excellent weather, but this is the most suitable time for an inexpensive African safari in Kenya.
Where to go
The most popular event in this country is the Great Migration, when an estimated 1.5 million wildebeest, including antelope, zebra, gazelle and their attendant predators, move from Tanzania's Serengeti Park to Kenya's Masai Mara. This movement is cyclical and occurs in large waves, usually falling between July and October. It is during this time that international media travel here to shoot documentaries, and tour buses fill the entire area. And naturally, it's the most expensive, so avoid it if affordable safari is your goal.
The Masai Mara National Reserve is primarily known for its lion prides and is also a tourist hotspot. But for the most affordable African safari, it's best to stay in one of the private reserves within the Mara Conservancies. There are about 15 of these on the northern border of the Masai Mara and collectively they cover an area slightly smaller than it. These private areas have good lodges for wildlife watching and overnight stays. One of the best benefits of staying in them is the feeling of exclusivity. There are stricter restrictions on the number of people who can stay overnight, the number of cars in proximity to the wildcats. You will also observe wildlife, herds of antelope and big cats, and if you wish, you can enhance your experience on day and night excursions or guided walks. For example, in Saruni Wild best budget african safari for 6 nights in November can cost 2580 dollars per person with meals, drinks, fees in the reserve and safari inclusive, but not including the cost of flights from your country.
In addition to the most popular (read - expensive) Masai Mara Park, there are others that are not inferior to it in exclusivity. For example, Amboseli National Park on the border of Kenya and Tanzania is famous for its elephant population and is home to 400 species of birds and 47 species of predatory animals. And yet your constant backdrop will be the famous Mount Kilimanjaro.
Tanzania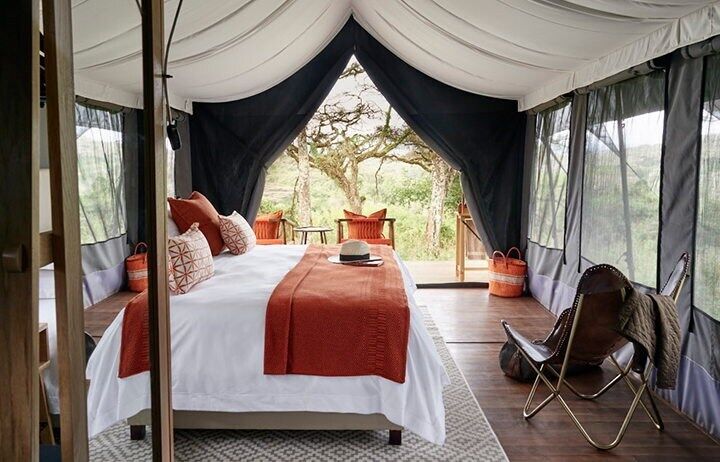 Entrance fees to national parks in Tanzania are more palatable compared to Kenya, but still higher than in South Africa. In many Tanzanian parks, you may find it difficult to find budget and mid-range accommodation. But on the plus side, it's worth noting one of the richest concentrations of wildlife in Africa.
When to go
In terms of climatic conditions, Tanzania has some similarities with Kenya. The most favorable weather periods for the best affordable African safaris here are observed in late May and early November.
Where to go
Tanzania has several reserves that are the most popular destinations for African safaris, including those on a budget. The first of them is the Ngorongoro Conservation Area. It occupies wild territories around the famous crater of the same name and includes the famous Olduvai Gorge. It is home to a huge variety of animals including lions, cheetahs, zebras, buffalo, hippos, jackals, elephants and leopards. You can consider Sanctuary Ngorongoro Crater Camp on the edge of the crater as a place to stop. There are 10 magnificent safari-style tents with showers, a lounge and a bar. There is also the cozy Sanctuary Kichakani mobile tented camp in the heart of the Serengeti. Some operators are willing to provide a 6 day multi-camp safari opportunity in these two camps at a cost of around £7000 per person including transfers, flights, safari, park fees, food and beverages.
The second equally popular destination for a trip to Tanzania is Tarangire National Park. It ranks sixth among the country's parks in terms of area, with huge herds of buffalo and elephants, many big cats, as well as oryx, gerenukas and kudu. The park's wetlands attract a large number of birds: some 550 species can be found here. Between August and October, herds of zebra and antelope migrate through Tarangire National Park.
One of the best affordable safaris in Africa can be found in the remote south-eastern part of the park, where Oliver's Camp is located. It provides its visitors with 10 comfortable tents and game drives day and night. Combine a nature vacation at this camp and the Ubuntu Migration Camp mobile tented camp (three days each) at a cost from £6,135 for one with flights, transfers and meals included.
Another great option for the most affordable safaris in Africa in Tanzania is Ruaha National Park. This is the largest protected area of 20,000 square kilometers in East Africa. The park boasts an almost untouched ecosystem, so a safari here will be truly unique. It is home to a wide variety of animals including elephants, antelope, buffalo and even rare and endangered species such as wild dogs. Ikuku Safari Camp is situated on an elevated site, so its lodges offer stunning views of the plains below. There are 7 rooms with large balconies and thatched roofs, and the activity program includes guided walks, car rides across the plains and hot air balloon rides. In November, six nights with full board at this camp, domestic flights and group travel can be had for around £3,500 per person (international transfers are not included).
South Africa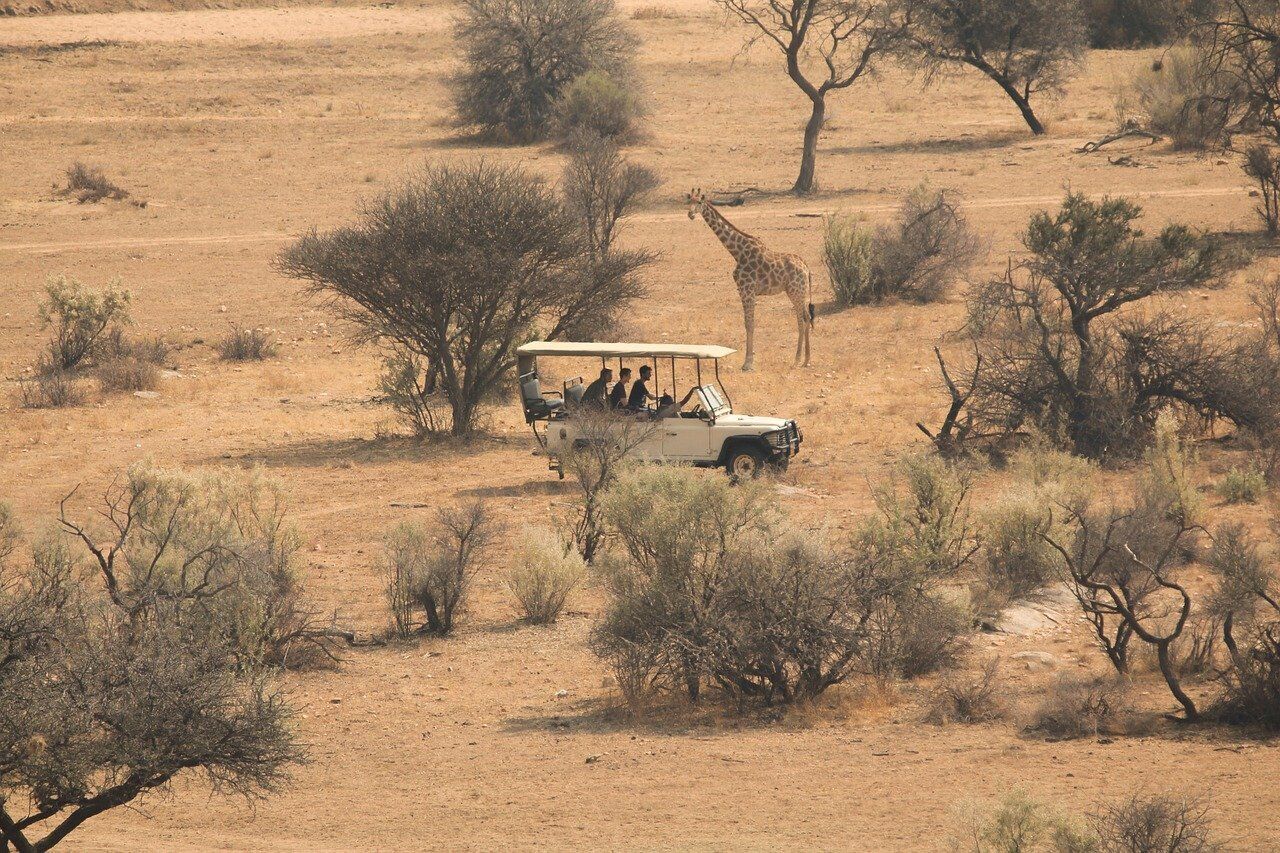 Prices in this region tend to be lower than in East Africa as many of the reserves, parks and accommodation options are geared towards tourists from surrounding areas. Entry fees to the parks are more reasonable and there are plenty of excellent lodges with good value for money.
When to go
In June and early September, animals in southern Africa are more dependent on large bodies of water, so they are easier to find. This is the high season period. For an African safari on a budget, choose "shoulders" - May-early June and the period closer to the end of September and October.
Where to go
The main reserve of the country is the Kruger National Park. It is home to a dense concentration of animals such as lions, cheetahs, giraffes, buffalo and elephants, as well as many species of birds. Inyati Game Lodge, although located in the western part of the Sabi Sand Reserve, shares an unfenced border with the Kruger Park. The facilities here are more than comfortable for visitors: 11 chalets, a filtered swimming pool, an air-conditioned gym, a library and a wine cellar. Some tour operators such as Yellow Zebra Safaris have tempting deals on affordable Africa safaris like 6 nights and full board at this lodge for around £4000 per person, including transfers and wildlife watching trips, but no international flights.
Another great safari destination in South Africa is the Timbavati Private Nature Reserve north of Sabi Sand. Here you can marvel at the marvelous plains and the Dragon Mountains in the distance and see lions, rhinos, elephants and buffalo in their natural environment. In the center of Timbavati, for your inexpensive safari, you can consider the 8-room Walkers Plains Camp with swimming pool and private decks. There is also good access from the Sabi Sands Game Reserve. On its grounds nearby is Nottens Bush Camp with 16 sites. There's a 20-meter pool and each room has a private wooden terrace where you can sit and admire the view of the bushveld. For example, tour operator Ultimate Travel Company had offers of an all-inclusive safari here (three nights at Walkers Plains and three nights at this campsite) for around £5,000 for one, excluding international flights.
Botswana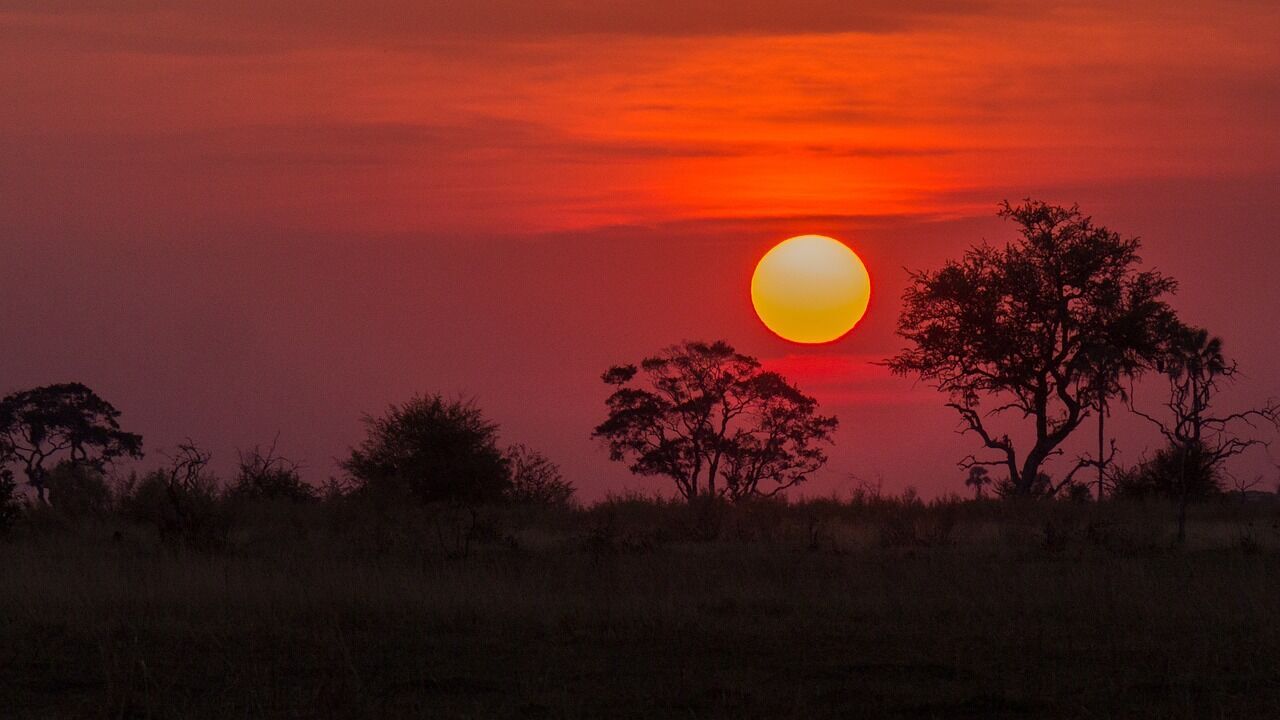 This country is famous for its exclusive safari experiences with few participants and correspondingly high cost. They are primarily aimed at those who are able to pay the largest sums. But affordable trips can be organized here too, and the opportunities for self-drive safaris are some of the best in Africa. But, of course, you'll have to make an effort to find something with a price tag that isn't too steep.
When to go
The peak time for tourist outings in Botswana is during the winter months. Lower prices and, in most cases, good weather are to be found between April and early June and in October. You can save even more in the so-called "green season" from January to March, but it is more difficult to observe animals at this time because of the lush greenery.
Where to go
One of the most wildlife-rich and scenic areas in Africa is the Okavango Delta in northern Botswana. Apart from the many animals here, there is an abundance of birds such as pygmy geese, carmine bee-eaters, white herons and fish eagles. Near Moremi Game Reserve, you can look out for cheap African vacations at Mma Dinare Camp with 9 tents. From here you will go hunting, on a guided tour or take a mokoro boat ride during high water. You'll be able to find deals from tour operators for the second half of November to the end of March (excluding Christmas holidays) for around £2,400 per person, excluding the cost of international flights.
Bordering the Moremi Game Reserve and Chobe National Park is Little Sable Camp, situated on an elevated site with excellent views of the plains in the Delta. It is owned by the operator Natural Selection, as are the other camps in this vast reserve, so you have the opportunity to plan the cheapest African safari in different areas of the reserve. For example, six all-inclusive nights (four at Little Sable and two at Hyena Pan Camp in the Khwai Reserve in the middle of a grove of mopane trees and with underground animal watching shelters) in April and November 2024 will cost you £4,220 for one, excluding international transfers, of course.
There is also an area rich in wildlife in the far north of the country. Chobe National Park is home to Africa's largest population of elephants - at least 120,000 individuals - as well as large herds of buffalo, hippos, lions and antelope. Here tourists can spend exclusive but affordable African vacations. For example, Ultimate Travel Company organizes a trip for 6 nights at a cost from £ 5240 per person with all flights and safaris. You will spend three nights at Muchenje Safari Lodge in the western part of the park in thatched cottages overlooking the river, and another three nights on board the Zambezi Queen lodge ship traveling on the Chobe River.
Zimbabwe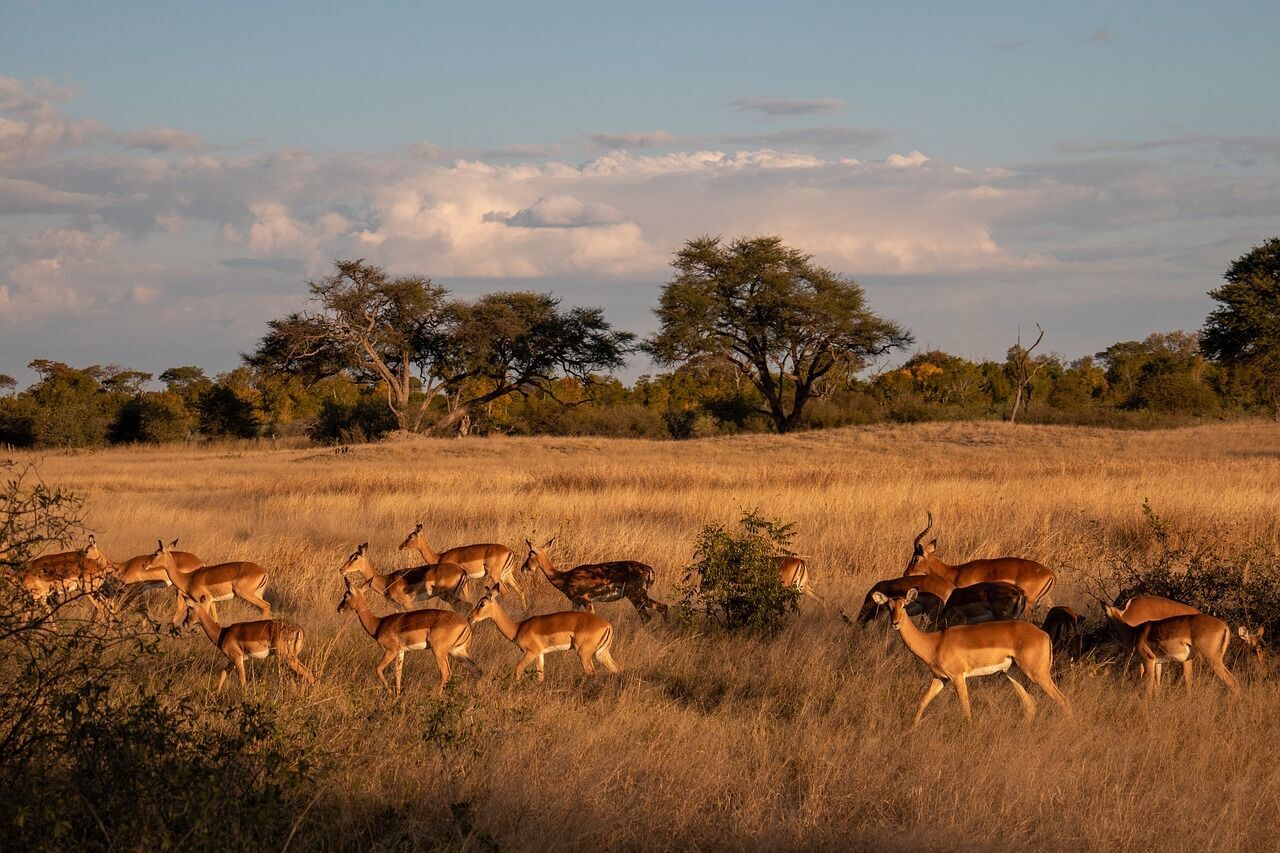 There are also luxury safari lodges in this country, but alongside them are good opportunities to find the cheapest place in tented camps, campgrounds and cheap chalets within the national parks. So access to the best safari areas will be the same as in luxury lodges.
When to go
The peak season in this southern African country is between June and September, so your time is April and May. Due to political problems, Zimbabwe has somewhat lost interest among tourists, but it's actually more peaceful than neighboring South Africa.
Where to go
In the northwest of the country is Hwange National Park, known primarily for having one of the largest populations of elephants on the mainland. The Sinamatella area is attractive to predators such as lions and elephant herds due to perennial springs and evergreen trees. Bumbusi Wilderness Camp is located here, with prices starting from £395 per night for one. The previously mentioned travel company Natural Selection offers a 5-day package for £2,675 per person with double occupancy. If you have a larger group, accommodation for four will cost £1,970 each. The offer is valid from April to May and November to December and includes transfers with no international flights.
Another good value for money place in Hwange is The Hide lodge overlooking the waterhole. There are 10 tents with private verandas, and the best budget safari for 6 nights all-inclusive costs £2,600 per person, not including flights from your home country.
A popular destination for an inexpensive African safari is Mana Pools National Park in the far north of the country along the Zambezi River. For a stay there, consider the small 6-7 tent campgrounds Kavinga Safari Camp near the Rukomechi River and Mana River Camp on the banks of the Zambezi River. The Ultimate Travel Company tour operator has a 6-night package for three at each of these camps for £5085 with flights. Here you can watch elephants, hippos, lions, Nile crocodiles and many species of birds.